Pack your bag, we are about to show you the ideal hotel
The "Bio Friendly" brand is here, because you deserve the best even at table
Hello! If you're reading this it is because you are also interested in what your family eat.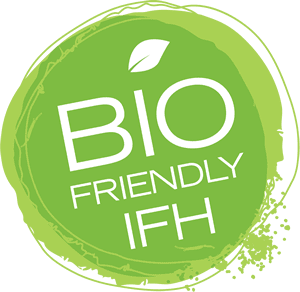 The concept of quality hospitality for us means not just a warm welcome and entertainment, but also a good diet.
To offer you the best at table is to take care of you…
Because a healthy and balanced diet is equally important during your holidays, especially if you prefer all-organic food.
This is why we decided to launch the "Bio Friendly" project in collaboration with a female nutritionist who has worked for us for many years, Dr Prosperi, and with the companies HiPP ITALIA and BIOITALIA.
The hotels participating in the project and with internal BIO FRIENDLY certification have the distinctive "BIO FRIENDLY IFH" logo, testifying to their compliance with a precise standard of service and quality, verified by the same consortium.
The minimum requirements for BIO FRIENDLY certification are:
Organic "corner" at breakfast buffet
At least one organic dish at lunch and dinner
Purchase of a selection of organic products for children aged 0-3 years
Offer of at least these organic products:

Jam
Honey
Fruit juices/shakes
Oil
Tomato sauce/pulp
Semolina, wholemeal, gluten-free and barley pasta
Flour

Pulses
Italy Family Hotels is always a safe option.
6 family hotels found out of 120
Filters applied:
Bio Friendly
Filter by...1 filter active
Sort by...
Close
Destinations
| | |
| --- | --- |
| | In the mountain2 destinations |
Average price per night *
€ € € € €
€ 80 - € 120
(2)
€ € € € €
€ 120 - € 150
(1)
* Average price per night per person
Entertainment and Sport
Children's entertainment by age group
(5)
Educational farm tour
(4)
Stables / Riding school
(2)
Location
Directly on ski slopes
(1)
Order by evaluation
Bino low to high
Bino high to low
Order by price
Price low to high
Price high to low
The Adriatic Coast - Bellaria Igea…

9

Hotel Mediterraneo Club Benessere***

All the characteristics of an international resort along with traditional Romagna hospitality

Family services:

9 photo

From 14/04/22 to 20/09/22

| | |
| --- | --- |
| From 65,00 € per night, per adult, half board | |
Piedmont - Frabosa Soprana

11

12 hours of entertainment for children and a Spa for mum and dad

Family services:

11 photo

From 03/12/21 to 18/04/22 and from 28/05/22

| | |
| --- | --- |
| From 79,00 € per night, per adult, half board | |
Trentino Alto Adige - Andalo

7

Family hotel with an indoor water park

Family services:

7 photo

From 02/12/21 to 20/03/22 - From 01/06/22 to 25/09/22

| | |
| --- | --- |
| From 82,00 € per night, per adult, all inclusive | |
The Adriatic Coast - Bellaria - Igea…

21

Blu Suite Resort****

A seafront family resort

Family services:

21 photo

From 01/04/22 to 08/11/22

| | |
| --- | --- |
| From 99,00 € per night, per adult, half board | |
The Adriatic Coast - Cattolica

3

In the safe pedestrian area of​Cattolica, a stone's throw from the sea

Family services:

3 photo

From 01/03/22 to 30/09/22

| | |
| --- | --- |
| From 60,00 € per night, per adult, half board | |
The Adriatic Coast - Riccione

5

Hotel Belvedere****

Entertainment, wellness centre and private beach, for a fantastic holiday!

Family services:

5 photo

From 26/03/22 to 16/10/22

| | |
| --- | --- |
| From 149,00 € per night, per adult, half board | |