Family services (Bino):
Ciao, io sono Bino!
Garantisco io la qualità negli Italy Family Hotels.
Più Bino = Più servizi family disponibili!
Starting from 67,00 € per night, per adult, all inclusive
Family services (Bino):
Starting from 67,00 € per night, per adult, all inclusive
3 good reasons to come here
1

POOL WITH WATER SLIDEWe're the only family hotel in Rimini with a 24-metre water slide in the garden, for lots of fun in the water!

2

TWO RESTAURANTSWith buffet service and flexible hours: The "Verde e Mare" restaurant for adults, and the "Fantabriciola" restaurant where children can eat with the entertainment staff.

3

THEMED ROOMSThese original and imaginative rooms include family rooms, adjoining family rooms, mezzanine rooms, and comfortable penthouse suites, for colourful dreams!
Our services
Pool with waterslide
Swimming pool
Private parking
Garden
Small pets are accepted
Bike rentals
Wi-Fi throughout the hotel
Air conditioning throughout the hotel
Languages spoken by staff: Italian, English, French, Russian
Description
Located right in the heart of Rimini's Marina Centro district, the Hotel Fabrizio offers its guests a 100% eco-sustainable family holiday experience, with entertainment services designed to involve the entire family, from June to September. All day, every day!
Our hotel is surrounded by a lush green garden, complete with a swimming pool and a 24-metre water slide, where children, parents, and even grandparents won't be able to resist making a big splash!
Those who prefer, on the other hand, can entrust their children to our staff in our Baby Parking area, open Sunday through Friday, from 10 a.m. to 10 p.m., and head off to relax on one of our nearby partner beaches, do some shopping, or go for a romantic stroll. Here, for children 3 to 12 years of age, our friendly entertainment staff organise fun play activities in the indoor and outdoor play areas, delicious afternoon snacks, and even lunches and dinners with friends at the Fantabriciola children's restaurant.
In fact, here with us, the dining experience is guaranteed to bring a smile to everyone's faces. Rather than the usual buffet, we offer our guests the genuine quality of seasonal local and organic products from small local farms, cooked with the utmost care and respect for each and every ingredient.
Want to know what else we have that families are sure to love? Our 48 fantastic themed rooms: Whether guests choose the Star, Superior, or Smart option, they can be sure that they'll be sleeping in a unique environment where their children's imaginations can run wild. And they'll even find everything needed to travel light with their children, including cots, bed rails, changing tables, baby bath tubs, night lights, nappy disposal bins, washbasin stools, potty training seats, high chairs, bottle warmers, and courtesy strollers.
Oh… and one last thing: we've always been environmentally conscious, and we love doing things for the good of the Planet. We're registered with Legambiente Turismo, and every year we increase our commitment to offering sustainable and responsible holidays, out of respect for the planet, and all the families who choose to spend their holidays with us!
Rooms
All rooms are equipped with:
Air conditioning
Free Wi-Fi
Courtesy set
Safe
Mini-bar
Baby WC reducer and stools
Bed rails, cradels, bottle warmers, baby changing tables
Star rooms

Star rooms

These are our most highly sought-after themed rooms, and are adored by children of all ages: Tree House, Red Wave, Stylish, Pirate's Den, and Wild West.

Some units have walk-in closets, mezzanines, and two TVs. These rooms come with exclusive beach accommodations, including a gazebo and 2 sun loungers, and beach towels, as well as 24-hour open bar service with coffee products and soft drinks, water and draught wine with meals, and a parking space in the garden.
Superior rooms

These fantastic original themed family rooms also come in adjoining, mezzanine, and penthouse versions. The numerous amenities that come with the Superior rooms include beach accommodations with a shade umbrella and two sun loungers, water and draught wine with meals, 24-hour open bar service with coffee products and soft drinks, and a parking space in the garden.

Superior rooms
Smart Rooms

Smart Rooms

These cosy rooms are inspired by some of the very best fantasy tales, and come complete with beach service, water and draught wine with meals, and 24-hour open bar service with soft drinks. With the "Easy" deal, these rooms are ideal for those looking for the best value for their money.
Entertainment
Children's entertainment by age group
Indoor/outdoor playgrounds
Babysitting on demand
Kids cooking classes
Kreative Workshops
Every day, we offer an extensive all-day entertainment programme, both in our colourful indoor playroom, and in our fantastic outdoor play area, complete with creative workshops, dress-up time, songs to dances, shows, and baby dance parties.

Continue reading!

And with our new Baby Parking service, guests can entrust their children to our entertainment staff Sunday through Monday, from 10 a.m. to 10 p.m., in order to enjoy some well-deserved relaxation time!

Even on the beach, there's always something to do, because the Romagna lifeguards are always the BEST! In addition to workshops and sports activities, there are also themed evenings with puppets, quizzes, and parties with the entertainment staff.

Close
Mini Club
Time to play, create, and experiment: every day our friendly entertainment staff engage our guests' children over 3 years of age in fun and stimulating group activities, like the watercolour workshop, the movable type printing workshop, and the Children's Masterchef challenge, to learn how to make a traditional Romagna flat bread sandwich, not to mention fantastic baby dance parties, dress-ups, and mini musicals in the evenings!
Junior Club
Calling all older brothers and sisters! We're well aware that the nannies, the baby dance parties, and mini club activities no longer appeal to you. But we have lots of fun alternatives! Put away those mobile phones and get ready for some real socialisation! With diving competitions at the pool, exciting table tennis and foosball competitions, tournaments with the entertainment staff, treasure hunts, beach parties, and… much more to be discovered when you get here!
Cuisine
Buffet restaurant
Gluten-free products
High chairs and 'baby' cutlery
Baby menu and flexible hours
Certified organic food corner
Baby meal corner
Dining rooms with kids area
Baby meals with entertainer
Packed lunches available
Know why we chose to offer buffet service? To guarantee maximum flexibility and a wide range of options for our guests' families, while at the same time maintaining the highest quality. Want a few examples? We select the very best local products, even organic and biodynamic, including fresh seasonal vegetables and Adriatic seafood, and purchase everything from trusted local companies.

Continue reading!

Guests will want to allow themselves plenty of time to enjoy our large breakfast, where everything is freshly prepared, the coffee is ground on the spot, and the milk comes directly from the Cesena's local dairy producers. For lunch and dinner, our guests can look forward to traditional Romagna and Mediterranean entrées, while their children eat with the entertainment staff at Fantabriciola children's restaurant. Consequently, they even have the opportunity to joke around and have lots of fun during meals… and even the vegetables are delicious!

Parents with newborns have a well-equipped 24-hour kitchen area at their disposal, where they can prepare their babies' meals independently.

Close
Recommended nearby attractions

Fiabilandia
3km from the hotel

Italia In Miniatura
7.2km from the hotel

The Big Ferris Wheel
2.8km from the hotel

Oltremare - Aquafan
8.9km from the hotel

Acquario di Cattolica
14.4km from the hotel
Bring your family here!
Request a free quote
Best family rate
Quick quote by email
Direct reply from the hotel
Other Italy Family Hotels that might interest you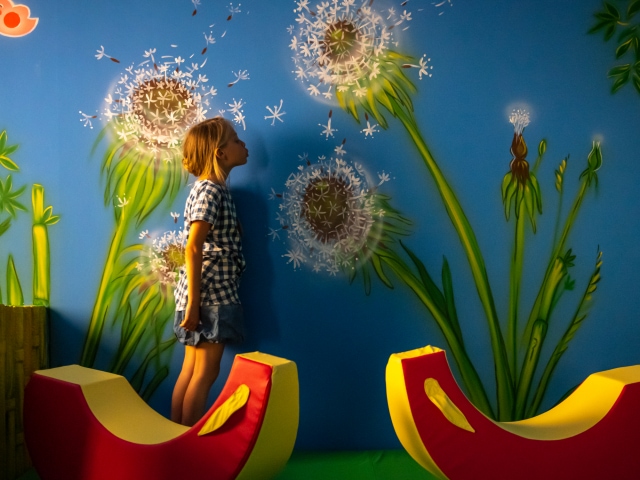 Viserbella di Rimini
Oxygen Lifestyle Hotel

****
A stone's throw from the sea, with a swimming pool and 8 hours of entertainment
Family services (Bino):
| | |
| --- | --- |
| Starting from 74,00 € per night, per adult, half board | |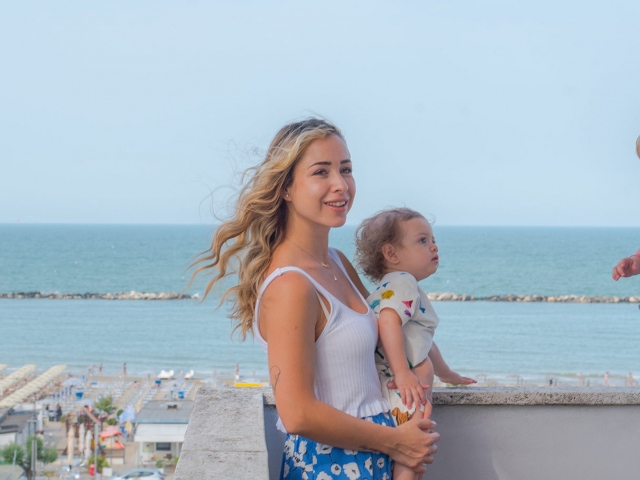 Cesenatico
Gallia Club Hotel

***
3 outdoor pools and a private beach
Family services (Bino):
| | |
| --- | --- |
| Starting from 53,00 € per night, per adult, all inclusive | |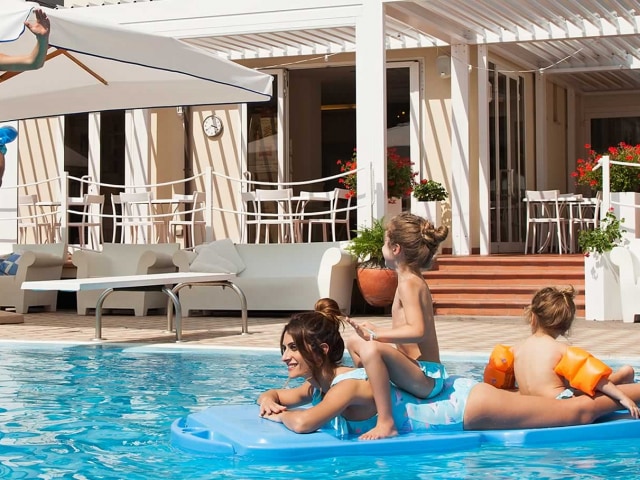 Cesenatico
Hotel Sport & Residenza***s
A stone's throw from the sea and from the town centre, with swimming pool and whirlpool
Family services (Bino):
| | |
| --- | --- |
| Starting from 53,00 € per night, per adult, half board | |
Go back to all hotels