Hotel Dory & Suite
****
Riccione
The Adriatic Coast
Family services (Bino):
Ciao, io sono Bino!
Garantisco io la qualità negli Italy Family Hotels.
Più Bino = Più servizi family disponibili!
Starting from 86,00 € per night, per adult, half board
Family services (Bino):
Starting from 86,00 € per night, per adult, half board
3 good reasons to come here
1

Unique activitiesSail boat excursions and pirate battles; water safety lessons; roller skating; trips to the adventure park; visits to the turtle hospital; Go-Kart challenges

2

Food and wineThe best local ingredients and unmistakable traditional flavours, with special children's entrées and the Pappe Stellare baby food menu

3

Rooms and SuitesOur spacious rooms and suits are furnished in a modern and elegant style, and are loving cared for, with meticulous attention to even the slightest details
Our services
Baby pool
Swimming pool
Spa
Children wellness
Disabled access
Secure car park
Small pets are accepted
Bike rentals
Servizio lavanderia a pagamento
Fitness Centre
Discover all the services
Wi-Fi in public areas
Air conditioning in public areas
Languages spoken by staff: Italian, English, German
Close
Description
At the Hotel Dory in Riccione, we've been welcoming families for over 60 years with an unmistakable style of hospitality, offering pleasant stays made up of authentic family experiences to be enjoyed with their children, complete with genuine local cuisine, and plenty of time to spend relaxing by the pool or on the beach (just 80 metres away). The 110 cm deep pool is even ideal for little ones, who will have lots of fun playing among the waterfalls, geysers and fountains!
Our recipe for an unforgettable holiday is made up of various special ingredients: a Family Spa where both adults and children can enjoy treatments and relax in the large hot tubs; specialised entertainment staff who organise fun activities, like water fights on the beach, Sky Park adventures, roller skating, and Go-Kart challenges; fully-renovated, spacious and well-kept rooms, with lots of amenities for your family to enjoy, just like at home; excellent local cuisine, meticulously prepared with love by our Chef Solideo. In fact, starting in July, while the adults are enjoying their meals, the children will eat with the entertainment staff in the garden of the adjacent D-Place.
But the surprises don't end there, because guests who book their stay with the Style Formula will also receive beach services, parking, and a gift package at no additional charge, including two water flasks and a children's story written specifically for our hotel, the proceeds of which are used to help keep the waters of the Adriatic Sea clean. In this manner, guests can even help care for the environment while they're on holiday!
Thanks to the convenient online check-in service, guests can skip the line at the reception and begin enjoying their family holiday experience immediately upon arrival!
Rooms
All rooms are equipped with:
Air conditioning
Free Wi-Fi
Room service
Soundproofed rooms
Courtesy set
Safe
Wake-up calls
Sanitising of rooms
Baby WC reducer and stools
Bed rails, cradels, bottle warmers, baby changing tables
Superior rooms

Superior rooms

The Superior rooms are furnished in optical style, and boast impressive details that render each of them unique with respect to the others.
Junior Suites

Enriched with special materials and designer surfaces, the Junior suites feature warm parquet flooring, wood panelling, and soft lighting for maximum relaxation.

Junior Suites
Family Rooms

Family Rooms

Size:30 m2

Facility:

2 separate rooms

Consisting of 2 rooms divided by a sliding door, and featuring warm parquet flooring, wooden panelling, and soft lighting for maximum relaxation, the Family Rooms are the ideal solution for those travelling with their families.
Suites

These beautifully-decorated modern and functional penthouse suites include 2 satellite TVs, Tea & Coffee makers, and a terrace overlooking the sea. They have large double bedrooms and living areas.

Suites
Mini Apartments

Mini Apartments

Ideal for those looking for a combination of independence and family and personal wellness services, the mini apartments are located 50 metres from the hotel, and feature spacious rooms, large terraces, and kitchenettes complete with everything needed to prepare delicious meals.
Entertainment
Children's entertainment by age group
Indoor/outdoor playgrounds
Babysitting on demand
Sailing lessons
Baby swim lessons
Kids cooking classes
Kreative Workshops
The Dory is all about fun! However, all that fun comes with a risk: our different daily adventures, our fun and spontaneous entertainment staff, and our Family Spa open to everyone will be sure to win over your children, and it won't be easy to convince them to go back home. Because a little piece of the Dory will remain in their hearts.

Not just entertainment… but a real programme of unforgettable experiences! Every day from 10:30 a.m. to 12:00 p.m. on the beach, from 1:00 p.m. to 3:00 p.m., and later from 8:00 p.m. to 10:00 p.m. at the hotel, the children become the central characters in what seems like a holiday film directed by the entertainment staff. Here's a preview of some of the scenes:

-the exciting trip to our country house;

-the pirate ship excursion, Monday and Thursday mornings;

–roller skating on Thursday evenings;

-the adventure park excursion on Tuesday evenings;

–water safety lessons, Monday and Wednesday afternoons;

-the visit to the turtle hospital;

-the Go-Kart challenges.

How about it: are you ready to take your kids to the Dory?
Baby Club
Since we know that children need to be watched with particular attention during the first few years of their lives, children under the age of 3 are permitted to take part in the activities if accompanied by a parent.
Mini Club
Entertainment services are available every day at the Dory, both at the hotel and on the beach. For children ages 3 and up there's the "Children's Paradise": a colourful indoor and outdoor area where children can enjoy fairy tales, educational games, competitions, dances, tricks, table tennis, and foosball.
And there are also plenty of themed experiences: children's cooking classes; pirate boat excursions twice a week, for unforgettable water battles; and excursions to the country house in Vecciano once every two weeks, to dine and dance under the stars. There are even water safety courses for children, and roller skating outings in the evenings!
Junior Club
We also like to amaze and involve older children by organising exciting activities, including table tennis challenges, foosball tournaments, capture the flag, and hide-and-seek competitions. But that's not all, because our entertainment staff will also take the children to the turtle hospital, the adventure park, or the Go-Kart track, and will invite them to take part in the themed pirate boat experiences, the trip to Vecciano, and the roller skating evenings. There's also the legendary "night swimming" event, where kids can take a fun dip in the colourful pool!
Cuisine
Gluten-free products
High chairs and 'baby' cutlery
Baby menu and flexible hours
Certified organic food corner
Dining rooms with kids area
Packed lunches available
Whether at the restaurant, on the terrace, or by the pool, the dining experience is always centred around excellent cuisine, which begins at breakfast with homemade sweets and the genuine local cured meats, and extends through dinnertime, with themed evenings dedicated to traditional Emilia Romagna cuisine. The bread, flatbread sandwiches, biscuits and tarts are all handmade, and the pasta is rolled according to the traditional methods.

Guests will find even more space in the hotel's large dining hall, where they can enjoy service directly at the table, with an à la carte menu.

Or how about a trip to the healthy salad bar, for a light lunch? Guests always have 15 fresh ingredients available to them every day to make their salads. There's also a hot first course, flatbread sandwiches, Norcino cured meats, fresh cheeses, fruits, sweets, and an area full of tasty food items for the little ones.

By the way: in addition to dishes made specifically for children, parents with weaning infants can also consult our Pappe Stellare Menu, prepared by the Chef, who is even available to customise their baby foods based on each child's specific needs.
Recommended nearby attractions

Oltremare
2.3km from the hotel

Aquafan
2.4km from the hotel

The Ships
7km from the hotel

Mirabilandia
48.2km from the hotel

Italia in Miniatura
20km from the hotel
Bring your family here!
Request a free quote
Best family rate
Quick quote by email
Direct reply from the hotel
Other Italy Family Hotels that might interest you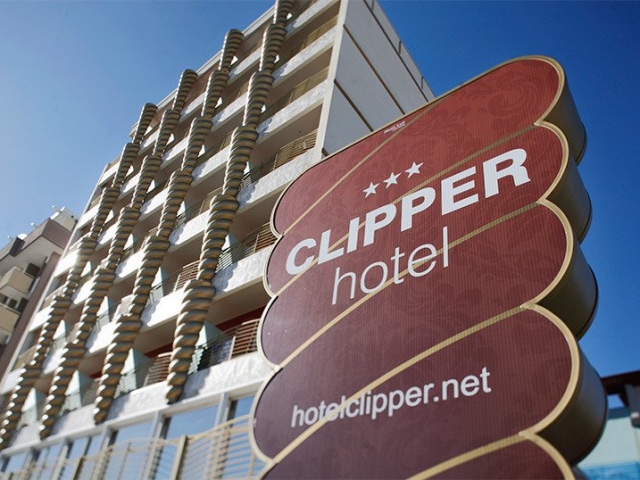 Riccione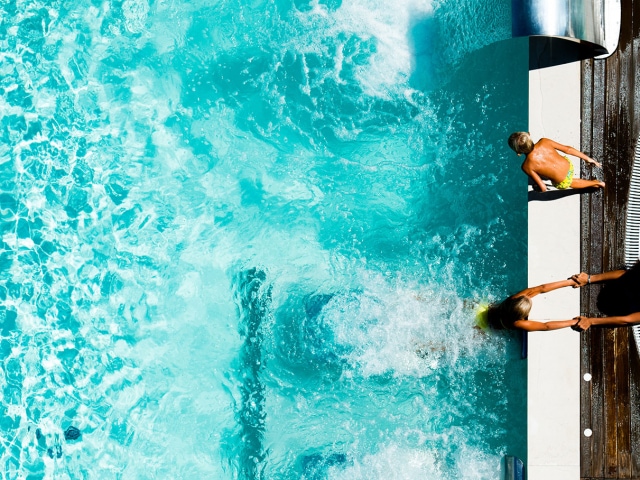 Riccione
Hotel Fedora***s
Relaxation, fun with the whole family, in the "Green Pearl"
Family services (Bino):
| | |
| --- | --- |
| Starting from 75,00 € per night, per adult, half board | |

Riccione
D-Place Suite Hotel

****
In the centre of Riccione, 100 metres from the sea
Family services (Bino):
| | |
| --- | --- |
| Starting from 109,00 € per night, per adult, half board | |
Go back to all hotels