Family services (Bino):
Ciao, io sono Bino!
Garantisco io la qualità negli Italy Family Hotels.
Più Bino = Più servizi family disponibili!
Starting from 51,00 € per night, per adult, half board
Family services (Bino):
Starting from 51,00 € per night, per adult, half board
3 good reasons to come here
1

HospitalityFamily-style hospitality since 1993.

2

Heated poolsTwo swimming pools open 24 hours, one even featuring waterfalls, the perfect place for guests of all ages to relax and have some fun.

3

Traditional cuisineLunches and dinners with a view of the sea and a wide range of regional dishes and wines to choose from.
Our services
Pool with waterslide
Baby pool
Heated pool with hydromassage
Spa
Garden
Pets welcome
Bike rentals
Servizio lavanderia a pagamento
Wi-Fi throughout the hotel
Languages spoken by staff: Italian, English, German, French, Spagnolo
Description
At Villa Giada Resort, we consider the families that have come to us in search of the ideal holiday experience since 1993 to be our friends, not merely guests! The resort is situated in the heart of the Riviera dei Fiori, in a breathtaking panoramic location just a few kilometres from the centre of Imperia, a town that boasts the best climate that Italy has to offer, with 3,000 hours of sunshine per year.
All the warmth of a professionally managed family-operated facility, complete with exceptional cuisine designed to bring traditional Ligurian specialties to the table.
The hotel is located about 3 km from the coast, which has been awarded the "Blue Flag" ecolabel, where guests can book a spot with our partner beach facility to enjoy one of the most beautiful stretches of sandy beach that Italy has to offer. Those who prefer can spend their time enjoying the resort's two heated pools: the panoramic pool, situated in a nice secluded corner, complete with a hot tub, and the fun children's pool, which features waterfalls and slides.
The daily entertainment services are specifically designed for younger guests, and include wild water games, athletic competitions, children's Olympics, a play-based breakfast and aperitif, and children's dance parties.
For mom and dad, there's water aerobics, yoga, pilates, and evening shows for the whole family, including Liguria's popular summertime Giada Music Festival! Chef Sara can even be booked for cooking lessons, in order to learn how to prepare mouth-watering Ligurian pesto and different varieties of tiramisù!
The hotel boasts an ideal location for exploring the Ligurian hinterland, and is within easy reach of local theme parks, as well as various tourist attractions and activities, including fishing and whale watching. Discounts are even available for the latter.
Thanks to the presence of solar panels and charging columns for electric cars, the Villa Giada Resort is increasingly green. Rainwater is also collected for irrigating the park's green areas, and natural materials are utilised.
Rooms
All rooms are equipped with:
Air conditioning
Courtesy set
Baby WC reducer and stools
Bed rails, cradels, bottle warmers, baby changing tables
Junior Suites

Junior Suites

A cosy single-bedroom suite, ideal for couples and young families. The elegant living room area features a nicely-equipped kitchenette, the sleeping area can include either a double bed or two singles, and the bathroom boasts a spacious shower. Guests can even take advantage of the furnished outdoor area to enjoy some peace and relaxation.
One-bedroom suites

Modern rooms with a romantic touch, complete with a kitchenette, a living room with a sofa bed, a bathroom with a shower, and a pleasant, well-furnished outdoor area. The bedrooms also have a pouf.

One-bedroom suites
Two-bedroom suites

Two-bedroom suites

A true apartment, ideal for large families! The modern design and the parquet flooring give its a unique touch of charm, while the two double bedrooms offer maximum privacy. The living room features a sofa bed, the kitchenette offers everything needed to prepare wonderful family dinners. There is a balcony on the mezzanine floor, and a well-furnished outdoor area on the ground floor.
Superior Junior Suite

A private, single-bedroom ground floor suite with a large window overlooking a private patio, with a splendid location right by the pool. The suite includes a dining area with an orthopaedic sofa bed, a sleeping area with a cosy king-size bed and an open wardrobe, and a bathroom with a thermostatic shower, all in one room.

Superior Junior Suite
Superior 1 bedroom suite

Superior 1 bedroom suite

A 37 square-metre two-room suite with a delightful 19 square-metre private garden equipped with a table, chairs, deck chairs and a shade umbrella for relaxing in complete privacy! The living room and kitchenette area includes a modern sofa bed, while the double bedroom has everything needed for a good night's rest.
Superior Suite

A modern 45 square-metre three-room apartment, complete with a small stone porch and a private 30 square-metre garden furnished with deck chairs, a shade umbrella, and a table for enjoying meals outdoors. Two bedrooms with king size beds, and a living area with a fully-equipped kitchen and sofa bed. The bathroom has a large shower.

Superior Suite
Deluxe Suite

Deluxe Suite

A suite fit for a prince, complete with two bedrooms and two bathrooms! Capable of accommodating up to 6 guests. Complete with a dedicated outdoor area furnished with 2 sun loungers, a shade umbrella, chairs and a table for enjoying aperitifs and meals in good company.
Two-room apartments

Apartments with double bedrooms. The living room and well-equipped kitchenette area also includes a sofa bed. These two-room apartments have patios or terraces furnished with tables, chairs, and shade umbrellas.

Two-room apartments
Family Studio Suite

Family Studio Suite

Air-conditioned Family studio, can accommodate up to 4 people, being equipped with a double bed (160×195) or 2 single beds (2x80x195) + a sofa bed. There is a corner equipped with fridge and microwave, bathroom with large shower and hairdryer, small outdoor area equipped with chairs, table and umbrella. The Family studio that will be assigned may differ from the one shown on the plan and the photos are purely indicative both for supplies and furnishings.
Family Apartment with one bedroom and living room

Small outdoor space based on availability (garden not guaranteed) Apartment with one bedroom, living room with sofabed and a kitchenette corner with fridge and microwave, bathroom with shower and hairdryer, patio or terrace with table chairs and parasol. Bed type: Bedroom: 1 double bed (1.60×1.95 mt) or 2 single beds (2×0.80×1.95 mt) on request Living room: (on request) single sofa beds and / or double sofa bed. The one bedroom apartment that will be assigned may differ from the one shown on the floor plan and the photos are purely indicative for both supplies and furnishings.

Family Apartment with one bedroom and living room
Entertainment
Here, the fun, games and activities never stop! The days begin with breakfast, where children can colour together with the entertainment director. From there, the playtime continues with football tournaments and an international-style mini-Olympic Games, with teams made up of guests of all ages!

Don't miss out on the water games at the Waterfall pool, which are always closely monitored by our entertainment director. These include: the Battle of the Galaxy, fought strictly with water guns, as well as games with Henry the dolphin, and bucket races.

At Villa Giada, even the aperitif is a time for family fun, and can be enjoyed playing games on the panoramic terrace. But that's not all, because with the Children's Dance Party in the evening, guests can cut loose and dance to all the summer hits, or sing along to lyrics during the Giada Music Festival.
Cuisine
À la carte menu
Buffet restaurant
Gluten-free products
High chairs and 'baby' cutlery
Certified organic food corner
Packed lunches available
The A Cassa Garba Restaurant offers both regional and Italian cuisine. Those who prefer can choose to eat on the panoramic terrace, and there's always the indoor dining hall available as a plan B in case of bad weather!

Immerse yourself every day in the Ligurian culinary tradition, with traditional entrées like condiglione alla portorina, Ligurian-style trofiette, and citrus and pine nut salad with basil flavoured ice cream, all accompanied by regional wines. Every menu item is chosen to exalt the local territory.

The sweet and savoury breakfast is served buffet style, while dinners are served at the table, and there's even a take away service available starting at 6pm for guests who prefer to enjoy dinner as a family in their apartments. While waiting for their food, guests can enjoy an aperitif at the Sunset Bar, taking advantage of the occasion to play the Aperitif Game with their children.
Recommended nearby attractions


The Caravelle Water Park
29.5km from the hotel


Villa Grock and the Clown Museum
7.5km from the hotel


Whale watching
4km from the hotel


Fishing Tourism
4.4km from the hotel
Bring your family here!
Request a free quote
Best family rate
Quick quote by email
Direct reply from the hotel
Other Italy Family Hotels that might interest you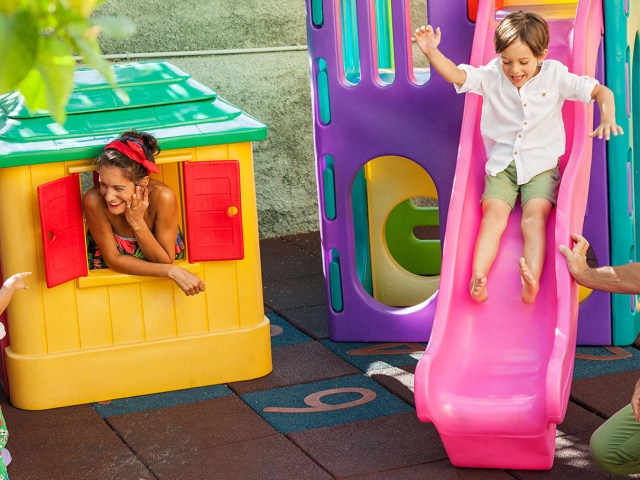 Pietra Ligure
Hotel Casella

***
Lots of fun for families, right in the heart of the Ligurian Riviera!
Family services (Bino):
| | |
| --- | --- |
| Starting from 46,00 € per night, per adult, half board | |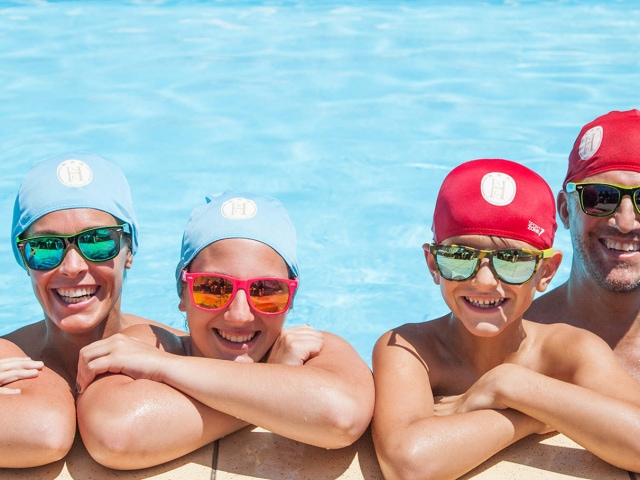 Finale Ligure
Hotel San Giuseppe

***
Swimming pool with hot tub, children's pool, and indoor garage
Family services (Bino):
| | |
| --- | --- |
| Starting from 58,00 € per night, per adult, half board | |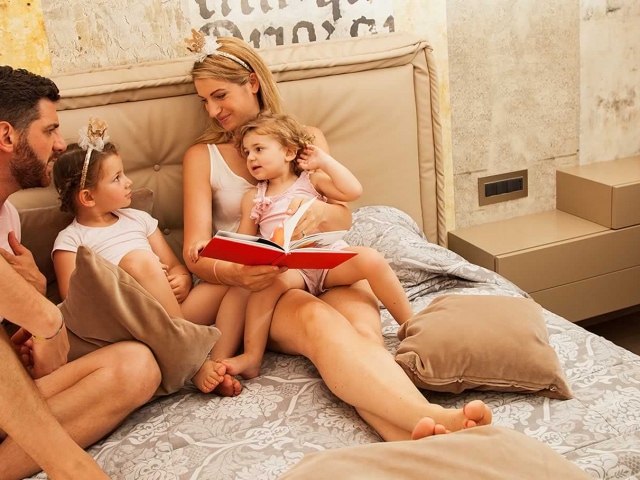 Varazze
Hotel Zurigo

***
A short walk from the beach affiliated with the hotel, with a swimming pool
Family services (Bino):
| | |
| --- | --- |
| Starting from 70,00 € per night, per adult, full board | |
Go back to all hotels