Unahotels Imperial Sport Hotel
****
Family services (Bino):
Ciao, io sono Bino!
Garantisco io la qualità negli Italy Family Hotels.
Più Bino = Più servizi family disponibili!
Starting from 70,00 € per night, per adult, half board
Family services (Bino):
Starting from 70,00 € per night, per adult, half board
3 good reasons to come here
1

Directly on the beachThe beach is just outside the doors, and every hotel room has a splendid view of the sea.

2

A true family paradise2 swimming pools, one semi-Olympic and one heated for younger guests, with lots of fun entertainment activities.

3

Gourmet restaurant "with a view"Dishes with quality products prepared for the entire family, to be savoured on our splendid terrace overlooking the sea.
Our services
Pool with waterslide
Baby pool
Swimming pool
Secure car park
Pets welcome
MAXI inflatables
Bike rentals
Laundry service for a fee
Fitness Centre
Wi-Fi throughout the hotel
Discover all the services
Languages spoken by staff: Italian, English, German, French, spagnolo
Close
Description
Welcome to the Unahotels Imperial Sport Hotel in Pesaro, where we offer all our guests a truly special beachfront family holiday experience! And what a holiday it will be! With the beach directly in front of the hotel, within easy reach, the giant semi-Olympic swimming pool, where children can have lots of fun and take swimming lessons, while the adults attend water aerobics and aerobics classes, relax in the heated mini-pool with the children's corner, and enjoy the unforgettable and exclusive family services.
Not to mention the Mini Club, where children 4 to 11 years of age can have lots of fun with shows and workshops, and a culinary experience that will make children lick their lips, and will tickle mum and dad's taste buds.
Here at the Unahotels Imperial Sport Hotel, guests can look forward to a fun, relaxing, and active holiday experience. The sun loungers for the guests are well spaced and sanitised, both on the beach and in the pool area. There are also bicycles at our guests' disposal, so they can take long rides in the open air with the whole family, or fun trips to the city of Pesaro. Those who want to engage in outdoor activities, such as trekking, biking, or Nordic Walking, can visit the nearby Monte San Bartolo Park and the Marche hinterland, while their children are kept busy by the entertainment staff.
We haven't mentioned it yet, but guests can admire the beauty of the Adriatic from the time they awake up until bedtime, since of all our rooms have views of the sea.
Rooms
All rooms are equipped with:
Air conditioning
Free Wi-Fi
Room service
Courtesy set
Safe
Wake-up calls
Mini-bar
Sanitising of rooms
Baby WC reducer and stools
Bed rails, cradels, bottle warmers, baby changing tables
Pearl rooms

Pearl rooms

The bright rooms feature warm colours, and most a furnished with rattan furnishings. They come complete with spacious balconies, furnished with a table and chairs, which offer wonderful views of the sea.
Aquamarine rooms

These comfortable rooms are finished with great attention to detail, and are ideal for a relaxing stay. They're furnished in modern style, most in green colour tones. The walls feature hand-painted artistic decorations. They come complete with spacious balconies, furnished with a table and chairs, which offer wonderful views of the sea.

Aquamarine rooms
Family rooms

Family rooms

Consisting of one double room (to which a cot can be added), one smaller room with two single beds or a bunk bed, and a bathroom, these units can accommodate 4 to 5 people. The room doesn't have a balcony, but boasts a wonderful frontal view of the sea thanks to its large panoramic windows.
Sapphire rooms

Also available in a family version, these rooms with spacious panoramic balconies feature modern furnishings, and have large private bathrooms, complete with shower cubicles with both a main shower head and a hand shower, and even come with an extensive set of courtesy toiletries. The room includes free minibar beverages, fresh fruit upon arrival, beach towels, and an up-to-date digital news-stand.

Sapphire rooms
Entertainment
Children's entertainment by age group
Babysitting on demand
Baby swim lessons
Kids cooking classes
Kreative Workshops
Entertainment services, sports, activities, and incredible adventures: at the Unahotels Imperial Sport Hotel, we guarantee lots of fun for little ones, and maximum well-being for their parents.

While the children are burning off some energy and having fun in the large play area with table tennis and foosball, or in the mini pool on the beautiful sun terrace, their parents can take part in fun games and dances, or relax on the beach or by the pool.
Mini Club
The Mini Club is open to all children 4 to 12 years of age, and boasts a nicely furnished environment complete with themed decorations, games, books and even a Wii. The large windows overlooking the sea make the room super bright, and the large cushions make every game fun and comfortable.
The entertainment staff engage children in fun recreational activities designed to foster new friendships, such as sand castle building, playtime at the pool or in the shade of the gazebo, educational and creative workshops with fresh pasta, ceramics, and photography, and much more. Then there's the afternoon snack, where the kids can recharge their batteries for lots more hours of playtime, as well as for the evening shows and the fantastic Baby Dance party.
The play areas are carefully sanitised by our staff several times a day.
Our mascot MarTino
Hi kids! I'm MarTino! The mascot here at the Unahotels Imperial Sport Hotel!

I'm a lively little elephant who loves the sea, and always wants to play. My greatest passion is sports, especially basketball, and I really like engaging all my little friends who come to the hotel in fun activities. What do you say? Want to have some fun together?

I'll be waiting for you to spend some sunny days together playing games!
Cuisine
Gluten-free food and products
High chairs and 'baby' cutlery
Baby menu and flexible hours
Baby meals with entertainer
Packed lunches available
Get ready to enjoy some of the very best traditional Italian and regional entrées, cooked fresh every day, and made with carefully selected high quality ingredients.

Guests can start their day with a superb breakfast, even on the terrace overlooking the sea. Our in-house bakers make sweets and cakes, delicious bread, stuffed focaccias and mouthwatering pizzas. Guests can also always choose from a wide range of local delicacies, such as honey from Fossombrone, Cantiano jams, freshly squeezed juices, eggs and omelettes, cured meats, cheeses and various organic products.

For lunch, guests and their children can accommodate themselves in the splendid dining room with a 180° panoramic view of the sea, where they can enjoy excellent first courses, fresh vegetables, grilled meats, seafood, and even pizza. And don't forget to leave room for our amazing sweets!

Dinner is a top-notch experience: 3 courses, served directly at the table, all meticulously prepared by the Chef, even with an innovative twist. Guests won't want to miss out on the evenings by the pool, with delicious foods to be sampled and themed settings.

For the children, who we consider to be our guests of honour, there's a special children's menu complete with simple, healthy and tasty dishes, such as pasta with tomato sauce, white meat sauce, our homemade burgers, fresh de-boned fish, and vegetables with fresh condiments. For parents with infants, there are special weaning menus available, with soups, broths, and meat and fish smoothies, all prepared fresh.

We also prepare alternative menu choices upon request for those who suffer from food intolerances.
Recommended nearby attractions


The city of Pesaro
600m from the hotel


Gradara
12.4km from the hotel


San Bartolo Park
1.8km from the hotel


Falconara Zoo Park
64km from the hotel


Museo del Balì
27km from the hotel
Bring your family here!
Request a free quote
Best family rate
Quick quote by email
Direct reply from the hotel
Other Italy Family Hotels that might interest you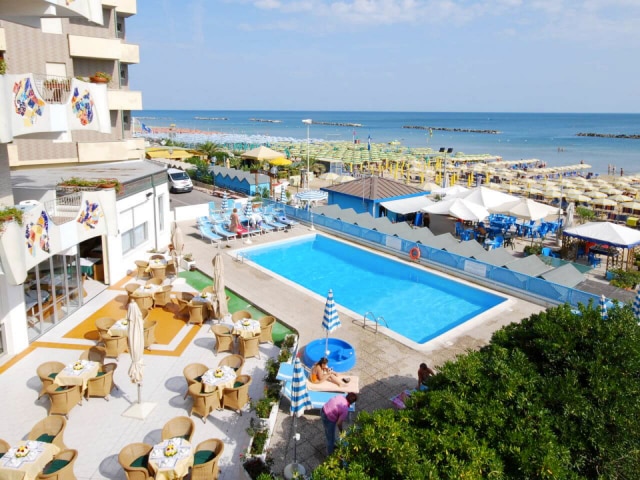 Pesaro
Hotel Bellevue

***
6 days a week of entertainment, children's pool and direct access to the beach
Family services (Bino):
| | |
| --- | --- |
| Starting from 57,00 € per night, per adult, half board | |

Pesaro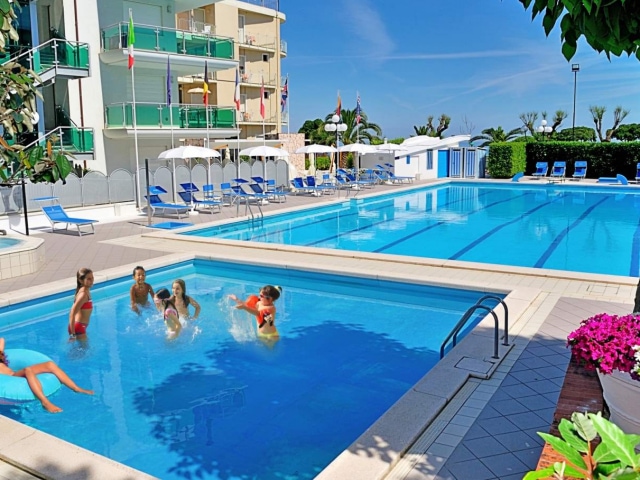 Gabicce Mare
Hotel Venus

****
Private beach and semi-Olympic swimming pool with a children's pool
Family services (Bino):
| | |
| --- | --- |
| Starting from 60,00 € per night, per adult, half board | |
Go back to all hotels