Family services (Bino):
Ciao, io sono Bino!
Garantisco io la qualità negli Italy Family Hotels.
Più Bino = Più servizi family disponibili!
Starting from 60,00 € per night, per adult, half board
Family services (Bino):
Starting from 60,00 € per night, per adult, half board
3 good reasons to come here
1

Private beachNestled in the Bay of Gabicce, our small and exclusive private beach area features a playground, a Mini Club, a changing table, and even a private shuttle service

2

EntertainmentLots of fun activities with our friendly entertainment staff 6 hours a day, 6 days a week

3

PoolA large semi-Olympic pool, and a children's pool where little ones can play safely in the water
Our services
Baby pool
Heated pool with hydromassage
Private beach
Disabled access
Private parking
Garden
Pets welcome
Bike rentals
Fitness Centre
Wi-Fi throughout the hotel
Discover all the services
Languages spoken by staff: Italian, English, German, French
Close
Description
Located in Gabicce, at the gates of the Monte San Bartolo Regional Park, our hotel is the ideal place to enjoy a splendid family holiday with an extraordinary view of the Riviera Romagnola coastline, where the sunrise and sunset put on a unique show every single day!
Welcome to the Venus Hotel, where your children will find lots of space to play and engage in fun activities: 6 hours of entertainment services per day, 6 days a week, complete with a playground in the garden, and an indoor playroom designed specifically for children up to 4 years of age. And while the children are having fun with our friendly entertainment staff, their parents can pamper themselves at the wellness centre, which features a sauna, hot tub, and various spa treatments.
Guests will also find a large semi-Olympic swimming pool area, complete with a children's pool, where they can enjoy a relaxing swim, or sit back and relax in the hot tub.
We're situated close to our private beach facility, which guests can easily reach by taking our convenient shuttle service, or else by taking a short walk. There's even a Mini Club and playground area, complete with a changing table and a reading corner with sofas and newspapers. Those who don't want to miss a single ray of sunshine can even request a tasty take-away lunch to enjoy under their beach umbrella.
A speaking of meals, every day we treat our guests to a magnificent dining experience with a view of the sea, including a large breakfast buffet, a wide range of first and second course options, and a buffet of delicious appetisers and desserts, all prepared by our Chef. For our younger guests, we offer flexible meal times with delicious children's menu items, as well as baby amenities, including baby cutlery and high chairs.
Guests will even find everything they need to travel light with their families in our pleasant and comfortable guest rooms.
Rooms
All rooms are equipped with:
Air conditioning
Free Wi-Fi
Safe
Sanitising of rooms
Baby WC reducer and stools
Bed rails, cradels, bottle warmers, baby changing tables
Easy rooms

Easy rooms

These classic-style rooms offer guests plenty of space for the whole family, for maximum comfort, complete with an exclusive balcony with a view of the sea.
Top rooms

These rooms offer more of everything: more space, more convenience, and more comfort! In fact, we called them our TOP rooms because they consist of top-notch accommodations, with a balcony that offers a top-notch view of Gabicce and the Romagnola coast!

Top rooms
Executive rooms

Executive rooms

These spacious and comfortable rooms come complete with a captivating view!
Family Rooms

These rooms are ideal for those looking to enjoy a special holiday experience without compromising on space, and even offer panoramic views of the sea and the Gabicce coast.

Family Rooms
Adjoining Family Rooms

Adjoining Family Rooms

We understand that our guests don't want to compromise on space and privacy during their family holidays. That's why we offer these large family units, which consist of two guest rooms separated by a door, complete with two separate entrances and two bathrooms. Naturally with a spectacular view of the sea!
Suites

Our exclusive and elegant suites are located at our splendid Villa Antinori, overlooking the swimming pool. The "total white" suite consists of a double bedroom, a second bedroom with sofa bed, and a kitchenette. The outdoor patio is the perfect place to relax and enjoy a beautiful view of the sea and the pool area

Suites
Entertainment
And what kind of a holiday would it be without the sound of the children's laughter and the sight of their beautiful smiles? That's why our experienced entertainment staff organise lots of activities for little ones, 6 hours a day, 6 days a week.

The kids are guaranteed to have lots of fun, both on the beach and at the hotel, where they can even enjoy lots of playtime at the swimming pool, complete with a children's corner.

Little ones can also enjoy some playtime with mum and dad at the playground in the garden, or in the indoor playroom for kids up to 4 years of age. We also provide colouring materials, games and TVs, so they won't miss their favourite cartoons.
Mini Club
At the Mini Club, it's all about having fun! Our super friendly entertainment staff organise creative workshops, sand activities, and pool competitions for all children 3 to 12 years of age. Little ones are also welcome to take part if accompanied by a parent.
Cuisine
À la carte menu
Buffet restaurant
Gluten-free food and products
High chairs and 'baby' cutlery
Baby menu and flexible hours
And when it comes to food, there's one thing that everyone can agree on: It's important to start the day off on the right foot! Here at the Hotel Venus, we like to make sure that our guests get off to a good start each day with a delicious buffet breakfast, served until 10 a.m. The various options include: mouthwatering croissants, fresh bread, jams, yoghurt, cereals, seasonal fruit, prosciutto, cheeses, juices, coffee and cappuccino. There's even a corner with organic products, and one with special dietary options.

At lunch and dinner, guests can enjoy our delicious buffet of appetisers, and choose from a selection of delicious first and second courses, as well as a range of enticing homemade desserts, all served in our panoramic dining room with a magnificent view of Gabicce Mare. Those who follow particular diets or suffer from food intolerances can simply let our staff know, and we'll be happy to prepare tasty alternatives.

We like to spoil our little guests with special children's menus and flexible meal hours.
Recommended nearby attractions

The most beautiful parks in Emilia Romagna
5.5km from the hotel

Gradara - The Medieval Capital
5km from the hotel


Monte San Bartolo Regional Park


The Frasassi Caves
Bring your family here!
Request a free quote
Best family rate
Quick quote by email
Direct reply from the hotel
Other Italy Family Hotels that might interest you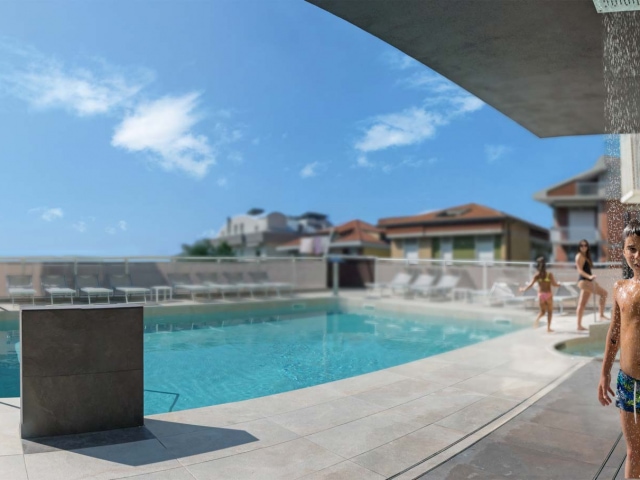 Gabicce Mare
Hotel Continental

***
Family hotel near the beach, with 3 swimming pools
Family services (Bino):
| | |
| --- | --- |
| Starting from 56,00 € per night, per adult, full board | |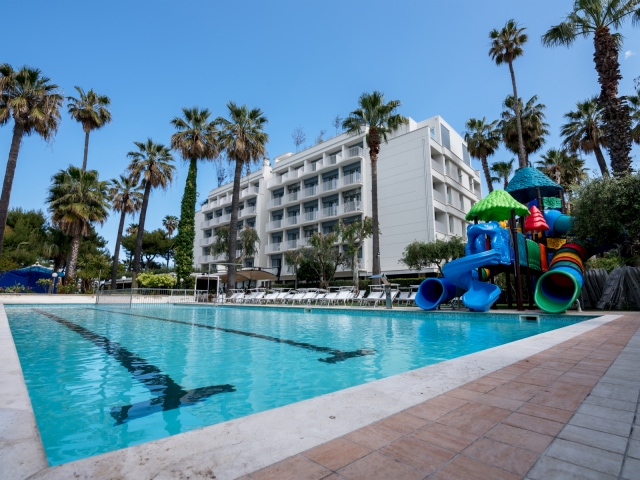 San Benedetto del Tronto
Hotel Relax

***
Opposite the beach, with a semi-Olympic swimming pool and slides
Family services (Bino):
| | |
| --- | --- |
| Starting from 60,00 € per night, per adult, half board | |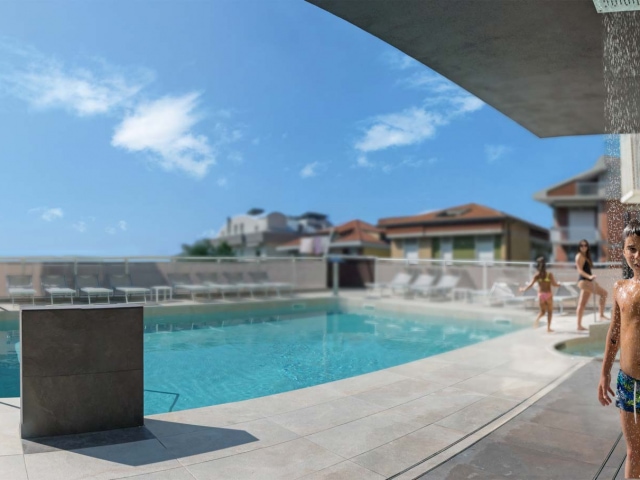 Gabicce Mare
Hotel Continental

***
Family hotel near the beach, with 3 swimming pools
Family services (Bino):
| | |
| --- | --- |
| Starting from 56,00 € per night, per adult, full board | |
Go back to all hotels