Family services (Bino):
Ciao, io sono Bino!
Garantisco io la qualità negli Italy Family Hotels.
Più Bino = Più servizi family disponibili!
Starting from 70,00 € per night, per adult, half board
Family services (Bino):
Starting from 70,00 € per night, per adult, half board
3 good reasons to come here
1

RestaurantAn ever-evolving culinary laboratory, where the high-quality ingredients enhance the flavours of the Ligurian cuisine, all prepared with a touch of innovation.

2

Mini ClubThe entertainment staff organise shows and games to entertain all children 4 to 12 years of age.

3

The SeaWe're located just 100 metres from the beautiful Ligurian Sea and our partner beach facility, where guests will also find a swimming pool.
Our services
Private parking
Garden
Small pets are accepted
Wi-Fi in public areas
Air conditioning in public areas
Languages spoken by staff: Italian, English
Description
Located in Varazze, just 100 metres from the sea and the Lungomare Europa Promenade, the Hotel Zurigo is immersed in the fragrances of palm trees, olive groves, and salt air, and offers an ideal carefree holiday atmosphere, complete with all the family amenities needed for a relaxing stay.
By taking a brief stroll through the colourful Varazze alleyways, guests can reach our affiliated beach facility with a swimming pool, where they can make lots of memories with their children. For our littlest guests there's also the colourful "Paradiso di Manu e Dede" play area, which offers everything needed for crafting, drawing, and keeping little ones entertained, also thanks to the padded area. There's also daily entertainment for children 4 to 12 years of age.
The delicious cuisine is made from local products, offering guests the opportunity to enjoy the genuine flavours of Liguria throughout their holiday experience! We also prepare specific children's menus, which feature healthy and tasty dishes that kids are sure to love, and our Chef is always available to provide parents with infants everything they need for weaning. In addition, thanks to the half board option, you can enjoy days of complete freedom, and relax on the beach without time restrictions or take tours with your children to discover the territory.
In order to guarantee a carefree holiday experience, we provide our guests with lots of baby amenities, both in the guest rooms and the dining room, including children's cutlery, high chairs, colourful placemats, baby bath tubs, bed rails, bottle warmers, and changing tables.
Rooms
All rooms are equipped with:
Air conditioning
Free Wi-Fi
Room service
Courtesy set
Safe
Wake-up calls
Bed rails, cradels, bottle warmers, baby changing tables
Stella Marina rooms

Stella Marina rooms

While the Stella Marina rooms are all different in terms of size and furnishings, they all guarantee maximum privacy and relaxation, and are ideal for families with children.
Coral rooms

Although they're all different in terms of size and furnishings, the Corallo rooms all come with the very best comforts, complete with balconies with either a front or side view of the sea, and can comfortably accommodate families, grandparents on holiday with their grandchildren, or one parent travelling with a child.

Coral rooms
Family Suites

Family Suites

Our spacious Family Suite has a balcony with a view of the sea, and is ideal for large families. It includes one large master bedroom and one smaller bedroom with a "technical corner", and includes everything needed for washing and cooking.
Entertainment
Children's entertainment by age group
Babysitting on demand
Thanks to our entertainment programme, which is more fun and interactive than ever, there will never be a dull moment during your holiday! The hotel's convenient App allows guests to select activities and register their children to participate in competitions, games and workshops. The little ones are divided into small groups by age, and are given dedicated workstations and personal drawing kits.

Continue reading!

Every day from 10 a.m. to 12 p.m. and from 4 p.m. to 6 p.m., the entertainment staff organise creative workshops, athletic tournaments on the beach, and imaginative games for children to play all together, all while keeping a safe distance!

Other activities include the treasure hunt, the baby dance party with the mascot, and the outdoor cinema night, complete with delicious pizza.

Summer evenings are more fun spent outside! That's why there's an outing by train, which takes the children to have ice cream at the Marina di Varazze, the local meeting place on the waterfront, where they can release their wish balloons and enjoy some magic shows. Not to mention the fun afternoon snacks and the milk and chocolate at bedtime!

Close
Mini Club
Lots of creative workshops for children 4 to 6 years of age! Your little ones can do finger painting, take part in Master Chef competitions with sand, and are given lots of free time to play their favourite games.
Junior Club
For children 7 to 12 years of age, the Junior club offers lots of exciting competitions, including table tennis, bowling, and darts, as well as fun treasure hunts!
Our mascot Ippo
Hi, I'm Ippo the seahorse, the mascot here at the hotel Zurigo!

I'm really curious, and I love to make friends with children. I was found a long time ago on a cold rock by the sea, on a rare snowy day here in Liguria, and they took me to the hotel Zurigo, where the pampered me and kept me warm. Ever since then I've been their mascot, and they even wrote me a theme song, which I sing together with all the children who come to spend their holidays with us!
Cuisine
À la carte menu
Gluten-free food and products
High chairs and 'baby' cutlery
Baby menu and flexible hours
Packed lunches available
Our restaurant is a constantly evolving culinary laboratory, where our Chefs seek out the very best local ingredients and transform them into traditional Ligurian entrées, all with a touch of innovation.

Guests won't want to miss out on our delicious Ligurian focaccia, our famous Genoese pesto, and our mixed fried seafood with semolina flour, which is a favourite among people of all ages.

Continue reading!

Our Chef is very attentive to needs of parents with small children, and is always available to prepare personalised service baby foods, so mum and dad can rest assured that their little ones will be well taken care of!

Close
Recommended nearby attractions


Acquario di Genova
27.4km from the hotel


Città dei Bambini
27.1km from the hotel
Bring your family here!
Request a free quote
Best family rate
Quick quote by email
Direct reply from the hotel
Other Italy Family Hotels that might interest you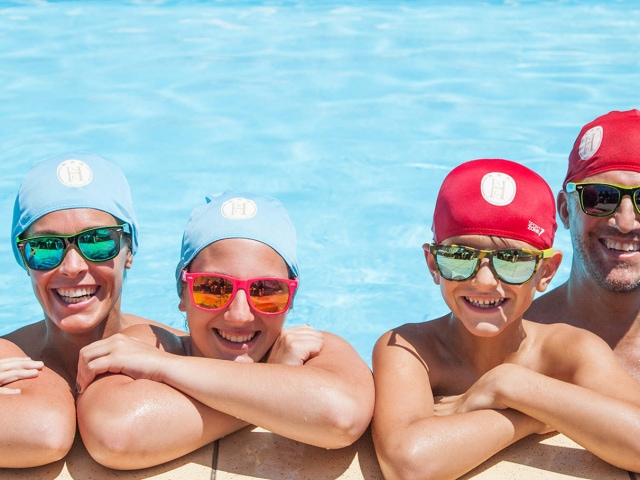 Finale Ligure
Hotel San Giuseppe

***
Swimming pool with hot tub, children's pool, and indoor garage
Family services (Bino):
| | |
| --- | --- |
| Starting from 58,00 € per night, per adult, half board | |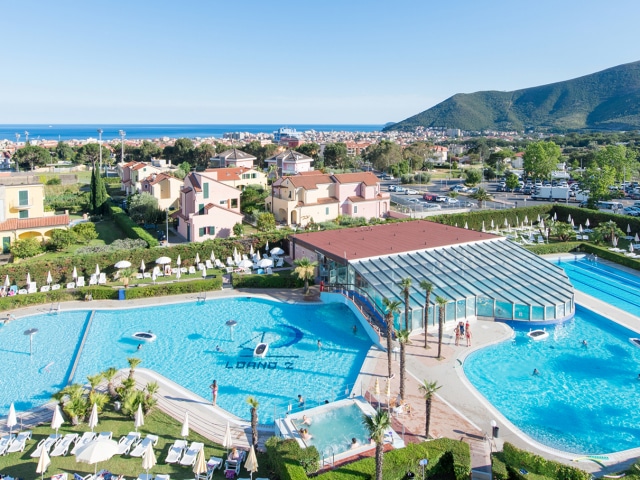 Loano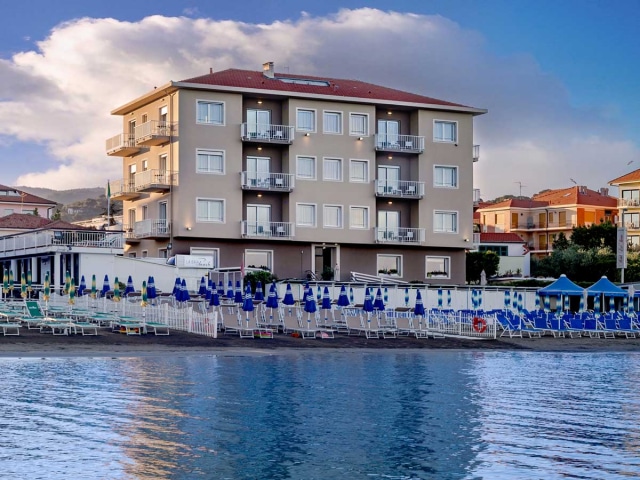 Diano Marina
Hotel La Baia

***
With a private beach, 12 hours of entertainment and play areas
Family services (Bino):
| | |
| --- | --- |
| Starting from 75,00 € per night, per adult, full board | |
Go back to all hotels