Family services (Bino):
Ciao, io sono Bino!
Garantisco io la qualità negli Italy Family Hotels.
Più Bino = Più servizi family disponibili!
Starting from 87,40 € per night, per adult, full board
Family services (Bino):
Starting from 87,40 € per night, per adult, full board
3 good reasons to come here
1

LocationImmersed within a 3,000 m2 pine forest bordering directly on the beach, and just 1 km from the Giulianova town centre.

2

Our tribeActivities divided by age groups, for children 1 to 16 years of age, with two indoor and outdoor play areas.

3

PoolOur heated pool area is nestled within the greenery of the garden, and includes a shallow children's pool.
Our services
Baby pool
Swimming pool
Disabled access
Private parking
Garden
Small pets are accepted
Bike rentals
Laundry service for a fee
Wi-Fi in public areas
Air conditioning in public areas
Discover all the services
Languages spoken by staff: Italian, German
Close
Description
Located just one kilometre from the Giulianova town centre, right in the heart of a pine forest that opens onto the sea, the Hotel Baltic transforms a simple holiday experience into a full-fledged party, and a journey into the local traditions and natural surroundings.
Immersed within this natural environment, guests will find a super heated swimming pool with a children's pool, playground equipment, snacking tables, the Posto delle Emozioni wellness centre, where, among other things, guests can enjoy lymphatic drainage and shiatsu massages, and the open-air Palcobaleno theatre, where lots of shows are held every evening. Guests can even get straight to the beach by simply cutting through the pine forest! So parents can have the peace of mind that there aren't any roads to cross, and the children can have fun racing to see who makes it there first!
Since we have a special place in our hearts for families with children, our entertainment staff are dedicated to keeping guests 1 to 16 years of age busy with age-appropriate games and activities in our dedicated rooms, in the pine forest, on the beach, and by the pool. But parents are advised not to stray too far while we're entertaining their little ones, because we have lots of activities for them as well: walks on the beach with our Nordic walking instructor, yoga in the pine forest, water aerobics and dance lessons, bike rides, wine tastings in the cellar and cooking lessons held by our chef, who teaches our guests how to make Romagna-style flat bread sandwiches, spaghetti alla chitarra, and tagliatelle.
Our guests can rest assured that they'll find everything they need for their little ones directly at the hotel or in their rooms, including laundry service, a small paediatric pharmacy, a set of complimentary children's toiletries in the bathroom, beds with side rails, cots, bottle warmers, changing tables, baby bath tubs, and night lights. There's also a free bicycle rental service, complete with child seats, toddlers' balance bikes, and BMX bikes, as well as strollers.
Rooms
All rooms are equipped with:
Air conditioning
Free Wi-Fi
Room service
Soundproofed rooms
Courtesy set
Safe
Wake-up calls
Baby WC reducer and stools
Bed rails, cradels, bottle warmers, baby changing tables
Family Classic Rooms

Family Classic Rooms

Located on the first through third floors of the hotel, these simple and basic rooms are an excellent value for the money. They all come with balconies, and are ideal for families consisting of two adults, two children, and an infant.
Family New Classic Room

Located on the fourth floor, this room is furnished in a contemporary and linear fashion, can comes complete with a balcony. It can accommodate families consisting of two adults, two children, and an infant.

Family New Classic Room
Solo per Tre rooms with Mezzanines

Solo per Tre rooms with Mezzanines

These elegant rooms located on the top floor of the hotel feature mezzanines and balconies, and offer spectacular views of the sea and the port of Giulianova. They're furnished with one double bed and a sofa bed for one person, and can comfortably accommodate families of up to three people.
Family room with Mezzanine

Size:28 m2

Facility:

2 separate rooms

Designed for larger families, this room is a favourite among children and those looking for greater privacy, which is guaranteed by the presence of two separate and extremely comfortable rooms. Located on the top floor of the hotel, this functional room is very spacious, and is finished with maximum attention to detail.

Family room with Mezzanine
Entertainment
Children's entertainment by age group
Indoor/outdoor playgrounds
Babysitting on demand
Kids cooking classes
Kreative Workshops
When children arrive at the Baltic Hotel, they become members of a real Tribe, which is made up of lots of kids their same age and our friendly entertainment staff.

We organise lots of activities on the beach, in the games room, at the hotel, and in the pine forest.
Baby Tribe
Our friendly nannies look after our guests' little ones 1 to 3 years of age with games on the beach in the mornings, and with workshops and educational activities in the pine forest in the afternoons from 4:00 p.m. to 6:00 p.m.
Mini Tribe
Reserved for those 4 to 12 years of age, the children attending this club can look forward to lots of fun, with games on the beach, creative workshops, snacks in the pine forest, treasure hunts, shows at the Palcobaleno theatre, and team games, all organised by our fantastic entertainment staff. The morning session lasts from 9:30 a.m. to 2:00 p.m., after which everyone has lunch together, and meets up again in the afternoon from 4:00 p.m. to 6:30 p.m. In the evening, the fun resumes at 9:00 p.m. with the baby dance party and various shows. Bedtime is also lots of fun, with stories read by candlelight, accompanied by warm milk and biscuits.
Teen Tribe
Older children 12 to 16 years of age can challenge each other to foosball, table tennis, and beach volleyball matches, and can gather in the evenings to visit the amusement park, or to party together on the beach.
Cuisine
Gluten-free food and products
High chairs and 'baby' cutlery
Baby menu and flexible hours
Dining rooms with kids area
Our cuisine consists of traditional Abruzzo entrées, with the choice of 5 first and 3 second courses every day. The organic breakfast options offer a glimpse into our culinary philosophy, with a clear preference for the use of local products, and a keen awareness of any guests with food intolerances or special dietary needs.

For weaning infants and little ones up to 3 years of age, we offer a dedicated babies' menu, complete with broths, vegetable purées, baby foods, children's pastas, and organic creams, while older children can choose from among various pastas with simple sauces, and tender meat dishes, even to be enjoyed in the company of the entertainment staff on the veranda.

Continue reading!

Guests won't want to miss out on the afternoon snack in the pine forest! The children also have the opportunity to make pizza together with the entertainment staff, which they can enjoy all together at dinnertime.

Special evening events are organised every week, like the Abruzzo themed dinner and the seafood dinner, with meticulously prepared menus.

Whether for a coffee after lunch, an aperitif, or a simple chat among friends and family, the Bardi Fuori café is always ready to welcome guests for pleasant moments of conviviality and relaxation.

Close
Recommended nearby attractions

Acquapark Onda Blu Tortoreto
2.6km from the hotel


Giocolandia
2.7km from the hotel


Fortress of Civitella del Tronto
24km from the hotel


Tortoreto Nature Oasis
5.7km from the hotel
Bring your family here!
Request a free quote
Best family rate
Quick quote by email
Direct reply from the hotel
You are browsing...
Hotel Baltic

***
Giulianova LidoAbruzzo
Other Italy Family Hotels that might interest you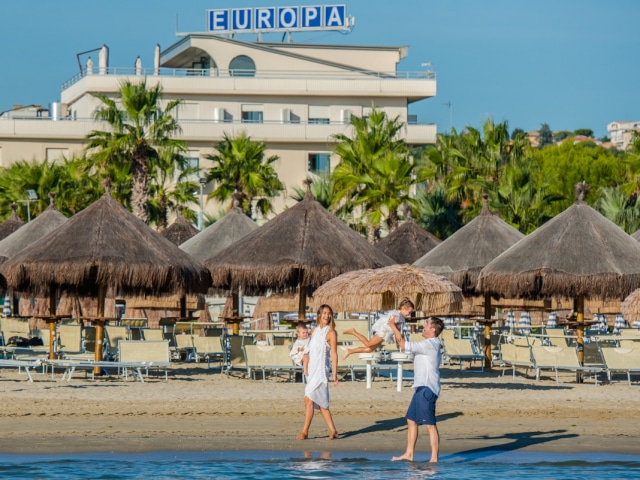 Giulianova
Hotel Europa Beach Village

****
In an exclusive location, right on the private beach
Family services (Bino):
| | |
| --- | --- |
| Starting from 69,00 € per night, per adult, half board | |

Giulianova Lido
Hotel Promenade

***
A family atmosphere that welcomes guests and accompanies them from the moment they arrive!
Family services (Bino):
| | |
| --- | --- |
| Starting from 63,00 € per night, per adult, half board | |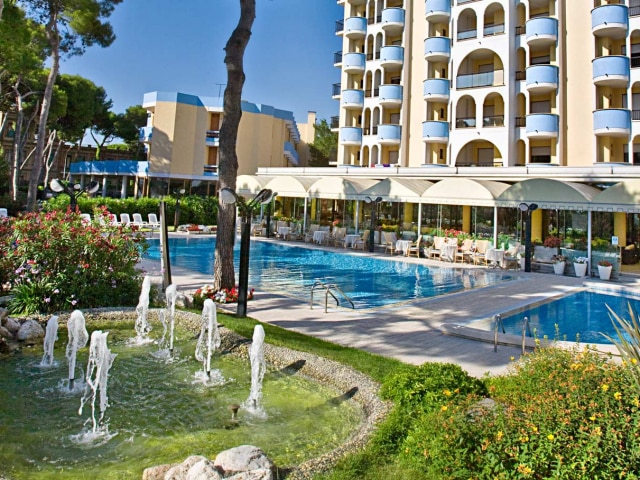 Giulianova
Hotel Parco dei Principi

****
A group of entertainers committed to guaranteeing smiles and surprises!
Family services (Bino):
| | |
| --- | --- |
| Starting from 65,00 € per night, per adult, half board | |
Go back to all hotels