Seapark FAMILY RESORT & SPA
****
Family services (Bino):
Ciao, io sono Bino!
Garantisco io la qualità negli Italy Family Hotels.
Più Bino = Più servizi family disponibili!
Starting from 98,00 € per night, per adult, half board
Family services (Bino):
Starting from 98,00 € per night, per adult, half board
3 good reasons to come here
1

ALL INCLUSIVE Or, more precisely, All Exclusive, for your personalised holiday, truly made to measure for a carefree stay.

2

FAMILY SPA Relaxing and sharing in the beautiful Spa, for an experience with the whole family, because well-being means pampering for adults and children.

3

DIEGO DRAGO'S VILLAGE 10,000 m2 where children can play with the mascot, have fun in the "Diego Drago's Secret Garden" theme park and eat in the Kids Only restaurant for children aged up to 12 years.
Our services
Baby pool
Heated pool with hydromassage
Spa
Children wellness
Private beach
Disabled access
Secure car park
Garden
Pets welcome
Bike rentals
Discover all the services
Laundry service for a fee
Fitness Centre
Wi-Fi throughout the hotel
Languages spoken by staff: Italian, English, German, French
Close
Description
Enjoy the sense of freedom and personal wellness of an exclusive SPA resort located just a few metres from the affiliated beach facility in Giulianova. Perhaps even opting for our "all-exclusive" deal, which is specifically designed for those who, other than enjoying unforgettable experiences with their family, don't want to worry about a single thing while on holiday. We offer two special packages: the Gold package and the Platinum package, for a holiday experience fit for a prince, which includes lots of additional services.
Our mascot, Diego Drago, and our entertainment staff engage our guests' children in lots of fun mini club activities, such as the cooking workshop for young chefs, the magic school workshop, the circus, the super snack, and the Gelato Party together with mum and dad.
We have an enormous amount of space! Guests will find a giant playground in the cool garden area, spacious guest rooms and romantic villas, and the refined "Le Acque di Jo" Family Spa. That's right… because, as we like to say, "behind every happy child there's a happy parent."
So get those children ready for their princess treatments and child massages, like the chocolate one, or the Frozen-themed mint one. Here, our guests' little ones are even welcome in the sauna! And right next to the Relaxation Pool, with warm 34° saline water, there's a lovely little shell-shaped swimming pool. So parents can even keep an eye on their children while relaxing in the hot tub.
And then there are the outdoor pools, which include the Sport Pool designed for swimming, and the Laguna Pool for play time!
There's even an enormous botanical garden with over one hundred plants and fruit trees, where guests and their whole families can learn all sort of interesting facts about plants!
We've even been a proud recipient of the Tripadvisor Certificate of Excellence for 6 years in a row!
Rooms
All rooms are equipped with:
Air conditioning
Free Wi-Fi
Room service
Soundproofed rooms
Courtesy set
Safe
Wake-up calls
Mini-bar
Sanitising of rooms
Baby WC reducer and stools
Bed rails, cradels, bottle warmers, baby changing tables
Classic Rooms

Classic Rooms

These comfortable and elegant 24 m2 rooms a decorated in relaxing colours, and can accommodate up to 4 people. They're ideal spots to get together and relax in peace and quiet. They all have balconies, and include a double bed, with the possibility of adding a second bed or a cot, and come complete with everything guests need for their children. The bathrooms have shower cubicles.
Family Rooms

These rooms are ideal for those looking for spacious and independent accommodations with elegant furnishings. Located in the main building of the hotel, they're 32 m2, making them perfect for families of up to 5 people. They consist of one double bedroom, one children's bedroom, a bathroom with a shower, and a private fenced-in garden or furnished balcony.

Family Rooms
Two Room Villa Suite or Suite du Parc

Two Room Villa Suite or Suite du Parc

All the conveniences of home, but with the added comforts that only a family holiday can offer. Located in the "La Villa Suite" area, our 40-45 m2 villas have independent entries, and are perfect for accommodating up to 5 people. They feature a private double bedroom, an exclusive living room area that adjoins with the secondary bedroom, a bathroom with a shower, and an elegant loggia situated in front of the lagoon pool. The suites are located in the "Suite du Parc" area opposite the botanical garden, which can be admired from the private loggia. They include a double bedroom, a living room that adjoins with the secondary bedroom, a kitchenette, and bathroom with two washbasins and a shower.
Three Room Villa Suite or Suite du Parc

These villas and suites are 40 to 70 m2 in size, offering plenty of space! They consist of a double bedroom and a children's bedroom, an elegant living room, and a bathroom with a shower, offering the entire family all the privacy they need, even on holiday.

Three Room Villa Suite or Suite du Parc
Super Suite du Parc

Super Suite du Parc

These bright accommodations are designed to give guests the sensation of sleeping in the woods… or in a tree! Located on the first floor, these Super Suites are furnished with a nature theme, and include a panoramic terrace overlooking the botanical park. They consist of a living room, a kitchenette, 2 bathrooms, a double bedroom, and a children's bedroom, and allow guests to enjoy all the comforts of home, but with all the services and amenities of a hotel. These spacious 40-70 m2 units are perfect for families of up to 5 people.
Entertainment
Children's entertainment by age group
Babysitting on demand
Kids cooking classes
Educational farm tour
Kreative Workshops
| | |
| --- | --- |
| | Our mission is to welcome families within a safe and protected environment, complete with lots of little amenities that will allow them to travel light and feel perfectly at home. In addition to the fine sand and shallow waters of the nearby beach facility, we also have a lush green park area where guests can relax, play, and enjoy a tasty snack in good company. Our entertainment services are divided by age groups, and are provided in our child-friendly play corners. The Spa is open to children at set times. |
Baby Club
The Resort offers a babysitting service for a fee, a paediatrician available 24 hours a day, cradles, high chairs, beds with side rails, shaded baby areas for breastfeeding, changing tables, and baby bath tubs. There are also soft activity mats, games and books. Bicycles with child seats. During meals we have dedicated staff to provide baby bottle and baby food assistance.
Mini Club
Our facility is renowned for its mini club activities. These include multi-sensory experiences, especially of a manual nature, such as the Master Chef pizza-making activity, the "Sand Painting" activities using coloured salt, the Body Painting activity with natural tempera paints, the Evening musical, the treasure hunt, the Chinese Lanterns, the fantastic Nutella and Gelato Parties, the delicious snack in our lush garden area, and the bedtime story with milk and biscuits.
Junior Club
We offer older children age-appropriate games, sports, and socialisation activities. We even hold a special Champions League tournament on our beautiful grass football pitch, complete with awards and trophies. Various types of competitions are organised in the park area and on the beach, including: Beach Soccer, Volleyball, Beach Volleyball, Beach Tennis, Table Tennis, Water games at the pool, Aperitif games, Bingo, Bocce, and Water Aerobics. Just around the corner from our facility there's even a fantastic Go Kart track. Bicycles for people of all ages are also available.
Our mascot Diegodrago
Hi kids! I'm Diegodrago, the mascot here at the Seapark Spa Resort.

You'll always find me wherever people are happy and having fun, because there's nothing I love more than seeing you happy and making sure your holiday experience is like a mini fairy tale!

Think of your holiday experience as an adventure film, where you're the main character… and I'm the director. Together, we'll never get bored, and we'll take part in lots of new activities in the company of the entertainment staff. These include sand painting, sand drawings, educational workshops to learn to respect nature, and even cooking workshops, where you'll learn how to become great little chefs.

There's even a football school, where children can learn the techniques they'll need to become real champions, all while having lots of fun!
Cuisine
À la carte menu
Gluten-free food and products
High chairs and 'baby' cutlery
Baby menu and flexible hours
Certified organic food corner
Baby meal corner
Dining rooms with kids area
Baby meals with entertainer
Packed lunches available
Every holiday experience requires excellent food. That's why every day we offer our guests international entrées and recipes from the Abruzzo culinary tradition, complete with surf and turf options, all made exclusively with top quality ingredients.

Lunch is buffet-style, with drinks on tap included, while the gourmet dinner combines the fragrances and flavours of Abruzzo, from the sea to the mountains. In addition, you will always find a rich buffet served with seasonal fruit and vegetables and freshly-baked bread and pizza.

Continue reading!

We periodically organise an elegant traditional candlelit dinner complete with a selection of local wines and entrées, including arrosticini, chitarra pasta with pallottine, Teramo timbale, porchetta and "pizza dogge".

Our guests' days begin with a large breakfast, complete with an organic foods corner.

Close
Recommended nearby attractions

Mountain bike excursions
2.9km from the hotel

Giocolandia
4.1km from the hotel

Acquapark Onda Blu
2.6km from the hotel
Bring your family here!
Request a free quote
Best family rate
Quick quote by email
Direct reply from the hotel
Other Italy Family Hotels that might interest you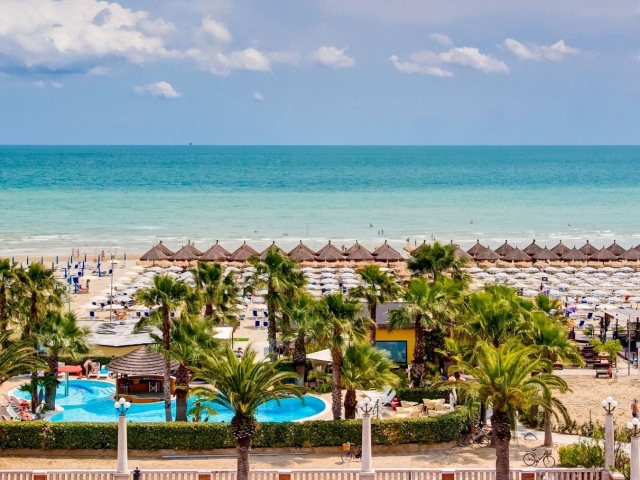 Giulianova
Hotel Europa Beach Village

****
In an exclusive location, right on the private beach
Family services (Bino):
| | |
| --- | --- |
| Starting from 69,00 € per night, per adult, half board | |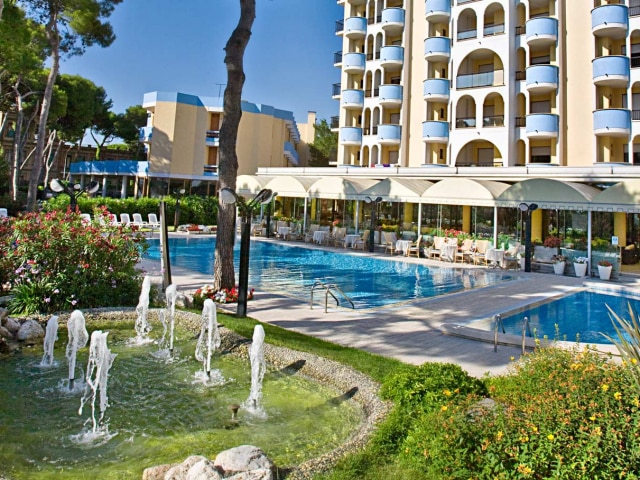 Giulianova
Hotel Parco dei Principi

****
A group of entertainers committed to guaranteeing smiles and surprises!
Family services (Bino):
| | |
| --- | --- |
| Starting from 65,00 € per night, per adult, half board | |

Giulianova Lido
Hotel Promenade

***
A family atmosphere that welcomes guests and accompanies them from the moment they arrive!
Family services (Bino):
| | |
| --- | --- |
| Starting from 63,00 € per night, per adult, half board | |
Go back to all hotels