Hotel Arcangelo***s
Pellizzano
Trentino Alto Adige
Family services (Bino):
Ciao, io sono Bino!
Garantisco io la qualità negli Italy Family Hotels.
Più Bino = Più servizi family disponibili!
Starting from 63,00 € per night, per adult, half board
Family services (Bino):
Starting from 63,00 € per night, per adult, half board
3 good reasons to come here
1

Family activitiesOutdoor summer and winter experiences, complete with trekking for children over 3 years of age, and Mini Club activities for those 4 to 11 years of age!

2

Themed rooms and Family SuitesThey're all different, unique and special, and have lots of fun features for children... after all, who wouldn't want to sleep in a castle or a bear's den?

3

Authentic cuisineEvery day, our chefs prepare Italian recipes from the Solandra cultural tradition, homemade sweets and bread, mouth-watering children's menu items, and delicious desserts!
Our services
Swimming pool
Spa
Disabled access
Ski room
Wi-Fi throughout the hotel
Languages spoken by staff: Italian, English, French
Description
Welcome to the Hotel Arcangelo, located in the charming town of Pellizzano, in Val di Sole! It's an extremely convenient location for families! In fact, here guests will find lots of amenities at their disposal, including a nice level bike path, the free Ski Bus stop directly in front of the hotel, and the ski slopes just a few metres away.
Everyone knows that travelling with children can be challenging… so we do everything we can to make a family holiday experience simple, quiet, safe, and lots of fun! Starting with the activities that we organise during both the summer and the winter, such as our mini trekking excursions for children over 3 years of age, or our fantastic sleigh rides.
But the fun never ends, because our assistants are there to entertain our guests' little ones at the Mini Club, in a bright room dedicated entirely to children. And while the kids are having fun, their parents can indulge in a quiet afternoon of relaxation at our exclusive Wellness Centre, La Cueva, which is open from 3:30 p.m. to 7:00 p.m., and features a sauna, an aromatic shower, a heated pool, and an ice cave. In the wintertime, on the other hand, guests won't want to miss out on the romantic outdoor jacuzzi, and the wood-fired sauna.
And don't forget to take a dip in the pool with the kids! It's open from 10:00 a.m. to 7:00 p.m.!
After a day of fun and exploration, we like to tempt the entire family with fresh local products, which we transform into homemade desserts, and genuine traditional entrées, all designed to appeal to people of all ages.
And let's reveal one last secret: we offer a one-of-a-kind bedtime experience, because here, all of our themed rooms are different and characteristically unique. Large Family Suites are also available, in order to comfortably accommodate families and allow children the space to play until bedtime!
Rooms
All rooms are equipped with:
Free Wi-Fi
Safe
Sanitising of rooms
The Bàzega room

The Bàzega room

When kids in Val di Sole want to go out with a sledge (bàzega) they say: "Nente cò la bàzega?". This bright room with a mezzanine is decorated with the same wood used to build those fantastic sledges… hence its special name!

It comes complete with a comfortable suspended double bed, two single beds, which form a rather unusual castle, and a private bathroom with a shower and complimentary toiletries.
The Woodpecker Room

We have dedicated this Comfort Room, furnished in larch, Swiss pine and Swiss stone pine, to the woodpecker. It consists of two twin rooms located on the 1st and 2nd floors, complete with private bathrooms with showers, and a window-enclosed balconies.

The Woodpecker Room
The Cinderella Room

The Cinderella Room

This modern and elegant Comfort Room located on the 2nd floor includes a panoramic balcony and a bathroom with a shower.
The Belling Room

Furnished with fragrant larch wood from the Val di Sole forests, where the belling of deer can be heard during the mating season, this exclusive room boasts an exceptionally romantic mountain atmosphere.

The room includes a balcony facing the forests and the road leading down to Caprioli Lake, as well as a special den for the little ones to sleep in.

The Belling Room
The Castle Room

The Castle Room

Give your children the gift of sleeping in the castle of the Hotel Arcangelo: where they're certain to have fairytale dreams! The windows of this spacious themed room offer a splendid view of the forest, the mountains, and the village of Pellizzano.

The room is furnished and heated in local wood, complete with a bathroom with a large shower and a stone sink, and is ideal for accommodating families.
The Maso Room

We've recreated some of the most iconic architectural elements of the past, using local stone, pine and larch wood, resulting in an environment where guests and their families can experience what it was like to sleep at an authentic traditional farm!

The room has a large bathroom with a shower.

The Maso Room
Smart Rooms

Smart Rooms

Our Smart rooms offer a holiday experience that's an excellent value for the money. Furnished with a simple and tasteful style, they're smaller in size than the other rooms, but nevertheless include all the hotel's comforts and amenities
Family Suites

Five extremely spacious rooms, for unlimited space to play and relax! These comfortable rooms are all different, and are designed to allow even large families to enjoy a comfortable holiday experience.

Family Suites
Entertainment
Here, there's fun to be had by everyone! Our entertainment staff look after our guests' children, engaging them in fun games, and organising family activities during both the winter and the summer.

In the wintertime, guests and their children can take part in snowshoeing, dog sledding, and snowmobiling excursions, as well as sledging adventures, and group games; during the summer, on the other hand, the activities include outdoor excursions, bike rides, and horseback riding.
Mini Club
All children 4 to 11 years of age are welcome at the Mini Club, where they'll find a bright and colourful room reserved for fun and creative activities.
Here, the entertainment staff organise fun activities and workshops for the older kids, and the littlest guests can play with lots of safe and certified toys and games, including a special Lego corner, colouring and painting materials, skill and memory games, a children's playhouse, a mini kitchen, and much more.
Cuisine
Gluten-free food and products
High chairs and 'baby' cutlery
Baby menu and flexible hours
Certified organic food corner
Packed lunches available
We offer our guests a wonderful culinary journey into the food and wine tradition of the Trentino region, all within the charming environment of our rustic and picturesque dining room.

The Chef lovingly chooses all the very best fresh ingredients, even from local suppliers.

At breakfast, guests can recharge their batteries with homemade bread, cakes, biscuits, and jams, or delicious cured meats, eggs, and local cheeses.

The main meals consist of a selection of very best entrées from the Italian and Trentino culinary traditions, all accompanied by a large buffet of appetisers and fresh and cooked vegetables, with options for those who suffer from food intolerances also available upon request.

We always pay special attention to our guests' children, for whom we prepare mouthwatering menu items and fantastic homemade desserts.
Recommended nearby attractions


Madonna di Campiglio and the Brenta Dolomites Ski Area
29km from the hotel


Caprioli Lake
4.1km from the hotel


The village of Ossana
1.9km from the hotel


Val di Pejo
8.2km from the hotel


Val di Rabbi
27.8km from the hotel
Bring your family here!
Request a free quote
Best family rate
Quick quote by email
Direct reply from the hotel
Other Italy Family Hotels that might interest you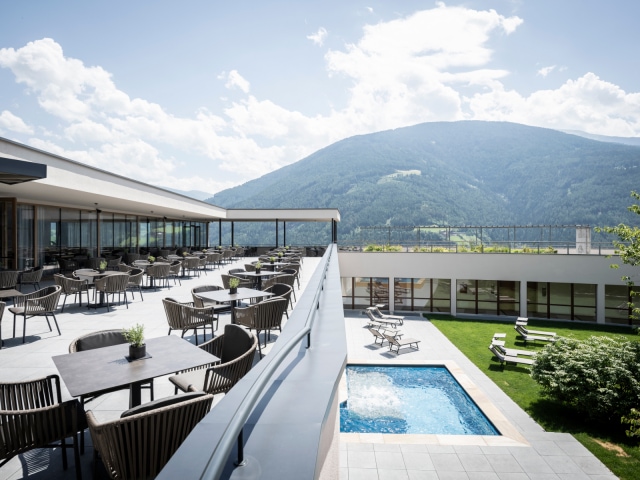 Naz - Sciaves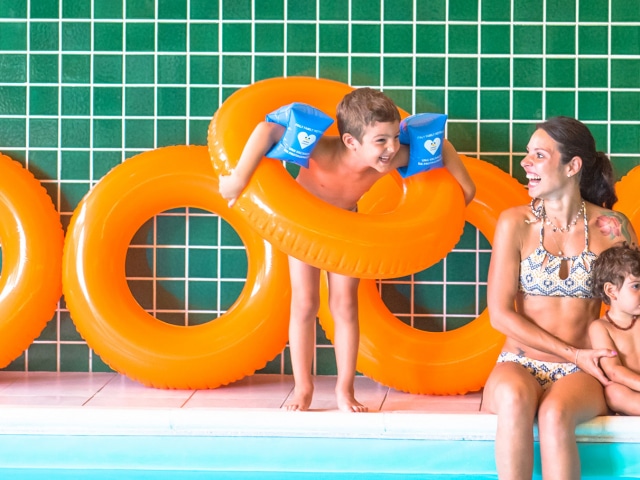 Folgaria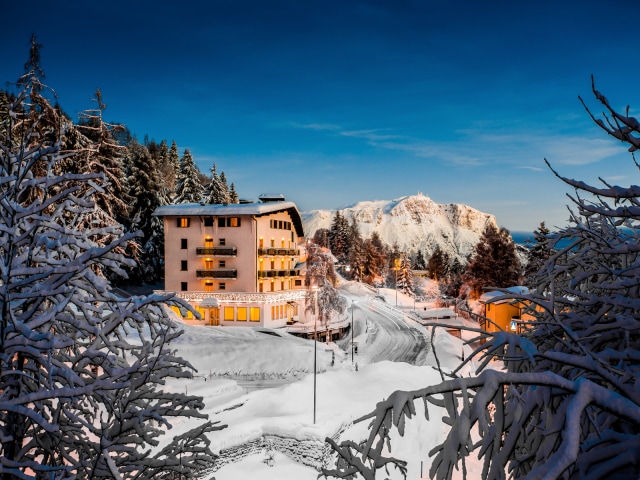 Monte Bondone
Go back to all hotels