Color Palace Lido Family Village
****
Lido di Savio
The Adriatic Coast
Family services (Bino):
Ciao, io sono Bino!
Garantisco io la qualità negli Italy Family Hotels.
Più Bino = Più servizi family disponibili!
Starting from 60,00 € per night, per adult, all inclusive
Family services (Bino):
Starting from 60,00 € per night, per adult, all inclusive
3 good reasons to come here
1

LocationIn a quiet area overlooking our private beach, which can be reached by simply crossing through the hotel's pool area.

2

EntertainmentFun is guaranteed for the entire family, including shows, foam parties, and Colour Explosion events.

3

The Super All-Inclusive dealOpen Bar, swimming pool, private beach, Coco Snacks, aperitifs, grill corner, Bedtime Coco, and cocktails.
Our services
Baby pool
Heated pool with hydromassage
Private beach
Directly by the sea (without crossings)
Private parking
Garden
Small pets are accepted
Free pediatric consultation
MAXI inflatables
Bike rentals
Discover all the services
Laundry service for a fee
Wi-Fi throughout the hotel
Air conditioning throughout the hotel
Languages spoken by staff: Italian, English, German
Close
Description
Welcome to our fantastic realm of fun and relaxation: the Color Palace Lido Family Village. Here, everything is designed to ensure a relaxing experience for the grownups, and lots of fun for children, with a wide range of family-friendly services and amenities available, and an enviable location right on our private beach, which can be reached without crossing any roads.
Here, guests will find a fantastic swimming pool heated to 24°C, with lifeguards always on duty, as well as a hot tub and a sun deck, all surrounded by beautiful flowers and green hedges.
Not to mention the entertainment services, which are provided 7 days a week, divided by age groups! All children over 4 years of age, and even their parents if they want, are invited to take part in lots of fun daily activities, including water aerobics on the beach, group dances, muscle awakenings, the aperitif game, card game tournaments, sports activities, and special events. And in the evening? Baby Dance parties, Colour Shows, and Dancing under the stars.
One thing is certain, here there's always something to eat (and drink)! We get our guests' days started out on the right foot with a fantastic breakfast full of delicious options, followed by Free Drinks throughout the day, daily Coco snacks for children to take to the beach, delicious aperitifs, the Grill Corner at lunch and dinner, the Food Corner in the afternoon, with lots of sweet and savoury options, the Bedtime Coco, with herbal teas for the grownups and hot milk and biscuits for the children, and free cocktails for the adults from 8:00 p.m. to midnight.
And guests will naturally find all the accessories they need to take care of their children right in their rooms, including bed side rails, cots, bottle warmers, and changing tables.
Rooms
All rooms are equipped with:
Air conditioning
Free Wi-Fi
Pay TV
Safe
Mini-bar
Baby WC reducer and stools
Bed rails, cradels, bottle warmers, baby changing tables
Suites

Suites

Size:40 m2

Facility:

2 adjoining rooms

Located on the top floor of the hotel, these splendid 40 m2 rooms can be reached via the panoramic lift. These spacious and comfortable units consist of two adjoining rooms furnished with a double bed and 2 single beds, which, if necessary, can become bunk beds, as well as a large window overlooking the sea.
Junior Suites

Located on the top floor and reachable via the panoramic lift, these units include a large bathroom, a double bed, and a bunk bed, with the possibility of also including a child's bed, and feature a large window with a splendid view of the sea.

Junior Suites
Colour Rooms with Sea View

Colour Rooms with Sea View

These modern and cosy rooms all have balconies that offer picturesque views of the sea.

Each room is furnished with a double bed and a bunk bed.
Entertainment
Children's entertainment by age group
Indoor/outdoor playgrounds
Kreative Workshops
Our professional entertainment staff are ready to pamper and entertain our guests' children with lots of fun activities divided by age groups, all throughout the day, both at the hotel and on the beach.

Children 4 to 18 years of age can take part in the Mini Club, Young Club and Teen Club activities, while mum and dad can participate in our muscle awakening sessions, the aperitif game, water aerobics courses, and various exciting tournaments.
Mini Club
Available every day for children 4 to 10 years of age. We offer lots of recreational activities designed specifically for them, both on the beach and at the hotel, where the Mini Cocoland children's playroom is always open. There's also a fantastic outdoor play area, complete with inflatables and a multi-sport Playground!
Young Club
We understand that kids 10 to 14 years of age aren't little any more, but they're also not grownups, which is why we have an entertainment coordinator dedicated specifically to them. From 10:00 a.m. to 12:00 p.m. everyone takes part in the activities on the beach, while from 4:00 p.m. to 6:00 p.m. the action is all at the hotel. The Junior Cocoland games room, which is dedicated specifically to this age group, is always open, and features Playstation 4, X-box, foosball, billiards, and table tennis.
Teen Club
For children 15 to 18 years of age, we offer an intriguing and stimulating programme designed to promote group adhesion. Activities include sports tournaments, the DJ course, the foam party, and even the possibility of becoming a member of the entertainment staff for a day.
Our mascot Coco
Hi Kids! I'm Coco! The friendly and colourful unicorn who lives in the garden here at the Color Palace Lido Village. I always get really excited when the children come to visit me, because there's nothing I like more than playing, dancing and singing together.

So don't wait! Be sure to tell mum and dad you want to come see me.
Cuisine
Buffet restaurant
High chairs and 'baby' cutlery
Baby menu and flexible hours
Baby meal corner
Dining rooms with kids area
Baby meals with entertainer
You know you're enjoying an ideal holiday experience when the food is excellent, too! Here at the Color Palace Lido Family Village we also like to pamper our guests at breakfast, lunch, and dinner, with Front Cooking style cuisine that they can enjoy in our dining room overlooking the sea. Our cuisine consists of traditional Mediterranean entrées with an international appeal, and one evening a week we offer our guests the opportunity to sample typical products from the Romagna region.

For our younger guests, we offer delicious Children's Menu items, which they can enjoy in the company of our entertainment staff.

Continue reading!

And that's not all! Every afternoon, guests can indulge in the delicious international foods available from our Food Corner, including hot dogs, hamburgers, crepes, and more!

For parents with infants there's a 24-hour kitchenette available, complete with a fridge, a microwave, crockery, and a cook top. Vegetable purées, vegetable broths, and children's pastas are also available every day upon request.

Close
Recommended nearby attractions


Mirabilandia
10.3km from the hotel


Parco delle Saline - Cervia
10.4km from the hotel


Casa delle Farfalle - Cervia
4.4km from the hotel


Oltremare and Aquafan
65.6km from the hotel


Acquario di Cattolica
76.8km from the hotel
Bring your family here!
Request a free quote
Best family rate
Quick quote by email
Direct reply from the hotel
Other Italy Family Hotels that might interest you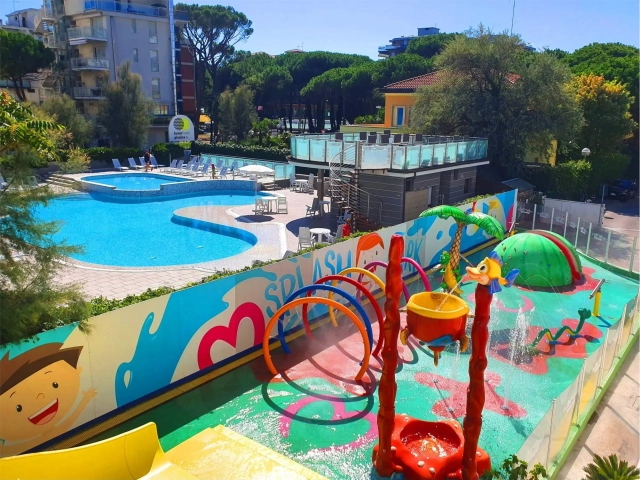 Milano Marittima
Club Family Hotel Milano Marittima

****
Endless fun on the beach, in the swimming pool and at the Gommonland Park and Splash Park
Family services (Bino):
| | |
| --- | --- |
| Starting from 82,00 € per night, per adult, all inclusive | |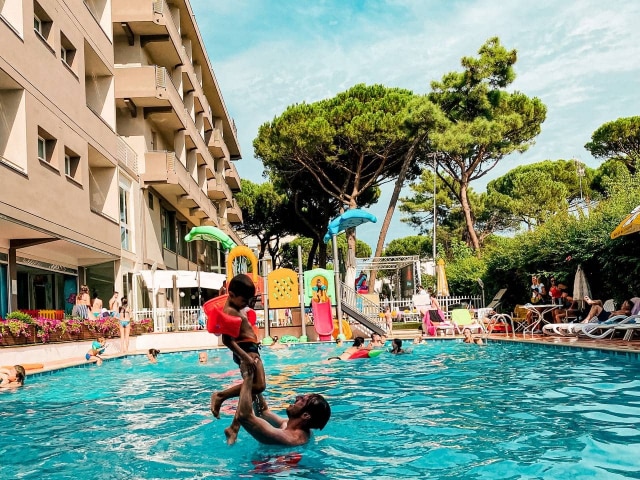 Milano Marittima
Club Family Hotel Michelangelo

****
13 hours of entertainment in the swimming pool and on the beach
Family services (Bino):
| | |
| --- | --- |
| Starting from 69,00 € per night, per adult, full board | |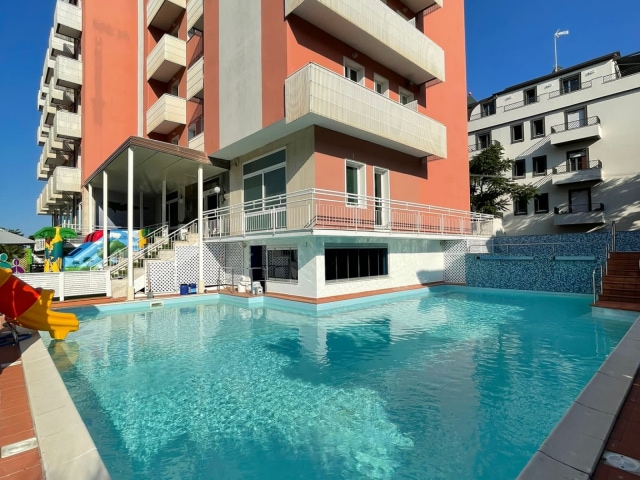 Milano Marittima
Go back to all hotels