Club Family Hotel Michelangelo
****
Milano Marittima
The Adriatic Coast
Family services (Bino):
Ciao, io sono Bino!
Garantisco io la qualità negli Italy Family Hotels.
Più Bino = Più servizi family disponibili!
Starting from 69,00 € per night, per adult, full board
Family services (Bino):
Starting from 69,00 € per night, per adult, full board
3 good reasons to come here
1

Play areas250 m2 playground with a children's area, a Baby Splash area, a heated swimming pool with a slide, and a large garden

2

Family roomsThese spacious and comfortable units come complete with children's amenities and large balconies

3

A passion for familiesGuests can trust our staff to guarantee an unforgettable family holiday experience... "you arrive as a guest, and leave as a friend!"
Our services
Pool with waterslide
Heated pool with hydromassage
Disabled access
Private parking
Garden
Small pets are accepted
Free pediatric consultation
MAXI inflatables
Bike rentals
Servizio lavanderia a pagamento
Discover all the services
Wi-Fi throughout the hotel
Air conditioning throughout the hotel
Languages spoken by staff: Italian, English, German, French
Close
Description
Here at the Club Family Hotel Michelangelo in Milano Marittima, all of our services and amenities are designed to ensure a fantastic holiday experience for children! Our most popular deal is our exclusive Top Quality All Inclusive®, which even includes a 24-hour Open Bar service, with unlimited beverages for our guests and their children on the beach, at the pool and at the hotel.
We offer an extensive children's programme, complete with 13 hours of activities and entertainment! After having picked up Dina la Merendina, it's time for the kids to head down to the beach, where the entertainment staff will have organised lots of fun games and competitions, giving parents an opportunity to relax at their reserved spot under the shade umbrella. The non-stop activities continue from 9:00 a.m. to 10:00 p.m. on the beach, at the hotel, and at the pool, with creative workshops, Art Attack sessions, and treasure hunts. Guests will even find a fabulous Baby Splash area immersed in the serene atmosphere of the garden, complete with a heated swimming pool and a colourful water slide. There's even an enormous 250 m2 play area overlooking the pool, complete with padded areas for our littlest guests, who parents can even entrust to the care of our friendly nannies.
The family-friendly holiday experience also continues at the table, with lots of different and exciting features, including a breakfast fit for champions, entrées prepared front cooking style for lunch and dinner, delicious aperitifs, the Ghiottone Corner for a super afternoon snack, and the possibility of enjoying hot-dogs, soft-ice cream, slushes, and ice lollies all day long. And the evenings conclude with more delicious surprises, including doughnuts, a chocolate fountain, cotton candy, and popcorn. We like to tickle the palates of the entire family with an unforgettable culinary experience. The children can even eat with the entertainment staff.
And the bedtime experience is family-friendly, too! In fact, we offer large Family Rooms (even adjoining), as well as elegant and inviting Suites and Junior Suites, where guests will find a well-stocked baby kit at their disposal, complete with a camping cot, an inflatable changing table, side rails, baby bath tubs, potty training seats, and night lights.
Rooms
All rooms are equipped with:
Air conditioning
Free Wi-Fi
Room cleaning twice a day
Room service
Soundproofed rooms
Safe
Mini-bar
Sanitising of rooms
Baby WC reducer and stools
Bed rails, cradels, bottle warmers, baby changing tables
Junior Rooms

Junior Rooms

Featuring a large balcony, a bathroom with a shower, a double bed and a 180 cm single bed (even convertible into a bunk bed), these rooms can comfortably accommodate up to 4 people. A baby's cot can be included in place of the single bed, upon request.
Family Rooms

Our large family rooms are available in different variants, and can accommodate up to 4 people. Each of these extremely comfortable rooms has a balcony, a double bed, a sofa bed that can be transformed into a bunk bed, and a spacious bathroom with a shower, and they're all perfect for families with small children.

Family Rooms
Adjoining Family Rooms

Adjoining Family Rooms

These units consist of two bedrooms, each furnished with a double bed and a single bed, and are capable of accommodating up to 6 people. A camping cot can be added to each room upon request. The adjoining family rooms all have small balconies.
Junior Suites

These spacious and elegant units consist of a double bed and a sitting area, complete with a comfortable single sofa bed. Other amenities include an exclusive set of complimentary toiletries, elegant bed linens, a spacious wardrobe, and a 20 m2 terrace furnished with sun loungers and a sitting area.

Junior Suites
Suites

Suites

These sophisticated and spacious Suites come furnished with one double bed, two single beds, and a bathroom with a colourful shower. They include a beautiful 25 m2 terrace overlooking the sea, complete with a Jacuzzi, an experience shower, and a sitting area.
Entertainment
Children's entertainment by age group
Indoor/outdoor playgrounds
Babysitting on demand
Kreative Workshops
Here, children will find a true "Land of Amusement", with over 13 hours of daily entertainment, and a play area for little ones. A 250 m2 area with two themed Playgrounds, complete with a ball pit, mini slides, padded adventure trails, a KikiFun station, and multimedia and interactive games. For our littlest guests up to 3 years of age, there's an entire colourful padded area at their disposal, where they can have lots of fun with our nannies.

More active children and teens can play football at the Play Sport Arena, while video game enthusiasts can enjoy our high-tech corner, complete with a Playstation 5 and virtual reality viewers. All the activities are constantly supervised by our entertainment staff, who also organise creative workshops, Art Attack sessions, treasure hunts, exciting games, and tournaments, on the beach, at the hotel, and at and pool.
Baby Club
Children 8 months to 4 years of age can attend our Nanny School, complete with a padded play mat, a ball pit, Disney decorations, and sensory toys, where our friendly nannies will keep them entertained.
Mini Club
Children 4 to 11 years of age can take part in lots of fun activities from 9:00 a.m. to 10:00 p.m. at the hotel, on the beach, and at the swimming pool, including workshops, games, tournaments, and shows, and can even eat together with the animators.
Junior Club
For young people 12 to 17 years of age, the entertainment staff organise sports tournaments, fun afternoon and evening excursions, Playstation challenges, and group outings to Mirabilandia, the water park, and the Laser Game Arena.
Cuisine
Buffet restaurant
Gluten-free products
High chairs and 'baby' cutlery
Baby menu and flexible hours
Baby meal corner
Baby meals with entertainer
Packed lunches available
With our Family Menu, every day at the table is a unique experience! It all begins with our fabulous breakfast, featuring delicious sweet and savoury options, including crêpes, waffles, cakes, croissants, freshly baked bread, eggs, bacon, smoothies, fresh fruit, cereals, and much more. We also prepare a Dina la Merendina Snack for the children to take to the beach!

At lunch and dinner, both of which are served buffet style, we offer lots of delicious dishes made front cooking style for the entire family, including appetisers, meat and seafood first and second courses, side dishes, and vegetables. And the meals conclude with exquisite sweets and desserts made by our pastry chefs.

The children can dine with the entertainment staff, and can choose from our delicious children's menu items, while for parents with weaning infants there are baby foods, children's pastas, and broths available from 11:30 a.m. to 2:00 p.m., and from 6:30 p.m. to 9:00 p.m.

Every afternoon from 4:00 p.m. to 5:30 p.m. we set up the Ghiottone Corner: a super-sized snack consisting of delicious paninos, flatbread sandwiches, crêpes, and much more, which is a perfect way for our guests to recharge their batteries between trips to the pool and activities with the entertainment staff. And then there's the goodnight buffet of sweets, for one last treat before bedtime.

We even organise aperitifs with savoury snacks for the mum and dads, while hot dogs, ice creams, slushes and ice lollies are available throughout the day.
Bring your family here!
Request a free quote
Best family rate
Quick quote by email
Direct reply from the hotel
Other Italy Family Hotels that might interest you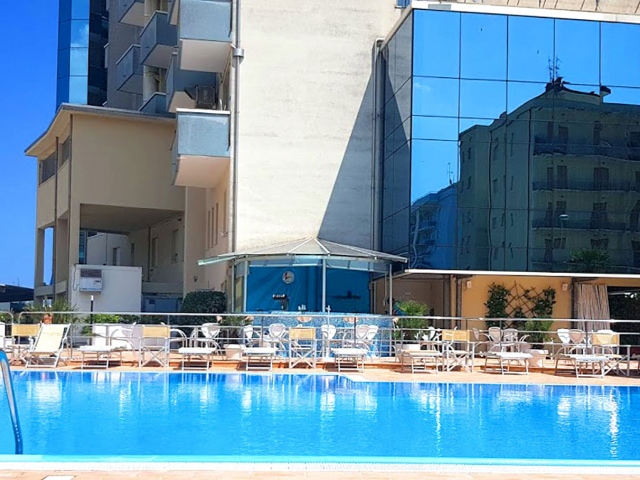 Lido di Savio
Color Palace Lido Family Village

****
Your all-inclusive family holiday, just a stone's throw from the beach.
Family services (Bino):
| | |
| --- | --- |
| Starting from 60,00 € per night, per adult, all inclusive | |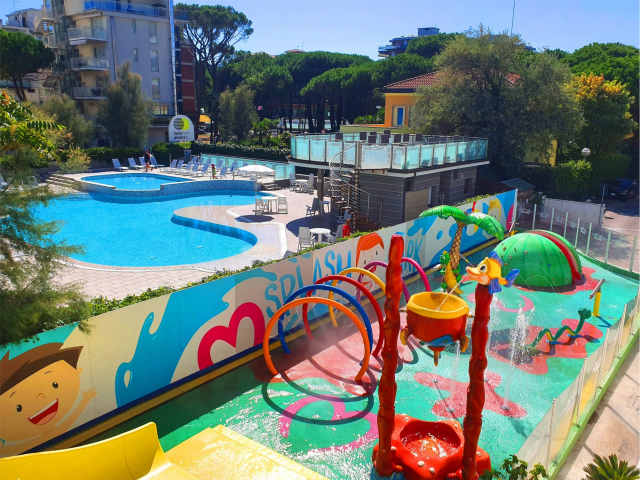 Milano Marittima
Club Family Hotel Milano Marittima

****
Endless fun on the beach, in the swimming pool and at the Gommonland Park and Splash Park
Family services (Bino):
| | |
| --- | --- |
| Starting from 82,00 € per night, per adult, all inclusive | |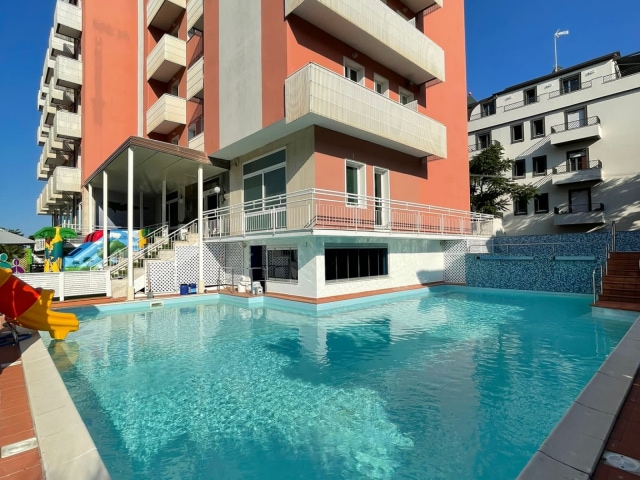 Milano Marittima
Go back to all hotels