Club Family Hotel Milano Marittima
****
Milano Marittima
The Adriatic Coast
Family services (Bino):
Ciao, io sono Bino!
Garantisco io la qualità negli Italy Family Hotels.
Più Bino = Più servizi family disponibili!
Starting from 82,00 € per night, per adult, all inclusive
Family services (Bino):
Starting from 82,00 € per night, per adult, all inclusive
3 good reasons to come here
1

Lots of fun in the water2 swimming pools, one heated, complete with a hot tub, a neck massage waterfall, and a vaporiser. Splash Park with spray area.

2

The Super All-Inclusive dealFree Open Bar on the beach, at the hotel, and by the pool, entertainment services, Dina La Merendina snack, Laser Tag, swimming pools, and a reserved spot on the beach.

3

Entertainment7 days a week, with activities for children over 4 years of age, and the Nanny School day-care for little ones as young as 8 months of age. Possibility of dining with the entertainment staff.
Our services
Heated pool with hydromassage
Directly by the sea (without crossings)
Disabled access
Private parking
Garden
Pets welcome
Free pediatric consultation
MAXI inflatables
Bike rentals
Servizio lavanderia a pagamento
Discover all the services
Wi-Fi throughout the hotel
Air conditioning throughout the hotel
Washing machine and dryer available to mums
Languages spoken by staff: Italian, English, German, French
Close
Description
We're located right the centre of Milano Marittima, just a few steps from the pedestrian area, and directly opposite of the beach, where guests will find 1 shade umbrella and 2 sun loungers reserved just for them. Here at the Club Family Hotel Milano Marittima, we welcome our guests and their families with the very best services, for a truly carefree holiday experience.
Children have a whole world of entertainment available to them 7 days a week, with magnificent inflatables, a Play Sport Arena with a colourful ball pit, mini foosball, slides, multimedia games, Playstation 5 and Laser Tag!
We have 2 fantastic swimming pools, one with a hot tub, a neck massage fountain and a vaporiser, and a heated one connected to the children's splash park, complete with lots of fun water features.
But our entertainment services aren't just for our little guests! They're for mum and dad, too! In fact, for adults we offer sports tournaments, Olympics competitions, muscle toning, water aerobics, and group dances.
In order to allow our guests to travel light, we provide them with everything they need for their children right at the hotel, such as bed side rails, cots, bottle warmers, and changing tables, and our paediatrician is even available for anything they may need Monday through Friday.
Thirsty for a holiday? No worries! We offer unlimited 24-hour open bar service at the hotel, by the pool, and on the beach, complete with coffee products, non-alcoholic beverages, 6 natural fruit juices, and draught beer, and thanks to the Drinky flask, guests can even take their preferred beverages with them wherever they want.
Rooms
All rooms are equipped with:
Air conditioning
Free Wi-Fi
Room cleaning twice a day
Room service
Safe
Mini-bar
Sanitising of rooms
Baby WC reducer and stools
Bed rails, cradels, bottle warmers, baby changing tables
Family Smart rooms

Family Smart rooms

A 14 m2 room with a double bed and a bunk bed, ideal for families with two children.
Family Rooms

A 17 m2 room with either one double bed and two single beds, or else two double beds, complete with a comfortable balcony.

Family Rooms
Family Adjoining rooms

Family Adjoining rooms

Facility:

2 adjoining rooms

This unit consists of 2 adjoining rooms, one with a double bed and the other with a bunk bed, and is ideal for families with children who don't want to compromise on space, even on holiday.
Entertainment
Children's entertainment by age group
Indoor/outdoor playgrounds
Babysitting on demand
Sailing lessons
Kreative Workshops
Our entertainment staff welcome all children over 4 years of age to our fantastic and colourful world of fun and games. For our youngest guests 8 months to 3 years of age, on the other hand, there's the Nanny School day-care.

We organise a programme 7 days a week, complete with baby dance parties, art attack events, creative workshops, and sports tournaments.

And while we take care of their little ones, mum and dad can decide whether to enjoy some romantic time alone as a couple, or to take part in group activities, such as the muscle awakening sessions, fitness and water aerobics courses, or dances.

And the fun continues into the evening, with the Amusement Park, the giant bubble party, and the puppet and cabaret evening events.

Continue reading!

There are lots of dedicated areas for our guests to engage in fun activities: these include the Gommonland Park, with its colourful inflatables, and the Play Sport Arena, with its mini foosball, multimedia games, mini football pitch, Playstation 5, and virtual reality viewers.

Have you ever tried playing Laser Tag? Here at the Club Family Milano Marittima you can! An arena of over 100 m2, where family members and holiday companions can engage in fantastic laser battles.

Close
Baby Club
Our friendly nannies look after our guests' little ones 8 months up to 3 years of age, Monday through Friday, from 4:00 p.m. to 7:00 p.m.
Mini Club
We engage children 4 to 7 years of age in face painting activities, giant soap bubble parties, rehearsals for the weekly show, drawing activities, cooking workshops, story time sessions, and plays where they can dress-up as fairies and dragons.
Junior Club
Older children 8 to 17 years of age have lots of opportunities to take part in fun and unique experiences! Sail boat rides, day outings to Mirabilandia with the entertainment staff, beach volleyball and football tournaments, and much more.
Our mascot Sandy
Hi kids! My name's Sandy! I'm the mascot here at the Milano Marittima Family Club.

I love to laugh, dance, and play with children just like you.

My kindness and friendliness is contagious, and I'm always there to help make your holiday experience unforgettable!

I'll be waiting for you right here with open fins!
Cuisine
Buffet restaurant
High chairs and 'baby' cutlery
Baby menu and flexible hours
Baby meal corner
Dining rooms with kids area
Packed lunches available
Here at the Club Family Hotel Milano Marittima, the dining experience is an all-day affair. In the morning, there's the Dina La Merendina snack for children, which they can take to the beach; followed by the aperitifs, and the bedtime buffet from 10:00 p.m. to midnight; not to mention the chocolate fountains, doughnuts, cotton candy, and popcorn, available all evening.

For lunch and dinner, guests can choose between our 2 Front Cooking buffet restaurants: the outdoor Green Garden restaurant, or the indoor Mare e Terra restaurant, where they can enjoy delicious appetisers and first courses, splendid meat and seafood main courses, or even a crispy freshly baked pizza. At the end of each meal, guests can choose from various dessert options, including cakes, spoon desserts and ice creams made by our in-house pastry chefs.

Continue reading!

Children can dine with the entertainment staff, choosing any one of the options available in our children's menus.

For parents with little ones, there are two baby food stations open 24 hours, where they can find vegetable and meat broth, vegetable purées, soups of different kinds, cheeses, and extra virgin olive oil.

Thanks to the Dine Around service, our guests have the opportunity to enjoy the various meal options offered at all of our Family Club locations in Pinarella di Cervia, Cesenatico, Milano Marittima, and Riccione.

Close
Recommended nearby attractions


La Casa delle Farfalle
1.3km from the hotel


Mirabilandia
9.9km from the hotel


Italia in Miniatura
24.4km from the hotel


The Ravenna Safari Park
8.4km from the hotel
Bring your family here!
Request a free quote
Best family rate
Quick quote by email
Direct reply from the hotel
You are browsing...
Club Family Hotel Milano Marittima

****
Milano MarittimaThe Adriatic Coast
Go to the hotel website
Other Italy Family Hotels that might interest you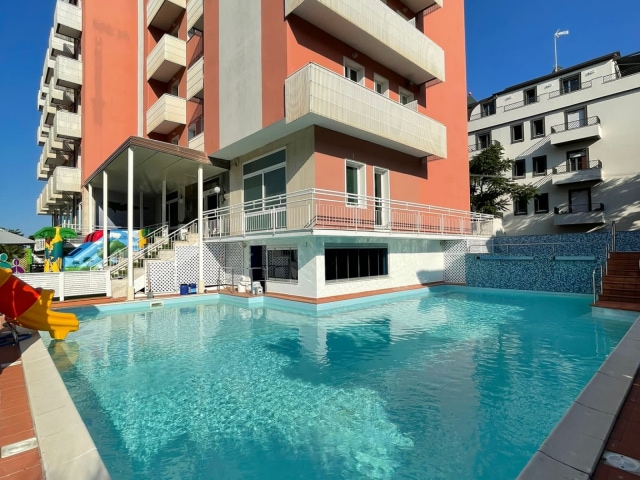 Milano Marittima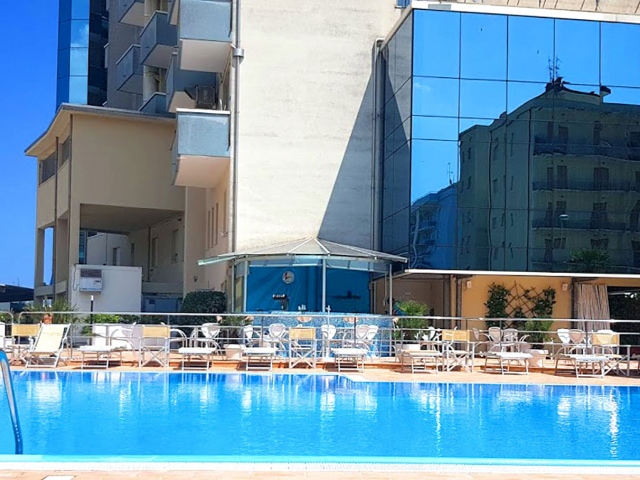 Lido di Savio
Color Palace Lido Family Village

****
Your all-inclusive family holiday, just a stone's throw from the beach.
Family services (Bino):
| | |
| --- | --- |
| Starting from 60,00 € per night, per adult, all inclusive | |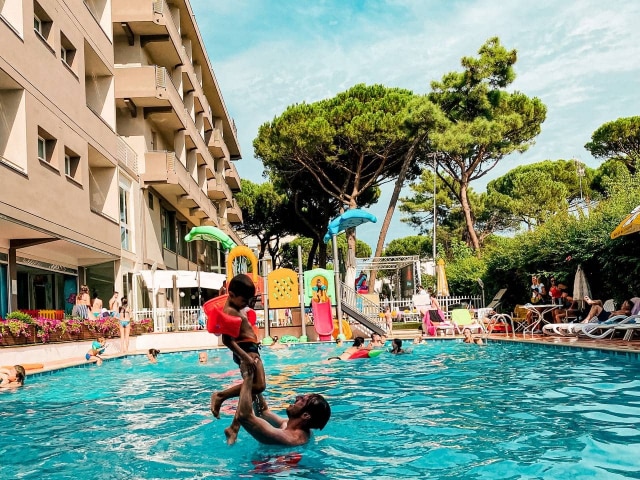 Milano Marittima
Club Family Hotel Michelangelo

****
13 hours of entertainment in the swimming pool and on the beach
Family services (Bino):
| | |
| --- | --- |
| Starting from 69,00 € per night, per adult, full board | |
Go back to all hotels