Cavallino Bianco Family Spa Grand Hotel****s
Ortisei in Val Gardena
Trentino Alto Adige
Family services (Bino):
Ciao, io sono Bino!
Garantisco io la qualità negli Italy Family Hotels.
Più Bino = Più servizi family disponibili!
Starting from 880,00 € per night, per adult, all inclusive
Family services (Bino):
Starting from 880,00 € per night, per adult, all inclusive
3 good reasons to come here
1

FAMILY GRAND HOTELThe first and only one dedicated exclusively to families with children, from infants to teens

2

LUXURYElegance and comfort reign supreme. From elegant suites to gourmet cuisine, exclusively for those who love to indulge in true excellence when on holiday

3

SPA & WELLNESS2,900 m2 of family wellness, with swimming pools, saunas and a weekly fitness programme for both children and adults
Our services
Pool with waterslide
Baby pool
Heated pool with hydromassage
Spa
Children wellness
Disabled access
Secure car park
Garden
Deposito sci / bike
Ski room
Discover all the services
Bike rentals
Servizio lavanderia a pagamento
Fitness Centre
Wi-Fi throughout the hotel
Air conditioning throughout the hotel
Languages spoken by staff: Italian, English, German
Close
Description
A treasure trove of lush beauty, nestled within the splendid natural environment of Val Gardena at the foot of the magnificent peaks of the South Tyrolean Dolomites: here, at the Cavallino Bianco, a family holiday becomes something to be reinvented every day, taking shape with new and exciting experiences and the exclusive services offered at our all-in Cavallino Bianco.
Because with us, guests are certain to find everything they're looking for: comfort, elegance, delicious cuisine and a dedicated children's restaurant, entertainment services by age groups, in-house ski and mountain biking schools, personal wellness services for every need, and just about everything else they could possibly desire in a luxury holiday in the mountains.
Our Spa department is one of a kind: here, personal wellness isn't just "something for grown-ups", but starts right from the cradle!
And the entertainment services revolve around Lino Land, the children's area made up of over 1,000 square metres of games, attractions, the Goat House, and all-day babysitting and day-care services, even for our littlest guests.
Babies, kids and teens: here, everyone truly gets the attention they deserve.
Examples of SMART SUITE daily rates (3 people)
| Month | Daily rates with the All-In Formula | Daily rates with the Light Formula |
| --- | --- | --- |
| December | € 670 to € 1486 | € 602 to € 1408 |
| January | € 803 to € 1448 | € 735 to € 1388 |
| February | € 880 to € 1284 | € 813 to € 1250 |
| March | € 633 to € 1183 | € 510 to € 1116 |
| April | € 578 to € 661 | € 510 to € 586 |
Rooms
All rooms are equipped with:
Air conditioning
Free Wi-Fi
Room service
Soundproofed rooms
Courtesy set
Safe
Wake-up calls
Mini-bar
Baby WC reducer and stools
Bed rails, cradels, bottle warmers, baby changing tables
Family Petit-Suite

Family Petit-Suite

26 m2 of exceptional comfort, ideal for families of 3. Separable sleeping area with double bed, single bed, or single cot with bunk sofa and desk. Bathroom with two entrances and baby amenities. Pantry with kettle, microwave, fridge, crockery, and cutlery.
Family Comfort-Suite

Two bedrooms, one with a double bed, and the other with 2 beds or cots and everything needed for children, as well as a living area and bathroom with baby amenities. Pantry with kettle, microwave, fridge, crockery, and cutlery. 38 m2 of comfort, for families of up to 4 people.

Family Comfort-Suite
Family Queen-Suite

Family Queen-Suite

Even more comfort: 45 m2 of luxury, divided into 2 bedrooms, a living area, 2 balconies, a bathroom with two entrances, and baby amenities. Pantry with kettle, microwave, fridge, crockery, and cutlery.
Family Prestige-Suite

The suite that offers the convenience of two bathrooms with baby amenities and two entrances, 2 bedrooms, a balcony, and a living area with a kettle, microwave, fridge, crockery and cutlery.

Family Prestige-Suite
Entertainment
Children's entertainment by age group
Indoor/outdoor playgrounds
Babysitting on demand
Skiing lessons
Kids cooking classes
Educational farm tour
Cinema / Media room
Stables / Riding school
Kreative Workshops
A true family-friendly holiday is one where everyone feels at ease.

That's why, at Cavallino Bianco, entertainment is a very broad concept: we're not just a "hotel with entertainment for children"… we're much more! Fun, relaxation, and personal wellness are moments and sensations to be experienced by guests of all ages at the wonderful Family Spa, with its beauty areas and services dedicated to children, as well as with our daily range of guided excursions, and skiing and mountain biking lessons. But above all thanks to the magical world of Lino Land: a place where the fun never ends, with 13 hours of daily entertainment services made up of programmes designed specifically for each age group.
Baby Lino
Our expert caregivers are there to take care of your little ones, from one month of age, up to three and a half years: this is the Cavallino nursery, where from 8:30 a.m. to 9:00 p.m. children are welcomed in an environment of over 100 m2 with padded walls, inviting little corners to indulge in fun playtime, softplay areas, sensory games, and a restaurant with organic Hipp products.
All while their parents enjoy some well-deserved relaxation!
Kids&Pre-Teens
Pirate battles, Lego constructions, the giant dollhouse, and an arena dedicated to sports activities: these are just some of the attractions that children ages 3 and a half to 11 will find at Lino Land, the enormous space dedicated entirely to them. Flanked by our mascot, Lino, our courteous and extremely professional staff will attend to them every day, from 9 a.m. to 10 p.m., immersing them in a fantastic world made up of games, workshops, and countless exciting discoveries, even outside the hotel, where our little guests will become true nature detectives.
Teens
Starting at age 11, kids begin to have different interests, and at the Cavallino we're well aware of that! That's why, in addition to the teen room, which is equipped with all the most popular electronic devices, such as Playstation and Nintendo Wii, we also have super cool staff members who know how to let teens indulge their desire for freedom, with a range of activities designed specifically for them, including trips to the adventure park, treasure hunts, group outings for pizza with friends, and evening walks with a little shopping… without their parents!
Our mascot Lino
Hi kids, I'm Lino, the little mouse that lives in the magical world of the Cavallino Bianco!

Lino Land is my home: it's a fantastic place full of fun and exciting games! A wonderful kingdom where amazing and adventurous things are always happening, and I can't wait for you to join me there! I'm always looking to have fun, singing, dancing, and playing make believe! I have a fantastic programme of activities that's perfect for little ones, as well as for school age children, and even older kids, who are sometimes more difficult to please. But I always manage to win them over too, with fun adventures and lots of the latest games!

I'll be waiting for you all at the Cavallino Bianco! I know we're going to have a real blast spending time together!
Cuisine
À la carte menu
Buffet restaurant
Gluten-free food and products
High chairs and 'baby' cutlery
Baby menu and flexible hours
Baby meal corner
Dining rooms with kids area
Baby meals with entertainer
Packed lunches available
A wide range of healthy and tasty cuisine, from breakfast to dinner. At the Cavallino, every meal is important, and the flavours of the South Tyrolean and Mediterranean traditions are brought together within each of the hotel's 4 dining rooms, and even in the lounges, with menus that offer something for everyone.

For babies, we offer top quality Hipp organic foods, while older children can choose from dedicated special menus at the children's restaurant, which even include excellent options for those with food allergies or intolerances.

Those looking for a more intimate dining experience won't want to miss out on the Romantic Candlelit Dinner, featuring entrées specifically chosen for couples.
Recommended nearby attractions


Alpe di Siusi
5.7km from the hotel


Panaraida
7.6km from the hotel


Col de Flam adventure trail
500m from the hotel


Maneggio Monte Pana
4.4km from the hotel


Rasciesa
8.2km from the hotel
Bring your family here!
Request a free quote
Best family rate
Quick quote by email
Direct reply from the hotel
You are browsing...
Cavallino Bianco Family Spa Grand Hotel****s
Ortisei in Val GardenaTrentino Alto Adige
Go to the hotel website
Other Italy Family Hotels that might interest you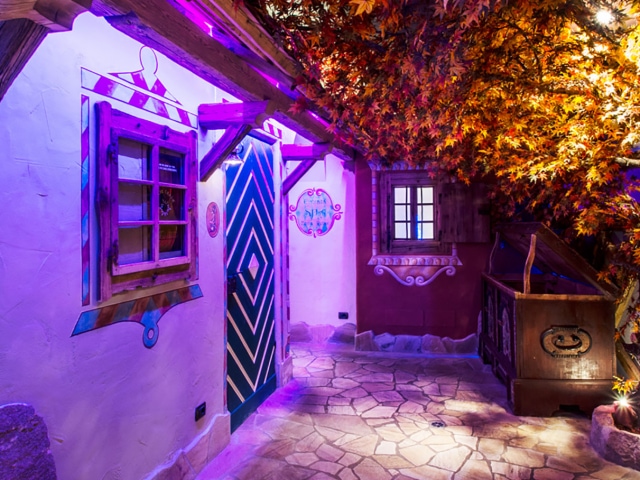 Moena
Hotel Arnika***s
Eco-green family holidays and fun for all ages!
Family services (Bino):
| | |
| --- | --- |
| Starting from 73,00 € per night, per adult, half board | |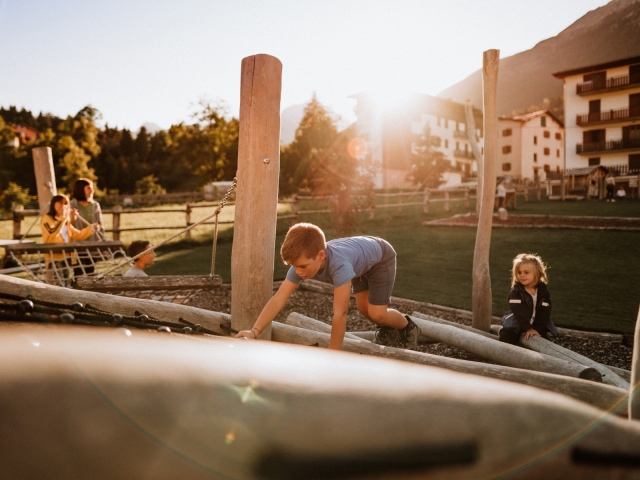 Andalo
Family Hotel Serena

****
Indoor swimming pool, Spa, a 3,000 m2 outdoor playground, and an indoor games room
Family services (Bino):
| | |
| --- | --- |
| Starting from 128,00 € per night, per adult, half board | |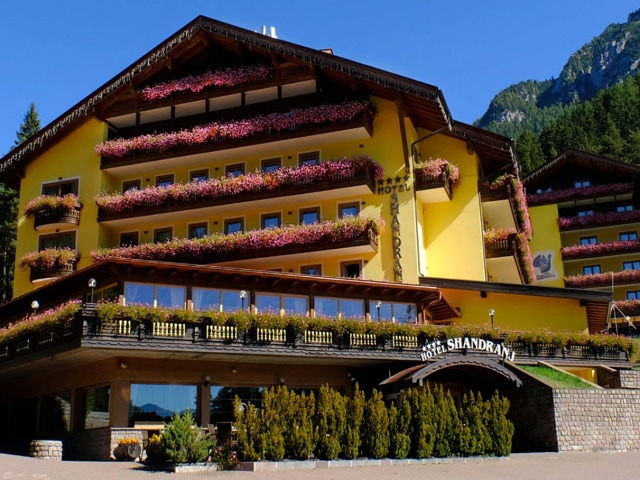 Tesero
Go back to all hotels