Family Hotel & Residence Veronza
****
Ville di Fiemme - Cavalese
Trentino Alto Adige
Family services (Bino):
Ciao, io sono Bino!
Garantisco io la qualità negli Italy Family Hotels.
Più Bino = Più servizi family disponibili!
Starting from 63,00 € per night, per adult, half board
Family services (Bino):
Starting from 63,00 € per night, per adult, half board
3 good reasons to come here
1

EntertainmentKinny Mini Club and Kinny Sport Club for children of all ages, to keep them entertained with various games and activities.

2

Pools and Wellness CentreChildren's pool, wellness centre, gym, and indoor swimming pool with relaxation area for adults.

3

ActivitiesPanoramic playground with views of the Dolomites, and mini zoo with lots of animals.
Our services
Pool with waterslide
Baby pool
Swimming pool
Spa
Children wellness
Secure car park
Garden
Small pets are accepted
Ski/bike storage
Ski room
Discover all the services
Bike rentals
Laundry service for a fee
Fitness Centre
Wi-Fi throughout the hotel
Languages spoken by staff: Italian, English, German, Russian
Close
Description
Our hotel has a panoramic front row view of the magnificent Dolomites of Val di Fiemme! We're always thrilled to welcome families who love the mountains, with all the amenities and activities they need for a peaceful and carefree holiday experience. Our main goal is to put a smile on all the children's faces!
Our mascot, Kinny, and the entertainment staff welcome little travellers 3 to 12 years of age at the Kinny Mini Club, with group games, workshops, performances, dinners with friends, and baby dance activities. Our hotel boasts plenty of space, including a panoramic playground, a private mini zoo, and lots of colourful indoor areas. So, while the children are having fun with their new friends, their parents can relax in the sauna, Turkish bath, and tepidarium at the AquaVitalis Spa.
And a family holiday in Val di Fiemme wouldn't be complete without taking some of the various walks and hikes on the mountain trails, which the family can enjoy all together. There's an extensive weekly programme of activities, and when the guests return to the hotel, they can take their children for a swim in the indoor pool area, complete with a fully equipped children's pool, which is open to small groups.
In the evenings, after enjoying a special traditional dinner in show cooking style, or after the weekly barbecue under the stars, guests can attend any one of the shows, cabaret, dances and karaoke events offered by the hotel.
Our guests' peace of mind is always our greatest concern, which is why we offer the option of waiving the daily room cleaning service. This way it remains a private environment, accessed only by your family! At the reception, guests will be given a change of linens, carefully enclosed in protective packaging, as well as towels.
Rooms
All rooms are equipped with:
Free Wi-Fi
Courtesy set
Safe
Wake-up calls
Sanitising of rooms
Baby WC reducer and stools
Bed rails, cradels, bottle warmers, baby changing tables
Double Rooms

Double Rooms

These attic rooms without balconies include double beds, with the possibility of adding an additional bed for children or adults.
Family Rooms

These rooms come complete with a double sofa bed, bunk bed, bathroom with shower, colour TV, and balcony.

Family Rooms
Entertainment
Children's entertainment by age group
Babysitting on demand
Cheesemaking classes
Educational farm tour
Kreative Workshops
The hotel offers specific areas dedicated to children of all ages: the Mini Club play area (for children 3 to 10 years of age), with staff supervision and a games room with a Playground adjacent to the restaurant.

In the wintertime, on the slopes of Mt. Cermis, children can play in the snow in the company of the entertainment staff at Cermislandia, or if the weather doesn't permit, can take part in recreational activities and games in a dedicated heated room.

In the summertime, children who love adventure can take part in the Ranger Academy (available upon request, for a fee), which is divided into two age groups: 7-10 years, and 11-14 years. Together with the hotel Veronza's excellent guide, they'll learn all sorts of interesting facts about nature, as well as how to light the fire, and how to orient themselves in the woods a compass, and will take part in lots of exciting experiences. 3 days of outdoor adventures, during which they'll hear lots of stories and will learn all the secrets of the mountain.

This year, we're organising even more family outdoor activities that guests can enjoy with their children, including hikes to the mountain cottage on the World War I trails, family rafting, visits to the Ceopark in search of dinosaurs, relaxing experiences in nature, visits to the Speck Museum, and torchlight walk in the woods.

The evenings at the hotel consist of leisure time accompanied by music.
Baby Club
Younger children can spend time in the soft play area under their parents' supervision, where they'll find a ball pit and various games.
Mini Club
Children 3 to 10 years of age can take part in the activities at the Mini Club, which is open from 9:30 a.m. to 12:00 p.m., and from 4:00 p.m. to 9:30 p.m. The entertainment staff organise games, activities, competitions, workshops, family excursions, cabaret shows, and baby dance parties.
Every evening, the children can dine in complete safety with the entertainment staff, who are available by reservation for small groups. New friendships and laughter are guaranteed!
Our mascot Kinny
Hi Kids! I'm Kinny, the mascot here at the Hotel Veronza, and I'm really looking forward to keeping you company during your holidays.

Did you know that they even have a Kinny-shaped children's menu, personalised t-shirts, and souvenirs like hats and backpacks for those who take part in the summer sports camps?

I'll be waiting for you! We'll have lots of fun adventures!
Cuisine
À la carte menu
Buffet restaurant
High chairs and 'baby' cutlery
Baby menu and flexible hours
Certified organic food corner
Baby meals with entertainer
Packed lunches available
With the half board service, guests can enjoy the authentic flavours of traditional Trentino cuisine at our restaurant.

The day starts with a large breakfast with sweet and savoury options, while at dinner guests can choose from 3 first courses, 3 second courses, and various homemade desserts. Beverages are included, including the hotel's very own "Le Terrazze del Sole" Merlot and Chardonnay Trentino wines.

Every day, guests can enjoy watching their meals being prepared show-cooking style, while children can choose from among the delicious Kinny Children's Menu options. Once a week, we organise a barbecue in the woods, a traditional Trentino dinner, and a gala dinner by candlelight, accompanied by music.

Die hard pizza and pasta fans won't want to miss out on meal choices offered at the spaghetti factory and pizzeria.

And for parents with weaning children, we prepare fresh baby foods, broths, and purées.

While meals are typically served directly at the table but, those who prefer can opt for the take away service. Guests can simply order their family's favourite dishes, and enjoy them in their rooms, where they even have microwave ovens to reheat the food if necessary. There are even delicious packed lunches available upon request, which guests can take with them on excursions.
Recommended nearby attractions


Geological Museum of the Dolomites in Predazzo
13.4km from the hotel


The Magnificent Community of Fiemme
2.1km from the hotel


Ice Skating in Cavalese
2.6km from the hotel


The Fiemme Amateur Astronomers' Group
5.1km from the hotel


Cermislandia
2.6km from the hotel
Bring your family here!
Request a free quote
Best family rate
Quick quote by email
Direct reply from the hotel
You are browsing...
Family Hotel & Residence Veronza

****
Ville di Fiemme - CavaleseTrentino Alto Adige
Other Italy Family Hotels that might interest you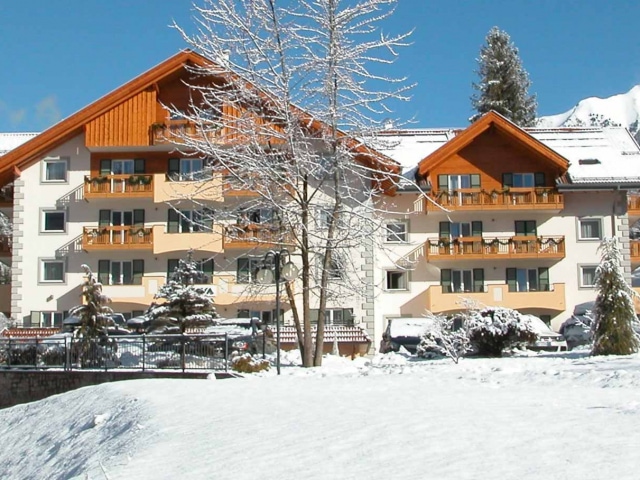 Tesero
Rio Stava Family Resort & SPA

****
A realm of peace, tranquillity and well-being, in the heart of the Val di Fiemme
Family services (Bino):
| | |
| --- | --- |
| Starting from 91,00 € per night, per adult, half board | |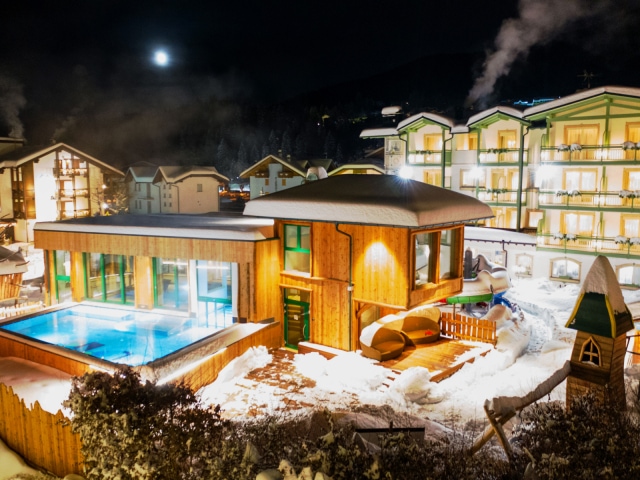 Andalo
Alpino Baby Family***s
Family hotel with an indoor water park
Family services (Bino):
| | |
| --- | --- |
| Starting from 104,00 € per night, per adult, all inclusive | |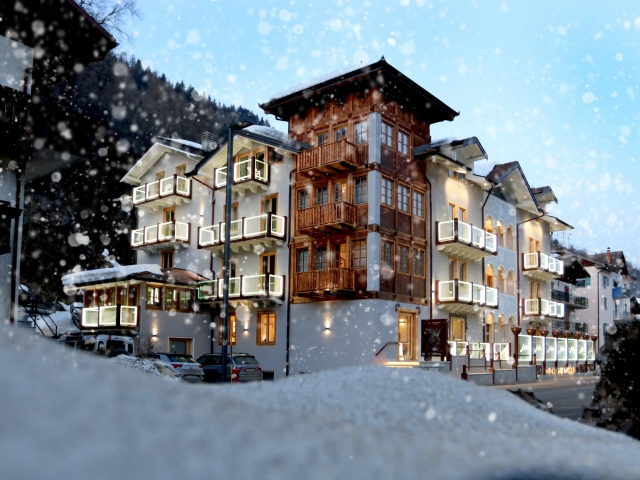 Pellizzano
Hotel Arcangelo***s
Convenient location, plenty of activities for the children and a wellness centre for the parents
Family services (Bino):
| | |
| --- | --- |
| Starting from 70,00 € per night, per adult, half board | |
Go back to all hotels