Bad Ratzes
****
Siusi allo Sciliar
Trentino Alto Adige
Family services (Bino):
Ciao, io sono Bino!
Garantisco io la qualità negli Italy Family Hotels.
Più Bino = Più servizi family disponibili!
Starting from 100,00 € per night, per adult, half board
Family services (Bino):
Starting from 100,00 € per night, per adult, half board
3 good reasons to come here
1

WELLNESSIndoor pool heated to 30 °C, Finnish sauna, massages, Bio pool with spring water, and sauna in the garden.

2

ENTERTAINMENT AND EXCURSIONSThe Hotel offers fun activities for all children over 6 months of age, with an extensive programme of experiences and excursions.

3

CUISINETraditional South Tyrolean entrées, local products, a delicious afternoon snack, and possibility of requesting packed lunches.
Our services
Swimming pool
Spa
Disabled access
Secure car park
Garden
Small pets are accepted
Ski/bike storage
Ski room
Laundry service for a fee
Fitness Centre
Discover all the services
Wi-Fi in public areas
Languages spoken by staff: Italian, English, German
Close
Description
The Hotel Bad Ratzes is situated at 1,200 metres above sea level, in the heart of the Sciliar Nature Park, amid flowering meadows and a centuries-old spruce forest traversed by a crystal clear stream, where guests are welcomed with the perfect atmosphere for a quiet family holiday in the mountains, complete with a splendid panoramic view of the Dolomites.
And while here at the Bad Ratzes we pamper the entire family, the truth is that the children are our true guests of honour. In fact, we offer an extensive programme of indoor and outdoor children's activities, including special experiences and excursions. And for our littlest guests, we offer a babysitting service, as well as our colourful Rainbow Room: a fantastic area where they can crawl and play.
And for mum and dad? They'll have lots of time to enjoy some relaxation and romance, or to explore the great outdoors, while the children are kept busy by our entertainment staff. Every day, guests can decide whether they want to relax at the wellness centre, with its indoor pool heated to 30 °C, Finnish sauna, massages, outdoor Bio pool, and sauna in the garden, or whether they prefer to take advantage of one of our guided excursions to explore the great outdoors.
And then there's the food… Guests will have the opportunity to indulge in come of the very best traditional entrées, all prepared with locally sourced products. But they won't want to fill themselves up too much! Because we also offer a delicious afternoon snack to recharge after a day of fun and exploration, with lots of delicious options to choose from. Our kitchen staff are particularly attentive to any guests with food intolerances. We offer special menus designed specifically for children, and lots of genuine baby food options for infants.
Rooms
All rooms are equipped with:
Free Wi-Fi
Room service
Soundproofed rooms
Safe
Wake-up calls
Baby WC reducer and stools
Bed rails, cradels, bottle warmers, baby changing tables
Schlern or Puflatsch Double Rooms

Schlern or Puflatsch Double Rooms

These rooms feature balconies with wonderful views of the Sciliar Nature Park, and are ideal for 2 adults and 1 child.
Bad Ratzes Family Suite

People:

2 adults + 2 children + 1 infant

Size:42 m2

This 42 m2 room with a balcony is designed for 2 adults, 2 children and an infant. There's a changing table in the bathroom and plenty of space to store all your children's accessories, as well as for relaxation.

Bad Ratzes Family Suite
Euringer Family Suite

Euringer Family Suite

People:

2 adults + 2 children + 1 infant

Size:37-39 m2

This spacious unit includes adjoining rooms and a balcony. The bathroom has a shower and separate toilet. The suite can accommodate 2 adults, 2 children, and 1 infant.
Euringer Family Suite 50

People:

2 adults+3 children

Size:50 m2

Ideal for families who don't want to compromise on space, even when on holiday. This 50 m2 room has a balcony and a bathroom with a separate shower and toilet, and can accommodate up to 2 adults and 3 children.

Euringer Family Suite 50
Schlern Superior

Schlern Superior

Double room with balcony and marvellous viw to the Sciliar. Bathroom with shower and WC, phone, TV, safe, ice box.
Suite Köpf

Newly designed suites, spacious and bright, wisely furnished for high comfort. Sleeping space elegantly integrated into te environment. Living space with a large sofa to relax. Finnish sauna, bathtub, shower and toilet. Partition with large windows to harmoniously integrate the living room with the bathroom area. Balcony with splendid view of the Schlern massif. Safe, TV, minibar.

Suite Köpf
Goiwiese Superior

Goiwiese Superior

Double room with balcony, shower and WC, phone, TV, safe, minibar
Bad Ratzes Superior

Double room connected to a 2 bed children's room. Possibility of 3rd bed or baby cot. Balcony, phone, TV, safe and minibar. Bathroom with shower and separate WC. Nappy changing unit in the bathroom and space for all your baby needs.

Bad Ratzes Superior
Entertainment
Children's entertainment by age group
Indoor/outdoor playgrounds
Babysitting on demand
Kids cooking classes
Kreative Workshops
Children can have lots of fun with our super programme of activities, while their parents enjoy some romantic time alone as a couple.

In addition to playing with the toys and games available in the hotel's Rainbow Room and Marmots' Lair, children can also take part in trips to Fiè Lake, excursions to the Marinzen Alps, hikes along the "witches' trail", bonfires with marshmallows, sports tournaments, and cooking workshops. There are also special workshops available for an extra fee, for those who want to delve even deeper into certain experiences.
Baby Club
Our friendly babysitters are available to look after children 6 months to 2 years of age Sunday through Friday from 8:00 a.m. to 3:00 p.m. in the Rainbow Room. They're also available at dinner time, from 7:30 p.m. to 8:30 p.m., upon request.
During the daytime, children are kept busy with fun activities, even outdoors, with the possibility of building snowmen and igloos in the wintertime. Everyone eats together at lunchtime, which is followed by a nice nap to recharge!
Mini Club
For children 3 to 11 years of age, there's a Mini Club programme available Sunday through Friday from 8:00 a.m. to 9:30 p.m., complete with a full range of fun activities. The club meets at the fantastic 90 m2 Marmots' Lair, where the children will find lots of fun games and activities, including treasure hunts, mandalas, dances, sports tournaments, crafts, books, playdough modelling, and a relaxation corner.
Junior Club
In addition to an extensive programme of fun recreational activities, children over 12 years of age can also have fun in the Junior Room, where they can make new friends, play table tennis, billiards, and foosball, and climb the climbing wall under our staff's supervision.
In the fireplace and bridge room, they can try their hand at board games, and life-size chess and checkers, or sit back and relax with any one of the books from our library.
Cuisine
Gluten-free food and products
High chairs and 'baby' cutlery
Baby menu and flexible hours
Certified organic food corner
Dining rooms with kids area
Packed lunches available
At the Bad Ratzes Hotel, every day gets off on the right foot! In the morning, guests will find lots of fantastic options at our large breakfast buffet, and the special culinary experience continues at lunch and dinner, with traditional South Tyrolean dishes made from local ingredients, complete with delicious alternatives for guests with food intolerances.

But everyone will also want to leave room for our delicious afternoon snack, which includes sweet and savoury options. Those who want to go on excursions have the possibility of preparing a delicious packed lunch to be enjoyed in the mountains.

Continue reading!

We pay special attention to our guests' children: for infants, we offer baby menu items with genuine baby foods, including vegetable broth, minced meat or fish, short pasta varieties, and boiled and puréed apples. Older children will find a special children's menu, where there's always a first and second course, a side dish, and ice cream or dessert, all served buffet style at 6:45 p.m. during the high season, so they can immediately resume playing in Marmots' Lair with our entertainment staff once they're finished, leaving mum and dad to dine in peace.

Close
Offers

Siusi allo Sciliar
Autumn
Valid from 10/09/2023 to 10/10/2023
What it includes: Family wellness centreParking included
| | |
| --- | --- |
| From 100,00 € night / adult | |
Recommended nearby attractions

Nature Playground
3.2km from the hotel

Horses
5.2km from the hotel

Downhill sledding
10.9km from the hotel

Climbing
10.9km from the hotel


Alta Funa Adventure Park
Bring your family here!
Request a free quote
Best family rate
Quick quote by email
Direct reply from the hotel
Other Italy Family Hotels that might interest you

Valdaora
Hotel Fameli****s
Family services (Bino):
| | |
| --- | --- |
| Starting from 110,00 € per night, per adult, half board | |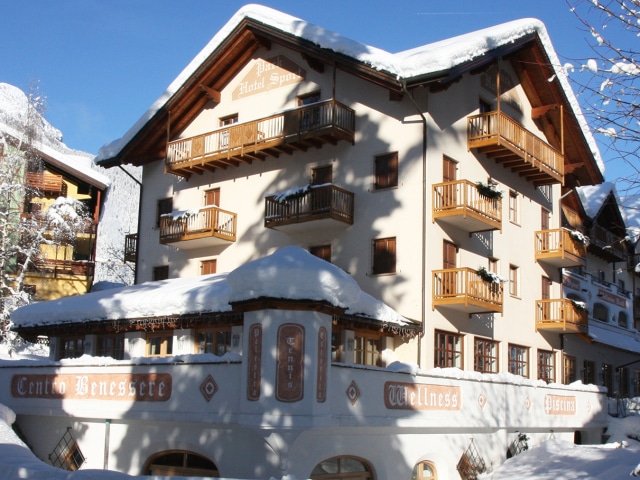 Andalo
Park Hotel Sport

****
Indoor swimming pool, 9 hours of entertainment and excursions with a private guide
Family services (Bino):
| | |
| --- | --- |
| Starting from 75,00 € per night, per adult, half board | |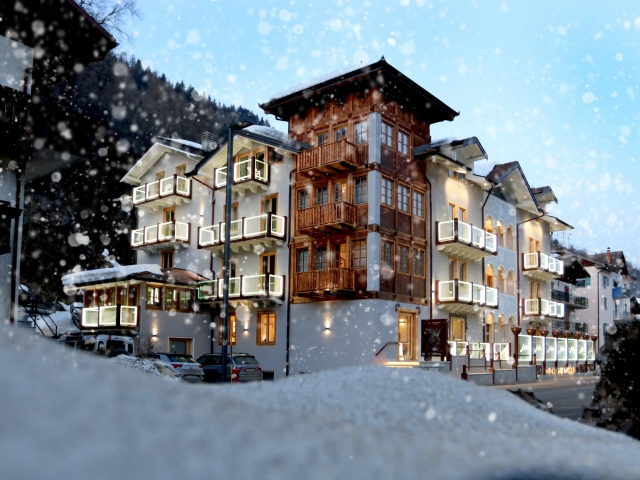 Pellizzano
Hotel Arcangelo***s
Convenient location, plenty of activities for the children and a wellness centre for the parents
Family services (Bino):
| | |
| --- | --- |
| Starting from 70,00 € per night, per adult, half board | |
Go back to all hotels