Piz Galin Grand Hotel****s
Andalo
Trentino Alto Adige
Family services (Bino):
Ciao, io sono Bino!
Garantisco io la qualità negli Italy Family Hotels.
Più Bino = Più servizi family disponibili!
Starting from 110,00 € per night, per adult, half board
Family services (Bino):
Starting from 110,00 € per night, per adult, half board
3 good reasons to come here
1

Entertainment13 hours of daily entertainment services, divided by age groups, with activities and excursions for the children in the Mini and Junior Clubs, as well as fun and games in the Nido di Pizzi for kids 0-3 years of age.

2

Family-friendlyA holiday to be enjoyed as a family, with educational experiences and breathtaking excursions for parents and children alike, even stroller accessible.

3

RoomsThe Piz Galin doesn't only offer simple guest rooms, but also splendid, spacious Suites and Junior Suites ranging from 33 to 60 square metres in size.
Our services
Baby pool
Swimming pool
Spa
Secure car park
Deposito sci / bike
Ski room
Bike rentals
Servizio lavanderia a pagamento
Fitness Centre
Wi-Fi in public areas
Discover all the services
Air conditioning in public areas
Languages spoken by staff: Italian, English
Close
Description
Want to give your children the holiday of their dreams? Then we'll be waiting for you at the Piz Galin Grand Hotel, where you can immerse yourself in the comfort and hospitality of a relaxing family holiday experience among the clouds.
Our structure is situated right in the heart of Andalo, embraced by the magnificent natural surroundings of the Brenta Dolomites.
At the recently expanded and renovated Pizziland fun centre, our entertainment staff organise 13 hours of daily entertainment activities for children of all ages. In addition to the available baby amenities, the baby food corner, and the baby pool, children 0 to 3 years of age also have their very own play area in the Nido di Pizzi.
Therefore, while our staff look after their children, parents can enjoy the relaxation and personal wellness time that they've been longing for at our exclusive Sky SPA, with its breathtaking view of the Dolomites.
But a holiday at the Piz Galin is also about spending quality family time having fun in the heated family pool, and taking off on wonderful excursions. In fact, every day there's a wide range of nature outings and experiences of various difficulty levels to choose from… even suitable for parents with children in strollers!
Between one activity and the next, be sure not to miss out on the tasty gourmet snacks, and the genuine Trentino entrées at our restaurant, which are prepared using organic products from local companies.
Finally, the spacious suites are furnished with maximum attention to detail, and come with everything families need to conclude their days relaxing and allowing themselves to be lulled to sleep by the wonderful mountain atmosphere.
Rooms
All rooms are equipped with:
Air conditioning
Free Wi-Fi
Pay TV
Room service
Soundproofed rooms
Courtesy set
Safe
Wake-up calls
Baby WC reducer and stools
Bed rails, cradels, bottle warmers, baby changing tables
The La Perla Suite

The La Perla Suite

A luxurious 50 m2 suite with parquet flooring and whitened oak or fir furnishings, consisting of a separate living room and bedroom, a second small living room, a hot tub, and a sauna. Some even include nice little balconies.
The Betulla Junior Suite

This renovated 34 m2 Junior Suite is dedicated exclusively to families, and features furnishings made from fir wood and other natural materials. Other amenities include a small play area for children, parquet flooring, a walk-in closet, and a balcony.

The Betulla Junior Suite
The Rosa Alpina Junior Suite

The Rosa Alpina Junior Suite

This large 40 m2 Junior Suite overlooks the central square, and features parquet flooring, a sitting area, a balcony, and a double bed and children's bed separated by a sliding door.
Dolomia Family room

This comfortable 35 m2 Family Room features parquet flooring, is furnished in fir wood and natural stone, and has a children's bedroom that's completely separate from the master bedroom.

Dolomia Family room
The Fiordaliso Junior Suite

The Fiordaliso Junior Suite

This relaxing 35 m2 Junior Suite features parquet flooring, modern whitened oak furnishings, a hot tub, a sitting area, a balcony, and a combined double bedroom and living room area.
The Rododendro Junior Suite

This comfortable 34 m2 junior suite includes a balcony with a sitting area, and a combined double bedroom and living room area. Some include bedrooms with adjoining bathrooms with bathtubs.

The Rododendro Junior Suite
The Ciclamino Junior Suite

The Ciclamino Junior Suite

This 34 m2 Junior Suite is furnished in fir wood, and includes a small play area for children, a walk-in closet, parquet flooring, two TVs, and children's and parents' beds separated by a sliding door, and does not come with a balcony.
Entertainment
Children's entertainment by age group
Indoor/outdoor playgrounds
Babysitting on demand
Skiing lessons
Cheesemaking classes
Educational farm tour
Cinema / Media room
Kreative Workshops
Our entertainment staff consists of trusted professionals who are always ready with new activities designed to keep children of all ages busy and entertained. The recently expanded and renovated Pizziland fun centre is a colourful environment full of games to play, where everything is designed to make the children the focus of the holiday experience, complete with workshops, competitions, games, and evening performances with Pizzi.

And there are always plenty of outdoor summer and winter experiences to be share with mum and dad.

There are stroller accessible excursions and trails of all difficulty levels, which the whole family can enjoy together as they explore the natural beauty of the Trentino region. Other possibilities include outings to the educational farm, the milking experience, the picnic by the lake, and the trip to the Wildlife Park and Forest Park.

In the winter time, in addition to the ski school, children can also have fun in the snow at the Winter Park, and can take part in exciting competitions at the Ice Racing Kart facility, all in complete safety. For those who want to be even more active, we organise sleigh rides and snowshoeing excursions.
Baby Club
The Nido di Pizzi is our free assistance service for little ones 6 to 35 months of age, and is open 6 days a week, from 9:00 a.m. to 3:00 p.m., staffed by educators specialising in early childhood development. Activities of various kinds are offered, divided by age groups, and the children can be accompanied by the educators at mealtimes.
Mini Club
The Mini Pizzi assistance and activity service is dedicated entirely to children 3 to 12 years of age, who are guaranteed to have lots of fun! There are lots of fun activities every day from 9:00 a.m. to 10:00 p.m., including workshops, exciting games, excursions, and engaging evening performances.
Meals with the entertainment staff are the perfect time to have some fun and make new friends.
Junior Club
Teenagers also have their own dedicated area at the at Piz Galin, with plenty of billiards and video games, as well as various organised activities, including athletic competitions, sports matches, ice skating, nature hikes, and fun go-karting challenges.
Our mascot Pizzi
Hi kids! I'm the Hotel Piz Galin's friendly rooster mascot, Pizzi! They named me Pizzi because Piz Galin isn't just the name of the hotel… it's also the name of the beautiful mountain that overlooks the town of Andalo, which is shaped bit like a rooster's crest.

I'm pretty much the boss around here. I want everything to be just the way you like it. And after a day full of fun and games, I like to visit all the children's rooms in the evenings and leave them with a bedtime story and a candy.

Would you like to come and meet me?
Cuisine
Gluten-free food and products
High chairs and 'baby' cutlery
Baby menu and flexible hours
Certified organic food corner
Dining rooms with kids area
Packed lunches available
We strive to welcome our guests and their families with traditional hospitality, just as our grandparents did in the past. That's why we carefully select the ingredients that we use from among local organic producers, and personally prepare our yoghurt, butter, elderberry syrup, 13 different types of jams, bread, and raspberry and blueberry juice.

At the Piz Galin, guests will enjoy a genuine culinary experience that's designed to impress, also thanks to the "Farmer's Corner" project. And there's always something for everyone, even those who suffer from Celiac disease, since we're AiC certified.

For children, we offer delicious and healthy menu items that they'll be sure to enjoy, and we even have a kitchenette for parents with weaning babies, where they'll find fresh vegetable broth, various flavours of creams, children's pasta options, and meat and fruit purées.

The afternoon is the perfect time for to enjoy a satisfying snack with you family complete with sweets, biscuits, pizza, focaccia, yoghurt, and fresh fruit, as well as a selection of teas, herbal teas, and hot chocolate.
Recommended nearby attractions


Lake Molveno
5 kmm from the hotel


Stables
800m from the hotel


Andalo Life Park
500m from the hotel


Return ski trips
150m from the hotel


Winter Park
600m from the hotel
Bring your family here!
Request a free quote
Best family rate
Quick quote by email
Direct reply from the hotel
Other Italy Family Hotels that might interest you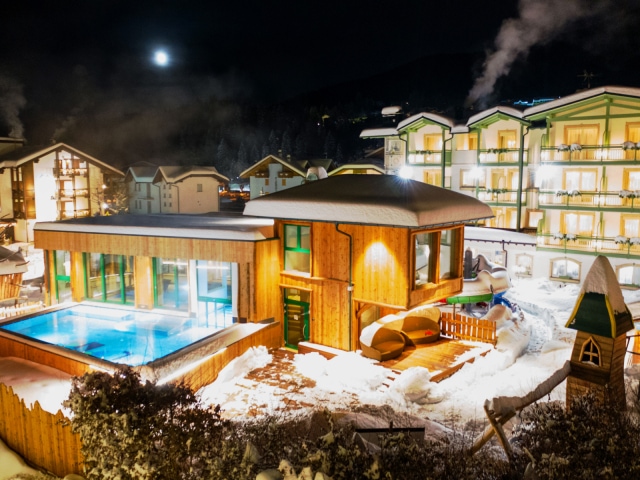 Andalo
Alpino Baby Family***s
Family hotel with an indoor water park
Family services (Bino):
| | |
| --- | --- |
| Starting from 104,00 € per night, per adult, all inclusive | |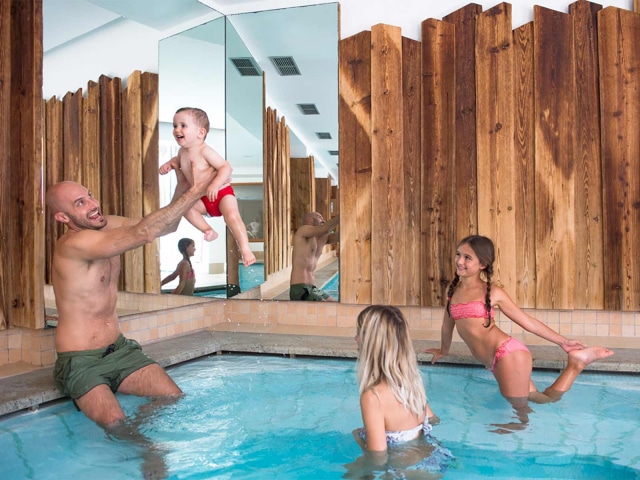 Andalo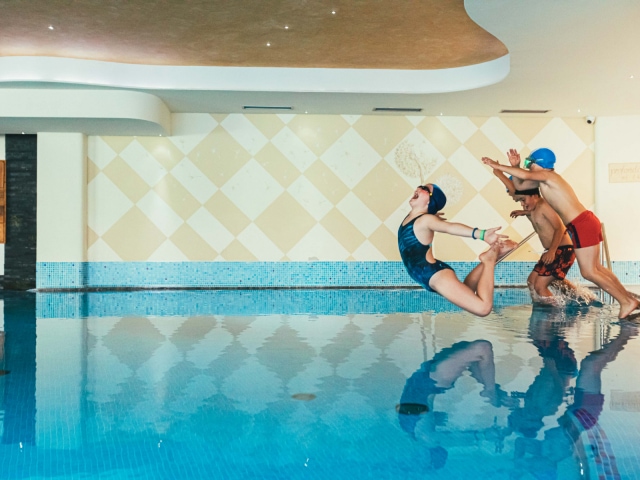 Andalo
Astoria Comfort Hotel***s
A family holiday with 3 swimming pools and water slides
Family services (Bino):
| | |
| --- | --- |
| Starting from 77,00 € per night, per adult, half board | |
Go back to all hotels