Alpino Baby Family***s
Andalo
Trentino Alto Adige
Family services (Bino):
Ciao, io sono Bino!
Garantisco io la qualità negli Italy Family Hotels.
Più Bino = Più servizi family disponibili!
Starting from 111,00 € per night, per adult, all inclusive
Family services (Bino):
Starting from 111,00 € per night, per adult, all inclusive
3 good reasons to come here
1

Gaia Land and the Gaia Baby nursery13 fantastic hours of daily entertainment, and friendly nannies to look after children 1 month to 3 years of age

2

2,000 m2 of funGaia Land, the Gaia Splash indoor water park with 65 square metres of slides, and the Gaia Garden outdoor play area, complete with a castle, tower, and baby go-karts

3

Family All Inclusive dealWith us, guests will also receive a picnic basket, the DoloMITICA daily snack, and bottomless fruit juices, milk, and mountain water
Our services
Pool with waterslide
Baby pool
Heated pool with hydromassage
Disabled access
Private parking
Garden
Ski/bike storage
Free bicycles
Stroller hire
Trekking stroller rentals
Discover all the services
Baby carrier backpack rental
Laundry service for a fee
Small gym with Technogym equipment
Wi-Fi throughout the hotel
Languages spoken by staff: Italian, English
Close
Description
There's a magical kingdom in the town of Andalo, where children take their parents on holiday: it's the Alpino Baby Family Hotel, the only hotel designed exclusively for families, for an unforgettable All-Inclusive holiday experience. If you're dreaming about taking an all-inclusive family holiday with absolutely no worries, and with maximum freedom, then you've come to the right place!
The centre of the holiday experience is Gaia Land: 2,000 m2 of pure fun! The Gaia Mini and the Gaia Kids clubs are a world of fun for little ones, where they're kept busy with fun activities, workshops, and mini-cooking classes, both in the indoor play area, and outside in the enormous Gaia Garden. For children over 1 month of age there's the Gaia Baby nursery! This way, even mum and dad can find some time to enjoy the intimate and exclusive Massage Cabin in the garden (choosing from among the relaxation, sports, or experience massages), to visit the Biosauna, or to take a dip in the outdoor hot tub. And perhaps they can even end the day with a romantic dinner, since the children dine together with the entertainment staff.
For all the little travellers who want to spend some time in the water, even while in the mountains, there's the 800 square-metre indoor Gaia Splash water park, where they can take part in water cannon battles, play under the mushroom water feature, and race each other down the 65-metre water slide!
Every day, guests can choose from various experiences and organised excursions among the Brenta Dolomites, even on stroller-accessible trails. Thanks to our All-Inclusive deal, guests can enjoy these outings with no time restrictions, since we provide them with blankets and picnic baskets full of delicious treats, or else vouchers to be used at our affiliated lodges! Upon returning from a day of hiking, guests will find a delicious snack awaiting them back at the hotel, complete with spring water (an environmentally sustainable choice), mountain milk, and bottomless fruit juices.
Here at the Alpino Baby Family Hotel, we offer an Eco-Friendly culinary experience, with dishes lovingly prepared by Chef Herri using top quality local products. For our guests of honour, the children, there's the Infant Buffet, featuring delicious genuine dishes, complete with baby foods, broths, purées, children's pasta dishes, and a baby bottle station with fresh mountain milk, and everything else you might need to satisfy your hungry little ones outside of meal times! 
Rooms
All rooms are equipped with:
Free Wi-Fi
Room service
Soundproofed rooms
Safe
Sanitising of rooms
Baby WC reducer and stools
Bed rails, cradels, bottle warmers, baby changing tables
Dolomiti Rooms

Dolomiti Rooms

These rooms come complete with balconies and bathrooms, and are available in various types depending on the number of guests (3 or 4) and their children's ages. As the name suggests, their most salient feature is their incredible view of the Dolomites.
Bebè Cucciolo Rooms

These large 23 m2 rooms with balconies are suitable for two adults and an infant up to 1 year of age.

Bebè Cucciolo Rooms
Bebè Dotto Rooms

Bebè Dotto Rooms

These 24 m2 rooms with balconies can accommodate two adults and two children, including one infant up to 1 year of age.
Family Mammolo Room

The Mammolo Family room pays tribute to the story of Snow White and the Seven Dwarfs, and is ideal for ensuring a pleasant rest for your little ones. Complete with 1 or 2 panoramic balconies and featuring a separate double bedroom, this room accommodates up to 4 people, with the possibility of adding a fifth bed, and is perfect for families looking for a spacious accommodation.

Family Mammolo Room
Dolomiti - The Tree House

Dolomiti - The Tree House

Every child dreams of sleeping in a tree house. This 32 m2 junior suite features a magnificent tree with a wooden house and a cot, where our little guests can sleep in a magical environment. The room suite features a private bedroom for the parents, two bathrooms, 2 TVs, and a panoramic balcony. Perfect for accommodating up to 4 people in maximum comfort.
Dolomiti - The Enchanted Forest

This 32 m2 junior suite is furnished in natural wood, and boasts the fantastic fragrance of the forest. The children can sleep among the branches of the tree, surrounded by images of forest animals, while mum and dad have an elegant private bedroom room at their disposal. Complete with two bathrooms, 2 TVs, and a panoramic balcony, this suite offers every amenity, and is perfect for families of 4.

Dolomiti - The Enchanted Forest
Alpino Magic... like a fairytale!

Alpino Magic... like a fairytale!

A beehive with a slide, a gnomes' cottage, or the Flintstones' beds? Choose the perfect one for your family, and treat yourself to a magical stay in either our Gnomes, Flintstones, or Gaia-the-Bee themed suites.
The Tom Thumb Room

A themed room that can accommodate up to 3 people, where the little ones will enjoy the fantastic experience of sleeping inside the trunk of an enchanted tree.

The Tom Thumb Room
Entertainment
Children's entertainment by age group
Indoor/outdoor playgrounds
Skiing lessons
Cheesemaking classes
Educational farm tour
Cinema / Media room
Stables / Riding school
Kreative Workshops
| | |
| --- | --- |
| | For children there's just one rule: no getting bored! But how could they, with all the activities, toys, workshops, and performances at Gaia Land, where they'll entertained 13 hours a day? Together, we'll make works of art, learn to make cookies and ice cream, put on performances in our theatre, and go to the cinema, just like the grown-ups. What else? After having transformed ourselves into magical characters with face painting, we'll dance to the Gaia music, and play in the Gaia Garden: a huge park with a castle, a tower, and a tree house, where the kids can race each other on the pedal go-kart, track and take care of the goats and bunnies. And for the more adventurous, there are lots of guided excursions in the woods and educational farms, even stroller-accessible. |
Baby Club
The Gaia Baby-Infant Club is the place dedicated to your little ones! Our friendly nannies will look after our little ones 1 month to 3 years of age, using the Montessori approach.
An actual holiday nursery, open Monday through Saturday from 8:30 a.m. to 8:30 p.m., where children are gradually introduced and then left in the care of our educators, who keep them busy with readings, games, and walks outdoors, and even feedings and nap times.
Mini Club
Children 3 to 6 years of age and up will never want to leave the Gaia Mini club, which is open Monday through Saturday from 8:30 a.m. to 10:00 p.m., and on Sunday from 1:30 p.m. to 10:00 p.m. You'll see their eyes light up with enthusiasm! Every day there are workshops, performances, competitions, board games, readings, giant Lego constructions, climbing wall challenges, and mini cooking classes. At the Gaia Kids club, older children will find age-appropriate interactive games and video games. And when they want to take a break from all the fun, they can take off to enjoy the fantastic MITICA snack!
Our mascot Gaia
Hi kids! I'm your mascot, Gaia!

I'm a curious and fun-loving bee who's super friendly and naturally sweet! I don't sting, and I really love playing with you kids! Where? In my garden, of course: the GaiaLand and GaiaSplash play areas!

I'm always around for every joyous occasion, including birthday parties, baby dance parties, and the Christmas holidays. I'll be waiting for you!
Cuisine
À la carte menu
Gluten-free food and products
High chairs and 'baby' cutlery
Baby menu and flexible hours
Certified organic food corner
Baby meal corner
Dining rooms with kids area
Baby meals with entertainer
Packed lunches available
Guests will awaken to the fragrance of the DoloMITICA breakfast, made with local products. Your family will find freshly baked cakes, bread and croissants, cured meats and dairy products from the Trentino region, as well as corners dedicated to Organic and Gluten Free foods.

Chef Herri prepares genuine traditional dishes together with his son, Riccardo, who adds a touch of innovation to every dish. And while guests are served at their tables, there's also a buffet of vegetables and side dishes always available to them.

And what about the children? For them, there's a special Infant Buffet, featuring a wide range of delicious and healthy options. In fact, here, parents with infants will find everything they need for weaning, including meat and vegetable broths, purées, various types of children's pastas, and HIPP baby foods.

Children who don't want to miss out on a single a moment of fun can have their lunches and dinners with the entertainment staff and all their new friends. This way, their parents will also have the opportunity to enjoy a quiet romantic dinner!

Thanks to our All-Inclusive deal, guests have water, mountain milk and fruit juices available to them all day long, and there's a convenient baby bottle station open 24 hours a day.
Recommended nearby attractions

Andalo Sports Park
400m from the hotel

Acquain
400m from the hotel

Skating rink
400m from the hotel

Equestrian centre
500m from the hotel

Cross-country skiing track
400m from the hotel
Bring your family here!
Request a free quote
Best family rate
Quick quote by email
Direct reply from the hotel
Other Italy Family Hotels that might interest you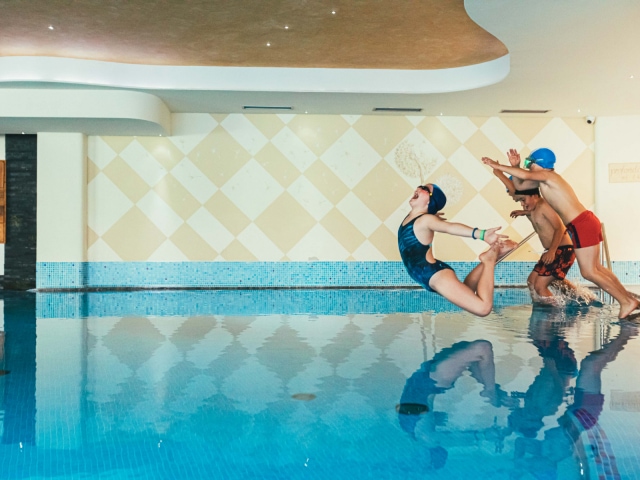 Andalo
Astoria Comfort Hotel***s
A family holiday with 3 swimming pools and water slides
Family services (Bino):
| | |
| --- | --- |
| Starting from 95,00 € per night, per adult, half board | |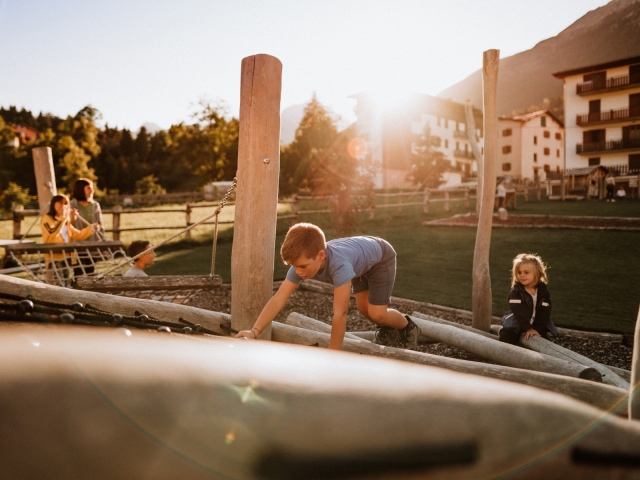 Andalo
Family Hotel Serena

****
Indoor swimming pool, Spa, a 3,000 m2 outdoor playground, and an indoor games room
Family services (Bino):
| | |
| --- | --- |
| Starting from 128,00 € per night, per adult, half board | |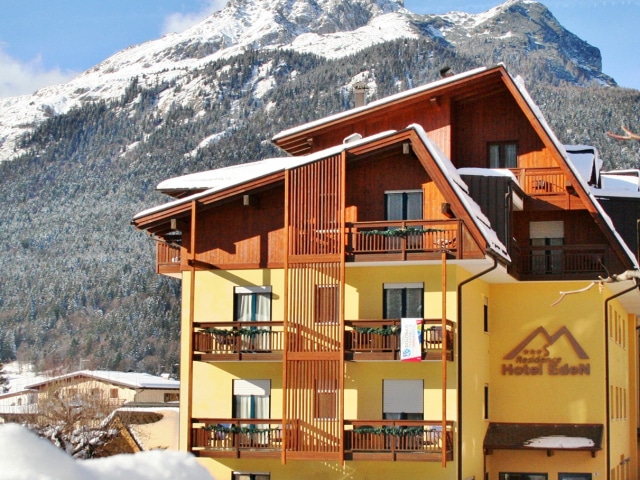 Andalo
Go back to all hotels