Park Hotel Morigi
***
Gatteo a Mare
The Adriatic Coast
Family services (Bino):
Ciao, io sono Bino!
Garantisco io la qualità negli Italy Family Hotels.
Più Bino = Più servizi family disponibili!
Starting from 61,00 € per night, per adult, all inclusive
Family services (Bino):
Starting from 61,00 € per night, per adult, all inclusive
3 good reasons to come here
1

Family-friendlyAmenities and hospitality designed specifically for families, with spacious, well-equipped rooms and safe play areas.

2

FunSwimming pool, play areas, a large garden and entertainment services.

3

50 years of hospitality experienceWe welcome all our guests with courteous service in a family atmosphere.
Our services
Baby pool
Heated pool with hydromassage
Spa
Private beach
Disabled access
Private parking
Garden
Pets welcome
Servizio lavanderia a pagamento
Wi-Fi throughout the hotel
Discover all the services
Air conditioning throughout the hotel
Languages spoken by staff: Italian, German, French
Close
Description
For over 50 years, the Park Hotel Morigi has been hosting mothers, fathers and children looking to enjoy a fun and relaxing holiday experience, in complete safety.
The soft sand of our private beach facility, "Maracaibo Beach", is just 200 metres away, where guests will find a reserved beach umbrella, sun loungers, and lots of beach toys for their children to enjoy. And don't forget that the Gatteo a Mare Coastline has been awarded the "Paediatricians' Green Flag" ecolabel for the cleanliness of its waters, the safety of its seabed, and the amenities and services available: in short, it's an ideal place to bring your children for a fun beach holiday experience!
Guests will also find shade umbrellas and sun loungers waiting for them in the hotel garden by the pool.
At the Park Hotel Morigi, mum and dad can spend their time relaxing at our exclusive Bellavita Spa, which features a sauna, experience showers, a hot tub, and much more. An oasis of personal wellness, where guests can sit back and relax after a day of fun in the sun on the beach.
The Hotel is part of the "Gatteo Mare Summer Village" project, which, each summer, transforms Gatteo into a large open-air tourist village, where guests will find plenty of engaging entertainment services, shows for children, mascots, open-air cinema, foam parties, and lots of lively music.
The hotel is the perfect starting point for visiting the Riviera Romagnola's most popular theme parks, where guests receive special discounts on admission.
Rooms
All rooms are equipped with:
Air conditioning
Free Wi-Fi
Soundproofed rooms
Courtesy set
Safe
Wake-up calls
Baby WC reducer and stools
Bed rails, cradels, bottle warmers, baby changing tables
Plus rooms

Plus rooms

Harmonious furnishings in tenuous colours, for a fully enjoyable holiday experience. These rooms all have balconies overlooking the pool or the main street. They come complete with every comfort needed to ensure a carefree stay. The Plus rooms come furnished with a double bed and a bunk bed with rails, and are perfect for families.
Family rooms

These modern rooms are perfect for families looking for shared accommodations that offer maximum comfort. They come complete with everything needed for a special holiday experience, including a bathroom with a shower, soft bathrobes, and a balcony for admiring the beautiful sunsets. Some even come with 4 separate beds, while others have bunk beds. Although they consist of single rooms, the children's sleeping areas are separate from the double bed, in order to give the parents more privacy.

Family rooms
Comfort rooms

Comfort rooms

Featuring large beds with soft linens, light duvets, and cotton sateen sheets, soft bathrobes, these modern and quiet rooms are the most recent introduced at the Hotel Morigi, and come complete with spacious bathrooms with large shower stalls and powerful and invigorating shower heads.

They also come with balconies, and are perfect for those in search of serenity and privacy, without compromising on comfort. Those who book our comfort rooms also receive a reserved covered parking space for the duration of their stay.
Junior Suites

These elegant 35 m2 suites are furnished with maximum attention to detail. Every day, guests can have their favourite newspaper delivered directly to their room, which they can read seated comfortably on their private terrace.

The suite consists of a bedroom with an LCD TV, and a living room with a sofa, which can be converted into a comfortable double bed in order to accommodate up to two children, for families who want to spend their holidays together without compromising on privacy.

Those who book our junior suites also receive a reserved covered parking space for the duration of their stay.

Junior Suites
Romantic Suites

Romantic Suites

Offering the very best in terms of romance, our Romantic Suites are intimate love nests designed for the perfect couple's holiday, and come complete with a four-poster bed, a private sitting area, two LCD TVs, and a large terrace furnished with deck chairs. Guests who book these accommodations also receive a private covered parking space and afternoon tidy ups. This room can even accommodate up to four people by simply opening the comfortable sofa bed. Those who book our junior suites also receive a reserved covered parking space for the duration of their stay.
Double Suites

Ideal solutions for those in search of more spacious and comfortable accommodations. These units extend over two floors, and come complete with a bedroom and a bathroom on one level, and an elegant living room area with a second large bathroom on the other level.

The large balcony offers a wonderful view of the swimming pool and the garden area. These units also include private covered parking

Double Suites
Entertainment
Children's entertainment by age group
Indoor/outdoor playgrounds
Babysitting on demand
Kreative Workshops
As parents, our management understands how important it is to provide safe and dedicated areas for children to play and express themselves. We offer fully-equipped play areas, a children's room, and a children's swimming pool, where our younger guests can play, dance, and have lots of fun taking part in the activities organised by our entertainment staff!

This offers mothers and fathers the chance to indulge in come well-deserved relaxation, while their children have fun in complete safety. We even have a Nanny, who organises fun recreational activities for kids over 3 years of age, as well as a Baby Parking area where kids can play after meals.
Mini Club
Two specialised teams organise activities for children 3 to 6 years of age on the hotel's private beach in the mornings, as well as games and dances in the pool area in the afternoons.
Little ones are invited to take part in creative workshops and games in the indoor room, as well as fun treasure hunts and outdoor tournaments in the safety of the large garden area. Other activities include face painting, the fun baby dance parties, and the delicious snacks to be enjoyed with friends.
After having lunch and dinner with their parents, children can excuse themselves from the table and have fun in the children's room, thanks to the Baby Parking service.
The "Gatteo Mare Summer Village" Mini Club area is located in the garden area opposite the hotel's private beach, and consists of a fun play area where kids can meet and make new friends.
Junior Club
Children 6 to 12 years of age can take part in various engaging activities, including water aerobics, tournaments, and dancing on the private beach in the mornings, followed by fun and games at the pool in the afternoons.
The children's room becomes a bustling workshop, where masks and disguises are made for the themed dinner events. There are also plenty of competitions, mini cabaret events, evening dance parties, and games under the stars.
Cuisine
Buffet restaurant
Gluten-free food and products
High chairs and 'baby' cutlery
Baby menu and flexible hours
Packed lunches available
Our chefs prepare every entrée with love, in order to allow our guests to fully enjoy our local cuisine. We offer our guests traditional Romagna dishes, as well as a whole range of national and international options, complete with a served buffet of appetisers, vegetables, and salads, various first and second courses, as well as desserts and seasonal fruit, all prepared and served up directly by our Chefs, whose talents can be observed thanks to the show-cooking style meal preparations.

Our breakfasts are designed to ensure that guests always start their days out on the right foot, with homemade pastries products, like cakes, pies, plum cakes, and brioches. And there are plenty of savoury options as well, with a buffet of bacon, omelettes, soft-boiled eggs, and cured meats.

Guests won't want to miss out on the themed culinary evenings, which are lots of fun for people of all ages, and feature special menus items served by staff dressed up specifically for the occasion. They're held regularly, and are greatly appreciated by guests, who often take pictures as keepsakes!

There are also specific menu options for children in the Kids Corner, where they'll find first courses with simple sauces, and delicious second courses such as schnitzels, hamburgers, hot dogs, chips, grilled steak, cooked ham and mozzarella.
Recommended nearby attractions

Mirabilandia
24.4km from the hotel

Fiabilandia
26km from the hotel


Oltremare
36.8km from the hotel


Italia in Miniatura
13.9km from the hotel

Acquario di Cattolica
47.1km from the hotel
Bring your family here!
Request a free quote
Best family rate
Quick quote by email
Direct reply from the hotel
You are browsing...
Park Hotel Morigi

***
Gatteo a MareThe Adriatic Coast
Other Italy Family Hotels that might interest you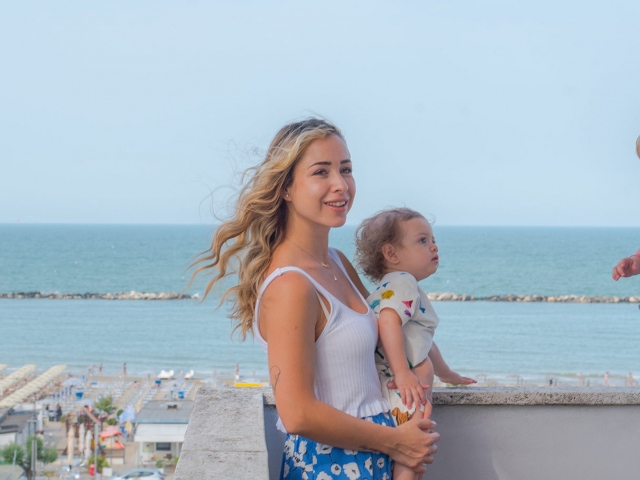 Cesenatico
Gallia Club Hotel

***
3 outdoor pools and a private beach
Family services (Bino):
| | |
| --- | --- |
| Starting from 53,00 € per night, per adult, all inclusive | |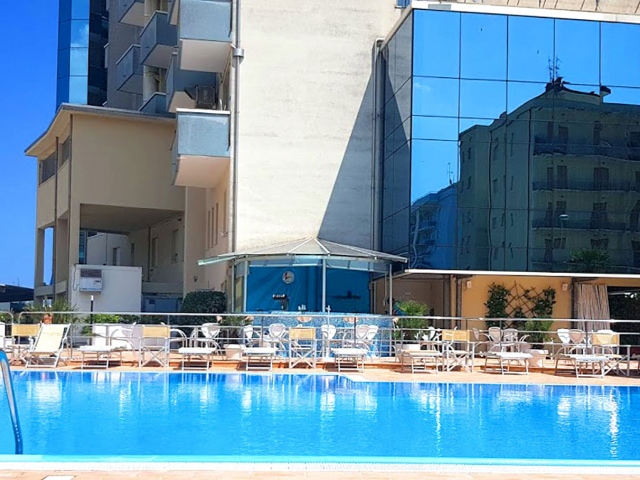 Lido di Savio
Color Palace Lido Family Village

****
Your all-inclusive family holiday, just a stone's throw from the beach.
Family services (Bino):
| | |
| --- | --- |
| Starting from 60,00 € per night, per adult, all inclusive | |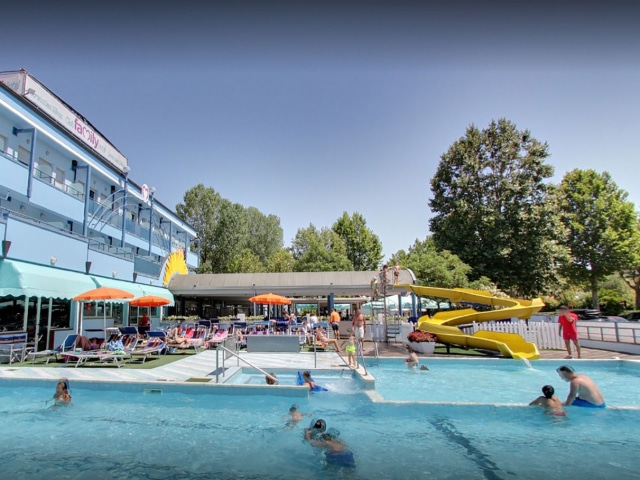 Cesenatico
Club Family Hotel Serenissima

****
Very close to the sea with a heated swimming pool and a water slide
Family services (Bino):
| | |
| --- | --- |
| Starting from 72,00 € per night, per adult, all inclusive | |
Go back to all hotels