Oxygen Lifestyle Hotel
****
Viserbella di Rimini
The Adriatic Coast
Family services (Bino):
Ciao, io sono Bino!
Garantisco io la qualità negli Italy Family Hotels.
Più Bino = Più servizi family disponibili!
Starting from 74,00 € per night, per adult, half board
Family services (Bino):
Starting from 74,00 € per night, per adult, half board
3 good reasons to come here
1

Entertainment8 hours of entertainment at the hotel, on the beach, or at the swimming pool, complete with children's yoga and a brand-new Kids' Room!

2

GardenLots of safe play areas, a splendid swimming pool, even with shallow water for children, a sun deck with sun beds, and shaded relaxation areas.

3

Soft All-InclusiveThe ideal formula for a carefree holiday experience, complete with parking, beverages included at meals, and a reserved spot on the beach just 20 metres away, with a shade umbrella and sun loungers.
Our services
Swimming pool
Private beach
Disabled access
Private parking
Garden
Small pets are accepted
Bike rentals
Servizio lavanderia a pagamento
Wi-Fi in public areas
Air conditioning in public areas
Discover all the services
Languages spoken by staff: Italian, English, German, French
Close
Description
Come and experience the holiday air here at the Oxygen Lifestyle Hotel, where guests can enjoy some carefree and regenerating time just 20 meters from the beach. For those who choose to spend a holiday with us, each day is filled with family-friendly fun, right from the moment they wake up!
In the mornings, children can play on the beach with the entertainment staff, while their mum and dad relax under the umbrella, or take part in sports activities or water gymnastics. After a fantastic lunch, and perhaps even a little nap, it's off to the pool for the Mini Club activities, or workshops in the exclusive new Kids' Room, complete with soft furnishings and new modular and educational games, followed by a super snack. And after dinner? That's the perfect time to enjoy some laughter in good company, amid the shows and the baby dance party, before retiring to our comfortable guest rooms, perhaps with a nice bedtime story.
This is the magic that's repeated each day, with which we love to pamper our littlest guests, as well as the older ones. We offer cycling tourism enthusiasts lots of dedicated services and guided tours, while their children spend time having fun in complete safety with our entertainment staff 8 hours a day, taking part in special parties by the pool and in the garden, complete with music, karaoke, cotton candy, balloons and lots of laughs!
Rooms
All rooms are equipped with:
Air conditioning
Free Wi-Fi
Room service
Soundproofed rooms
Courtesy set
Safe
Wake-up calls
Sanitising of rooms
Baby WC reducer and stools
Bed rails, cradels, bottle warmers, baby changing tables
Family Room Suite

Family Room Suite

Consisting of two large separate rooms, for a total of 36 square metres, complete with 2 LED televisions and separately adjustable air conditioning, these Family Room Suites are perfect for couples and families, and some even come with an in-room hot tub.
Comfort Rooms

These spacious and completely renovated rooms feature a minimalist design inspired by nature. The bathrooms are equipped with the very best amenities, complete with large shower stalls and rain-effect water jets. All the rooms come with balconies (some with sea views), air conditioning, 32/40" LED TVs, minibars, Wi-Fi, safes, and hairdryers.

Comfort Rooms
Entertainment
Children's entertainment by age group
Indoor/outdoor playgrounds
Babysitting on demand
Baby swim lessons
Kids cooking classes
Educational farm tour
Kreative Workshops
Children have always been our most important guests, and we dedicate a great deal of care and attention to them, complete with 8 hours of entertainment services!

The day begins with Children's Yoga in our spacious and quiet garden, after which we head down to the beach for games, tournaments, and carefree fun in the water, together with the entertainment staff. The children are split up into small groups by age, so that everyone can have fun with personalised activities.

After lunch with the entertainment staff, the afternoon is full of laughter and creativity, with activities at the pool, creative workshops, and educational games in the new Kids' Room (decorated exclusively using natural materials and non-toxic paints), all followed by a delicious snack.

In the evenings, the fun continues with the Joy Dance party and cabaret shows, which the children can enjoy with their new holiday friends.
Baby Club
For a fee, guests can request our Nursery Service, in order to have our friendly Nanny look after their children 6 to 36 months of age, while they enjoy some time alone together as a couple!
Mini Club
Every morning at 9:00, the children and their mothers are invited to start the day with a special Double Yoga session in the garden.
Don't miss out on the Piccolo Masterchef event for children and parents, which is led by our Chef and the entertainment staff! You'll learn to prepare a traditional Romagna flatbread sandwich and shortbread biscuits, to be enjoyed as a family.
After that, the family style fun continues with various workshops: including the Astract Lab, where our little guests create works of art together with their parents, to be exhibited at the Children's Art Gallery in the garden; the Acquarius Lab, where they design an aquarium using recycled materials; and the Galatic Lab, where they make little stars, and then head down to the beach to gaze at the real ones through a telescope.
Junior Club
For older kids, we organise fun family activities, including family sports on the beach and daily beach volleyball, basketball, water polo, bocce, and table tennis tournaments, as well as Family Day activities with the entertainment staff, including the Selfie Hunt, Body Painting, the Sand Creatures competition, and the Family Show musical, in which the children and their parents are the stars.
Cuisine
Gluten-free products
High chairs and 'baby' cutlery
Baby menu and flexible hours
Certified organic food corner
Dining rooms with kids area
Packed lunches available
Possibility to have lunch or dinner in your room
Guests at our Folya Restaurant will enjoy dishes made using the very best local ingredients, including cheeses from the Centrale del Latte di Cesena, fresh seafood from the Adriatic, meats from San Patrignano, salami from the Cervia salt pans, Paganelli oil, Ca' Perdicchi wines, and fruits and vegetables from trusted local farmers.

Not just a buffet, but a tribute to the culinary traditions of the Emilia Romagna region, with entrées prepared right before our guests' eyes in the open kitchen!

Guests can opt to eat in the dining room or in the garden, even at breakfast, choosing from freshly baked pastries and bread, croissants, local cured meats and cheeses, yoghurt and jams. And we naturally also offer Organic, Vegan and Gluten-Free options.

Each meal concludes with our spectacular buffet of delicious homemade desserts!

For children there's an exclusive Children's Buffet, with various delicious meal options, to be enjoyed in the company of the entertainment staff. Parents with infants have access to the You and Me room, where they'll find baby foods, flours, cheeses, biscuits, fruits, vegetable purées, vegetable broths, and fresh tomato sauces.
Recommended nearby attractions


Beach
100m from the hotel


Mirabilandia
34.4km from the hotel


Fiabilandia
9.4km from the hotel


Oltremare
15.1km from the hotel


Italia in Miniatura
1.4km from the hotel
Bring your family here!
Request a free quote
Best family rate
Quick quote by email
Direct reply from the hotel
Other Italy Family Hotels that might interest you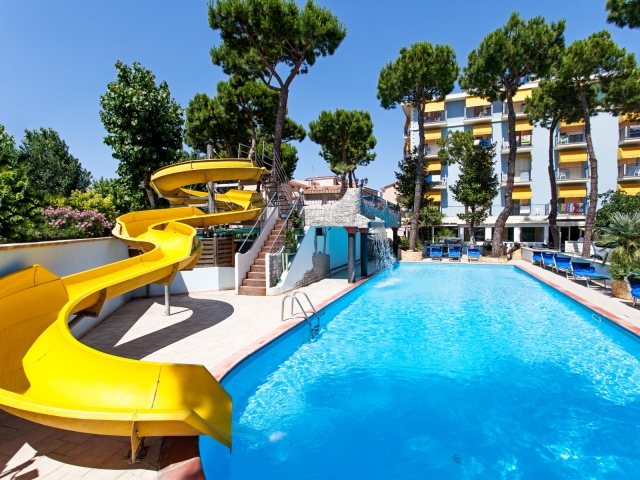 Rimini
Hotel Fabrizio

***
Eco-friendly hospitality for families
Family services (Bino):
| | |
| --- | --- |
| Starting from 67,00 € per night, per adult, all inclusive | |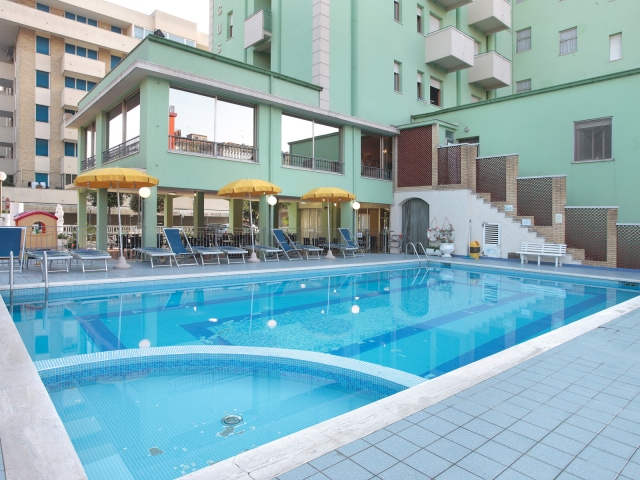 Valverde di Cesenatico
Hotel Abacus

***
Family services (Bino):
| | |
| --- | --- |
| Starting from 61,00 € per night, per adult, all inclusive | |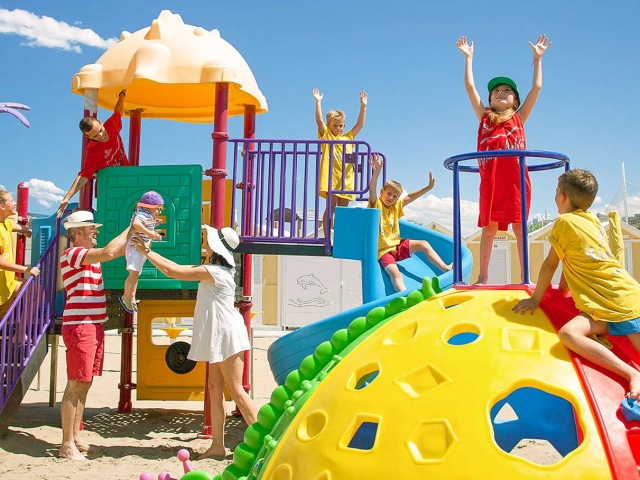 Riccione
Hotel Milano & Helvetia

***
Lots of space for children to have fun, right in the centre of Riccione!
Family services (Bino):
| | |
| --- | --- |
| Starting from 65,00 € per night, per adult, half board | |
Go back to all hotels