Oleandri Resort
****
Capaccio Paestum
Cilento Coast
Family services (Bino):
Ciao, io sono Bino!
Garantisco io la qualità negli Italy Family Hotels.
Più Bino = Più servizi family disponibili!
Starting from 90,00 € per night, per adult, half board
Family services (Bino):
Starting from 90,00 € per night, per adult, half board
3 good reasons to come here
1

Olea LandA play area surrounded by greenery, also with an educational vegetable garden, maxi inflatables, baby feeding, workshops and activities with an entertainment team for children aged from 3 to 11 years.

2

Beach and swimming poolAn elegant private establishment, with plenty of space amongst the sun umbrellas and entertainment activities in the morning along with an 800-square-metre swimming pool with shallow water areas for children.

3

CuisineThe Bistro and restaurant on the beach serve only the best fresh ingredients, menus and baby food with our AIC-certified cuisine.
Our services
Baby pool
Pool with hydromassage
Private beach
Private parking
Garden
Small pets are accepted
MAXI inflatables
Bike rentals
Stroller hire
Wi-Fi throughout the hotel
Discover all the services
Air conditioning in public areas
Languages spoken by staff: Italian, English, German
Close
Description
Scents of the pine forest and fresh sea air accompany you here at the Oleandri Resort in Paestum, on the enchanting Cilento coast, for a dream that lasts the entire holiday. We want your family to have an experience that embraces our history, in a succession of days rich in relaxation and fun.
A lovely path in the shade of the pine forest, which can also be travelled with pushchairs, takes you to our private beach, a spacious and elegant establishment where the sand is as soft as velvet and the clear sea is quite shallow, perfect for your children to swim like little fish. Relax under the beach umbrella or opt for one of the gazebos whilst the children play with our entertainment team. And if you are on holiday with your dog, remember that animals are welcome in the dedicated Pet Area!
Our Family Resort has large, well-organised spaces that immediately convey a sense of tranquillity with a mysterious soul! A day in the 800-square-metre swimming pool, for example, provides relaxation for the soul and the eyes. Surrounded by palm trees and an elegant solarium, little ones can have fun in safety playing in the shallow water areas whilst parents can unplug from the daily grind in an atmosphere of peace and well-being.
But the real highlight is the wonderful world of Olea Land, a magical play area surrounded by greenery, where children have non-stop excitement! Not only with the playful and creative activities designed by the entertainment staff for all little guests aged 3 to 11 years but also in the Garden of Wishes or with our mini cooking and painting courses. At Olea Land, you can have a snack, dance, play, dine with the entertainers at the children's restaurant and there is even a baby feeding station where new parents can make baby food … obviously, with products prepared by our Chef.
Mums, dads and kids, are you ready to treat yourself to a family holiday that will leave its mark on your heart? Here at the Oleandri Resort, we look forward to welcoming you with open arms!
Rooms
All rooms are equipped with:
Air conditioning
Free Wi-Fi
TV
Hairdryer
Room service
Courtesy set
Safe
Mini-bar
Balcony
Sanitising of rooms
Park Prestige Suite

Park Prestige Suite

Size:45 m2

Facility:

Two separate rooms

On the ground floor, surrounded by the greenery of the park, the exclusive Prestige Suites have a furnished outdoor patio, Vietri ceramic finishes, hand-crafted furniture and fine fabrics. They feature two separate rooms, the double room with a Simmons king-size bed and single bed, as well as the living area with a Simmons double sofa bed.
Park Junior Suite

Size:45 m2

Facility:

Two separate rooms

Mediterranean-style furnishings and Vietri ceramic floors characterise the Prestige Junior Suite, located on the ground floor. Besides a furnished outdoor patio, they have a sleeping area with a Simmons queen-size bed and single bed, separated from the living area with Simmons double sofa bed.

Park Junior Suite
Elegance Apartment

Elegance Apartment

Size:45 m2

Facility:

Two-room apartment with kitchenette

Attractive, modern two-room apartments, consisting of a living area with a hideaway kitchenette and double sofa bed, a sleeping area with a queen-size bed and single bed, plus a bathroom with bathtub. The Elegance Apartments are located in terraced houses close to the swimming pool, surrounded by green parkland and with their own entrance.
Family Apartment

Size:45 m2

Facility:

Two-room apartment with kitchenette

These spacious, simply-furnished two-room apartments are located on the mezzanine floor in the small villas next to the swimming pool and surrounded by the greenery of the park. They have a sleeping area with a queen-size bed and single bed, a living area with a kitchenette and a double sofa bed along with a bathroom with bathtub and a furnished terrace.

Family Apartment
Park Deluxe Room

Park Deluxe Room

The Deluxe rooms are located in the quietest part of the resort, surrounded by greenery and olive trees. They are spacious and furnished in Mediterranean style, some consisting of a single room, others with interconnecting rooms. They have a queen-size bed, a double sofa bed, a bathroom with bathtub and a furnished balcony. They are available both on the ground floor and on the first floor without a lift.
Entertainment
Children's entertainment by age group
Indoor/outdoor playgrounds
Babysitting on demand
Kids cooking classes
Kreative Workshops
Olea Land play area
One, two, three … Olea Land! That's right, kids, we have created a magical world dedicated to your enjoyment, open every day from 9:30 am to 10:00 pm. Completely surrounded by greenery, Olea Land is pure enchantment with colourful themed play areas with maxi inflatables, the Garden of Wishes with a small farm for educational workshops, along with many activities organised by the entertainment team. Of course, we also have indoor play areas for when the weather is capricious but we'd rather see you enjoying the outdoors on the beach, in the pine forest, by the swimming pool, in the theatre and of course, at Olea Land!

Continue reading!

We start in the morning at the beach from 10:00 am to 12:30 pm. After time for an afternoon nap, from 4:00 pm to 6:30 pm, we have a snack and play together. Then in the evening comes the grand finale from 9:00 pm to 11:30 pm with the shows.

We know that every child has their own needs, which is why we divide our young guests into age groups to be involved in tailor-made activities for 3 to 6 year-olds, 6 to 10 year-olds and 10 to 14 year-olds. One thing is for sure … there is always something to do here, including cooking workshops, painting, spending time in the vegetable garden and enjoying creative crafts. And of course, we must prepare for the shows together, which are sure to amaze your mums and dads!

Close
Cuisine
À la carte menu
Gluten-free food and products
High chairs and 'baby' cutlery
Baby menu and flexible hours
Certified organic food corner
Baby meal corner
Dining rooms with kids area
Baby meals with entertainer
Packed lunches available
Children's restaurant
Balance, tradition, innovation, authenticity, freshness. What are they? The ingredients we serve at your table every day! For us, cooking is love, respect for the land and seasonality, as well as an experience with which we want to pamper all our guests indiscriminately, even those who are looking for a Gluten-free Hotel. Indeed, we are certified by the Italian Celiac Association.

From 7:00 am to 10:00 am, we serve a rich breakfast buffet with local products, fresh fruit, and pastries from our pâtisserie. There is also a cooking area where we make to order omelettes, pancakes and traditional zeppole pastries.

Continue reading!

For a tasty, wholesome lunch, you can stop by the beach and eat overlooking the sea with an à la carte menu or dine at the Bistrot Borgolea near the pool, with traditional Cilento dishes and light afternoon menus.

At dinner we await you in the restaurant, where you can relax whilst we serve you directly at the table. Choose from 3 first courses, 3 main courses, 2 side dishes, dessert, fruit and gelato, or enjoy our pizza baked in a wood-fired oven.

We prepare well-balanced and delicious menus for the children, who can also eat at the table with the entertainers in the little restaurant dedicated to kids at Olea Land. For the smallest of babies, the Biberoneria is always stocked with everything needed to cook baby food.

Close
Recommended nearby attractions

Paestum Archaeological Park
3.9km from the hotel

Castellabate
24.3km from the hotel

Amalfi
66.2km from the hotel
Bring your family here!
Request a free quote
Best family rate
Quick quote by email
Direct reply from the hotel
Other Italy Family Hotels that might interest you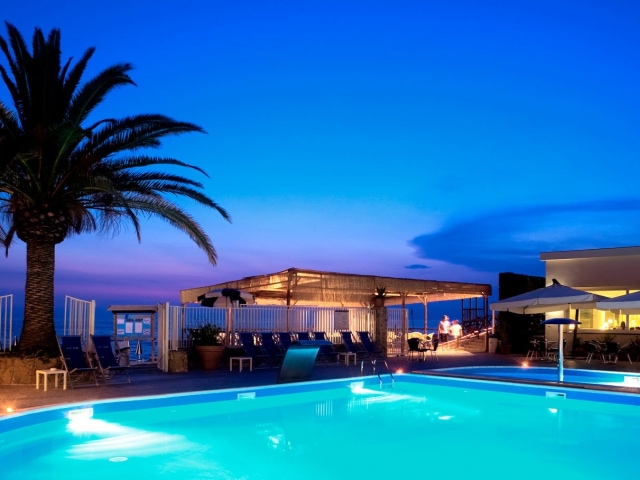 Palinuro
Hotel Saline

****
Direct access to the private beach and 2 swimming pools
Family services (Bino):
| | |
| --- | --- |
| Starting from 60,00 € per night, per adult, half board | |
Go back to all hotels