La Grotta MyTime Hotels
****
Vigo di Fassa
Trentino Alto Adige
Family services (Bino):
Ciao, io sono Bino!
Garantisco io la qualità negli Italy Family Hotels.
Più Bino = Più servizi family disponibili!
Starting from 200,00 € per night, per adult, half board
Family services (Bino):
Starting from 200,00 € per night, per adult, half board
3 good reasons to come here
1

LocationWe're situated directly in the Vigo di Fassa town centre, surrounded by the breathtaking peaks of the Catinaccio massif, close to all the main services, including the ski slopes, which are just 150 metres away.

2

Themed suitesHow would you like to drift off to sleep in a tree, in a mushroom, or on a farm? With our themed suites, dreams really do come true! And everyone can go back to being a kid again!

3

ExperiencesWe organise lots of trips, excursions, and activities for children, as well as the entire family, both in the summer and winter.
Our services
Spa
Disabled access
Secure car park
Garden
Ski/bike storage
Ski room
Bike rentals
Wi-Fi throughout the hotel
Languages spoken by staff: Italian, English, German
Description
Welcome to the wonderful Val di Fassa, right in the heart of the Dolomites. Here at the Hotel La Grotta, guests can enjoy a special holiday experience with their families, in close contact with the breathtaking fragrances and colours of the surrounding natural landscape.
Here, the holiday experience is centred around the children. During the summertime, the outdoor activities never end, offering guests lots of opportunities to discover all the beauty of our extraordinary mountain environment, including visits to the Paneveggio Nature Park, excursions to mountain cottages with nature guides, and trips to the Acropark or the Avisio river to climb trees or do some river rafting. When it starts to get colder, on the other hand, Val di Fassa begins to turn white, and it's the perfect time to take the children out to the slopes, for skiing and ski lessons, or else to the Kinderpark Ciampedie, for lots of playtime in the snow. The hotel has plenty of indoor space, including the colourful and fun-filled 95 m2 Sigolot Room, where parents are strictly forbidden to enter!
As the old saying goes: "When the cat's away, the mice will play!" That's right! And while the children are busy with our staff, their parents can engage in all sorts of couple's activities, both inside and outside the hotel. At our Spa, guests can enjoy the Finnish sauna, Turkish bath, infrared sauna, cold mist, and facial and body treatments. Outdoor enthusiasts, on the other hand, won't want to miss out on our full programme of activities, including rafting on the Avisio river, guided nature excursions in search of some of the most picturesque scenery that Val di Fassa has to offer, E-Bike trips to Lake Caress, and Aereal Yoga lessons in the woods.
At the table, the entire family will enjoy an extraordinary culinary experience, with delicious traditional entrées revisited with a modern twist, as well as special vegetarian, gluten-free and children's menu items, all to be enjoyed within our 3 lovely dining rooms overlooking the Marmolada and Sassolungo mountains. Guests at our facility will receive a fantastic aperitif immediately upon their arrival, and can enjoy a delicious afternoon snack, suitable for people all ages, every day to refresh themselves upon returning from their excursions.
Rooms
All rooms are equipped with:
Free Wi-Fi
Room service
Courtesy set
Safe
Mini-bar
Sanitising of rooms
Baby WC reducer and stools
Bed rails, cradels, bottle warmers, baby changing tables
Marmotta Family room

Marmotta Family room

Size:25 m2

Facility:

2 adjoining rooms

This wonderful 25 m2 themed room offers our guests' children the opportunity to enjoy the experience of sleeping in a tree in the woods, where there are lots of hidden marmots to be found. The unit includes two adjoining bedrooms, a large bathroom, and two TVs.
Malga Suite (The Mountain Farm Suite)

Size:40 m2

Facility:

2 adjoining rooms

A fun farm-themed room complete with a slide and a bridge, where pigs, bunnies, cows and butterflies are found behind every corner! A fantastic place to rest and play, just as if you were outdoors!

The master bedroom, on the other hand, features beautiful wooden furniture and a hot tub, and is an ideal place for mum and dad to relax and spend some alone time together.

The suite also comes with two bathrooms and two panoramic balconies.

Malga Suite (The Mountain Farm Suite)
Suite Scoiattolo (The Squirrel Suite)

Suite Scoiattolo (The Squirrel Suite)

Size:40 m2

Facility:

2 adjoining rooms

A forest with lots of animals to keep the whole family company, where the beds are in a tree, the table is a flower, and the chairs are leaves.

The suite consists of 2 adjoining bedrooms (one double bedroom, and one children's bedroom with 3 beds), 2 bathrooms, a walk-in closet, and a large panoramic balcony.
Suite Volpe (The Fox Suite)

Facility:

2 adjoining rooms

A close encounter with a fox and its little pups. This themed suite consists of two adjoining rooms, a walk-in closet, a bathroom with shower, and a panoramic balcony. The children sleep in the two beds in the tree, between a bridge, a second tree with a small house, a flower-shaped table and fox-shaped chairs.

Mum and dad's bedroom, on the other hand, is furnished in typical alpine style, complete with a hot tub for long relaxing soaks.

Suite Volpe (The Fox Suite)
Suite Civetta (The Owl Suite)

Suite Civetta (The Owl Suite)

Size:80 m2

Facility:

2 adjoining rooms

A wonderful forest, complete with a giant tree with lots of little hidden owls, where the children's bedroom is perched up in the tree itself! A 60 m2 dream suite with 2 adjoining rooms, 2 bathrooms, 2 walk-in closets, a hot tub in the parents' bedroom, and a large balcony overlooking the Dolomites.
Suite Fungo (The Mushroom Suite)

Size:40 m2

Facility:

2 adjoining rooms

View:

The hotel's park, Pordoi and Sasso Lungo mountains

Sleeping in a mushroom among the elves is every child's dream. Consisting of adjoining 40 m2 rooms with two bathrooms and a panoramic view of the Pordoi and Sasso Lungo mountains, this fantastic suite is an ideal place for people of all ages to enjoy a magical stay, for a fun and relaxing holiday experience.

Suite Fungo (The Mushroom Suite)
Standard Rooms

Standard Rooms

Size:18-22 m2

Facility:

Studio Apartment

Consisting of a single environment, our classic and timeless standard room offers a wonderful view of the Dolomites, and comes complete with every comfort needed for a restful stay. It consists of a double room with a bathroom, with the possibility of adding one or two additional beds.
Entertainment
Indoor/outdoor playgrounds
Babysitting on demand
Skiing lessons
Educational farm tour
Stables / Riding school
Kreative Workshops
There are lots of activities available in both the summer and winter, and we've prepared an extensive programme in order to allow our guests' children to try them all! Our entertainment staff also welcome children for lots of fun and games in the Sigolot Room all year round, from 4:00 p.m. to 10:00 p.m.

In the wintertime, the morning activities begin with ski school (for children over 3 years of age). After lunch, the fun continues with a few more ski runs, and some playtime at the Kinderpark Ciampedie.

Continue reading!

And what's for dinner? We organize Children's Parties twice a week, with exclusive dinners reserved exclusively for little ones! This way mum and dad will have the chance to enjoy a romantic dinner or two.

In the summertime we spend lots of time in close contact with nature! The possibilities include guided nature excursions, beginners climbing with alpine guides for children 7 to 13 years if age, trips to the mountain cottage for children 4 to 12 years of age, a day dedicated to discovering the life of primitive man and exploring the trail of the dragons, storytellers and jugglers, as well as lots of other recreational activities, morning and afternoon, all in the company of our expert entertainment staff.

Close
Mini Club
Our entertainment staff organise activities for our guests' children all throughout the year, from 4:00 p.m. to 10:00 p.m. in our Sigolot Games Room: a fairytale world where adults are strictly forbidden, and where happiness, creativity, and imagination rein free! Inside, children will find videogames, board games, a dollhouse, a cinema area, a tree house, a creativity area, and a slide to descend from one floor to the other.
When summer arrives, the fun and games take place to our 5,000 m2 park area.
Cuisine
Buffet restaurant
Gluten-free food and products
High chairs and 'baby' cutlery
Baby menu and flexible hours
Baby meals with entertainer
Packed lunches available
Every day, guests have the opportunity to savour some of the very best entrées from the local culinary tradition thanks to the genuine and innovative dishes prepared by our 3 magnificent chefs.

In the morning, on the other hand, we offer a large breakfast buffet with fresh fruit, homemade cakes and jams, eggs, cured meats, fresh bread, and yoghurt.

For children there are special menu items every day, which combine lots of children's favourites with various new foods to try. And for dessert there's fruit, ice cream or sweets.

Continue reading!

We like to organise fun little events to entertain our guests, including a welcome aperitif, a Children's Party, and an exclusive dinner, complete with a selection of wines chosen by our Sommelier.

Adults and children are both invited to the afternoon snack, where they'll find a chocolate fountain, crêpes, cotton candy, and fruit sorbets.

We also pay special attention to those with food intolerances and Celiac disease, and we're even a member the AIC's Dining Out Gluten Free project.

Close
Recommended nearby attractions


Skiing and Ski School
3.9km from the hotel


Trekking
3.9km from the hotel


Ciampedie Kinderpark
3.9km from the hotel


Fassa and Fiemme cycling path
14.8km from the hotel
Bring your family here!
Request a free quote
Best family rate
Quick quote by email
Direct reply from the hotel
Other Italy Family Hotels that might interest you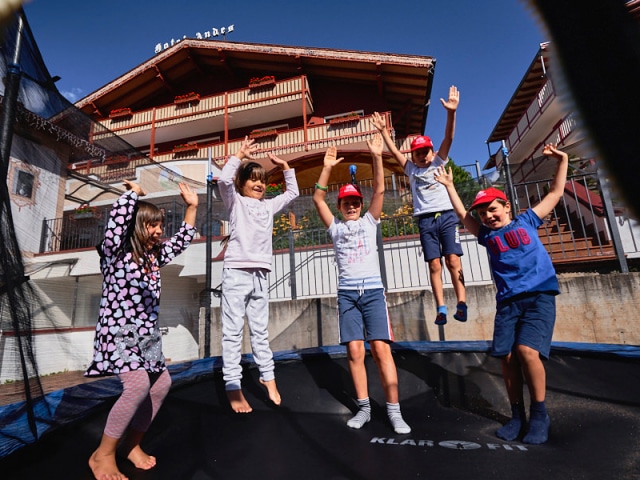 Vigo di Fassa
Hotel Andes Family & Wellness

****
Holiday surrounded by nature with a swimming pool and Spa
Family services (Bino):
| | |
| --- | --- |
| Starting from 80,00 € per night, per adult, half board | |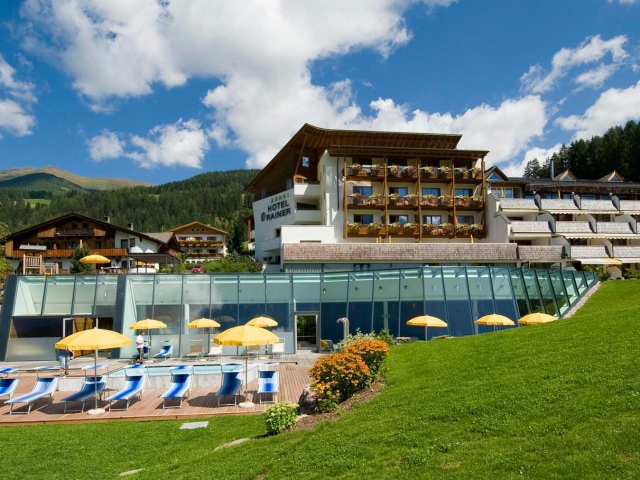 Sesto
Family Resort Rainer****s
Immersed within the beautiful natural surroundings of the Sesto Dolomites, with 60 hours of weekly entertainment and a 2,000 m2 Spa
Family services (Bino):
| | |
| --- | --- |
| Starting from 140,00 € per night, per adult, half board | |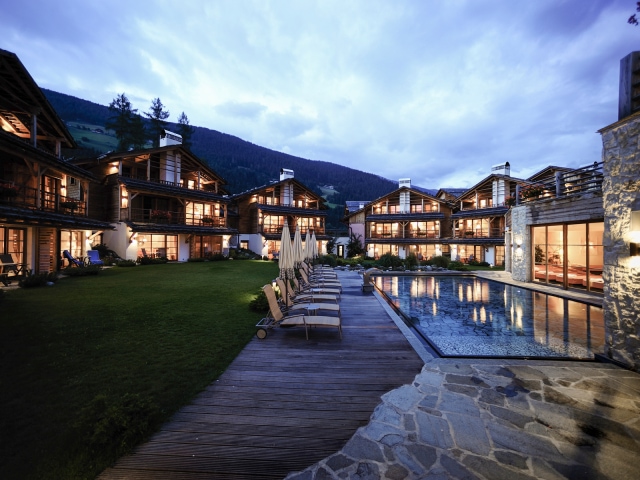 San Candido - Versciaco
Go back to all hotels