Family services (Bino):
Ciao, io sono Bino!
Garantisco io la qualità negli Italy Family Hotels.
Più Bino = Più servizi family disponibili!
Starting from 70,00 € per night, per adult, all inclusive
Family services (Bino):
Starting from 70,00 € per night, per adult, all inclusive
3 good reasons to come here
1

Family atmosphereIt's hard not to feel at home at the Hotel Sympathy. Our staff always take care to learn the names of our guests. Especially those of the children, who are the hotel's real guests of honour.

2

All-InclusiveThe very best Abruzzo cuisine with beverages included with meals, and a reserved spot on our private beach, which is just 20 steps from the hotel!

3

Entertainment8 hours of daily entertainment both at the hotel and on the beach, lunch and dinner with the entertainment staff, and trusted nannies for the little ones upon request.
Our services
Children wellness
Private beach
Directly by the sea (without crossings)
Disabled access
Secure car park
Garden
Small pets are accepted
Bike rentals
Wi-Fi in public areas
Air conditioning in public areas
Discover all the services
Languages spoken by staff: Italian
Close
Description
Offering lots of excellent opportunities to have some fun and relax by the sea, Martinsicuro is the perfect place for a quiet family holiday. And the beaches are simply breathtaking! Once again this year, the beaches have been awarded the "Blue Flag 2021" ecolabel thanks to the quality of the water and the amenities, which we place at our guests' disposal at our exclusive private beach: a small and fully-equipped bay of gorgeous soft sand that's super safe for children and is just 20 steps from the hotel, with no need to cross any roads!
After a mouth-watering breakfast, the entertainment staff will await our younger guests directly on the beach, where they'll engage them in games and competitions until lunchtime. The children will eat in the garden with their new friends, after which they'll have more time to play until nap time. Just enough to recharge their batteries before the baby snack, with sweets prepared by Nonna Caterina, the delicious Nutella Party, and another trip down to the beach until 6:30 p.m.!
Kids won't want to miss out on the dinner with the entertainment staff in the children's restaurant and the evening shows! Because what kind of a holiday would it be without games, dancing, and lots of laughter under the stars?
And while the little ones are having fun in complete safety, their parents can relax on the beach, go shopping in the Martinsicuro town centre, enjoy romantic lunches and dinners, and explore the hilly surroundings by bike. This activity can also be shared with the children by taking the less difficult itineraries, for memorable family experiences on two wheels!
Upon request, we also provide paediatric and babysitting services with trusted physicians and nannies, complete with a small pharmacy for children.
Rooms
All rooms are equipped with:
Air conditioning
Free Wi-Fi
Room service
Soundproofed rooms
Safe
Wake-up calls
Baby WC reducer and stools
Bed rails, cradels, bottle warmers, baby changing tables
Classic rooms

Classic rooms

Furnished in a classic and minimalist style, our classic rooms on the first and second floors have balconies with views of the sea, and are ideal for couples and families with small children.
Classic sea front rooms

These first and second floor rooms are identical to the Classic rooms, but have larger balconies directly overlooking the sea.

Classic sea front rooms
Panoramic rooms

Panoramic rooms

Furnished in a Mediterranean style, our panoramic rooms on the third and fourth floors come with a four-poster bed and a panoramic balcony overlooking the sea, and are even available with hot tubs for those looking for maximum relaxation.
Executive rooms

Our Executive rooms come with balconies directly overlooking the sea, for an unforgettably breathtaking panorama, and are ideal for couples looking for a romantic holiday. The price of the room includes beach towels and a beach umbrella in the first row.

Executive rooms
Family Rooms

Family Rooms

These units consist of two splendid adjoining rooms with a panoramic balcony. An ideal solution for families who also want a little extra privacy.
Entertainment
Indoor/outdoor playgrounds
Babysitting on demand
Canoeing lessons
Theatre lessons
Baby swim lessons
Kids cooking classes
Cheesemaking classes
Cinema / Media room
Kreative Workshops
Hi kids! Ready for 8 hours of pure fun and entertainment? We'll meet on the beach at 10 o'clock for lots of games on the sand, after which we'll all have lunch together, up until 2 o'clock.

After a short break, the entertainment staff will once again be expecting the children at 4 p.m. for an afternoon snack, after which they'll all head back to the beach for a swim and some fun and games, with even more delicious snacks, including pizza, biscuits, and cheese.

At 7:45 p.m., children will sit down for dinner with the entertainment staff and their new friends, after which they can take part in the Baby Dance party, as well as other activities to be shared with mum and dad, including music competitions, and theatrical and musical performances.
Mini Club
Our 4 professional entertainers look after our guests' children 3 to 8 years of age from 10:00 a.m. until 10:30 p.m., even during lunch and dinner in the garden, keeping them busy with various games and activities, both at the hotel and on the beach.
The weekly programme is full of fun activities, including mini cooking classes, creative workshops, treasure hunts, Karaoke, films to watch all together, bike rides on the cycling path, water games, swimming lessons, and pedal boat rides.
Junior Club
For children and teenagers over 8 years of age, we organise table tennis, beach volleyball, water polo, five-a-side football, tug-of-war competitions, sack racing, foam slide activities, and canoe and paddleboat excursions.
We like to engage them in the activities as if they were to be "little entertainers" themselves, in charge of the planning and fun!
Our mascot Marino
Hi kids! I'm the Hotel Sympathy's mascot, Marino the Seahorse!

I'm a fun-loving seahorse, just like those that the fishermen in Martinsicuro release from their nets! And that's exactly where I came from, after having travelled all over the Adriatic Sea. I'll be looking forward to meeting you so we can play together, organise lots of fun tournaments on the beach, and take part in the Nutella Party, workshops and shows.
Cuisine
Gluten-free food and products
High chairs and 'baby' cutlery
Baby menu and flexible hours
Certified organic food corner
Dining rooms with kids area
The best way to start off the day is with sweets made from natural ingredients baked by our pastry chef, local cured meats and cheeses, organic jams, and a wide range of beverage… not to mention the beautiful panoramic view from the 5th floor terrace, where we serve breakfast!

For lunch and dinner, we offer your family three first courses, and three meat and seafood second courses, including traditional Brodetto alla Sanbenedettese, and fresh pasta with shrimp sauce.

All the products we use are meticulously selected, with preference being given to local and organic products: the vegetables come from a trusted local farmer, the EVO oil is from Frantoio Casalia, the DOC meats and cheeses come from farms and dairies in the Abruzzo region, and the seafood is all from the Adriatic. And with the All-Inclusive deal, the wine and water are always included!

The children have lunch and dinner with the entertainment staff at Marino the Seahorse's Children's Restaurant, where all the healthy and tasty dishes are created in collaboration with a children's nutritionist, using fresh, high quality local products!

For parents with weaning infants, the Chefs prepare fresh broths and purées every day using local tomatoes, cheeses, vegetables, meats and fish, even based on the parents' instructions. There are also creams, soups, baby foods, freeze-dried products, and organic whole and granular biscuits.

Each week we organise special themed evenings for guests of all ages, including the Abruzzo dinner, the gourmet dinner, and the Pizzeria Sympathy evening!
Recommended nearby attractions


Onda Blu
11.8km from the hotel


Pazzia Park
3.1km from the hotel


Guidoland
24.8km from the hotel
Bring your family here!
Request a free quote
Best family rate
Quick quote by email
Direct reply from the hotel
Other Italy Family Hotels that might interest you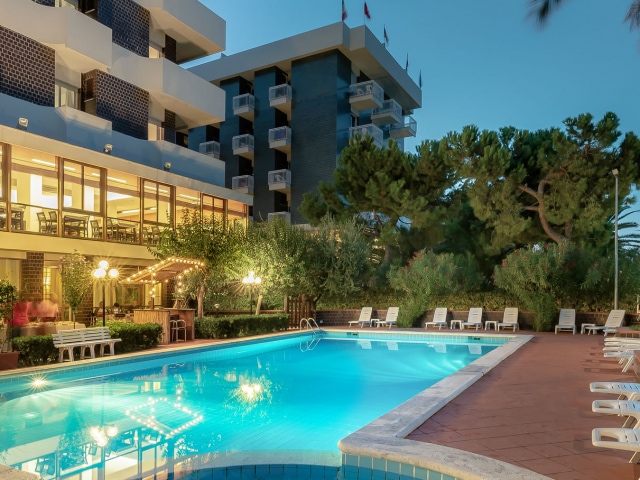 Villa Rosa di Martinsicuro
Hotel Haway

***
Creative entertainment and themed evenings, for little travellers!
Family services (Bino):
| | |
| --- | --- |
| Starting from 62,7 € per night, per adult, full board | |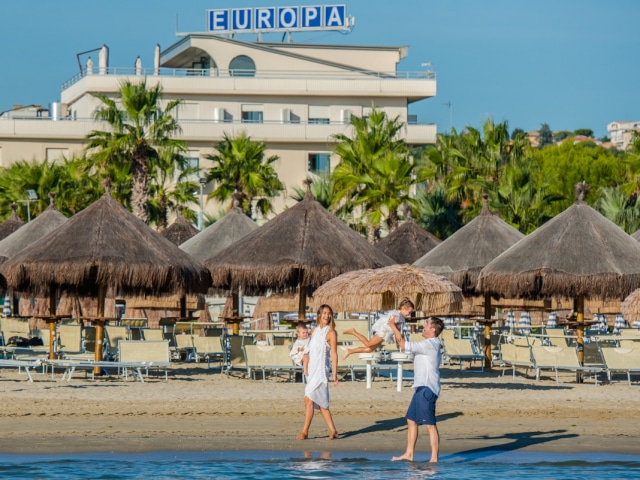 Giulianova
Hotel Europa Beach Village

****
In an exclusive location, right on the private beach
Family services (Bino):
| | |
| --- | --- |
| Starting from 69,00 € per night, per adult, half board | |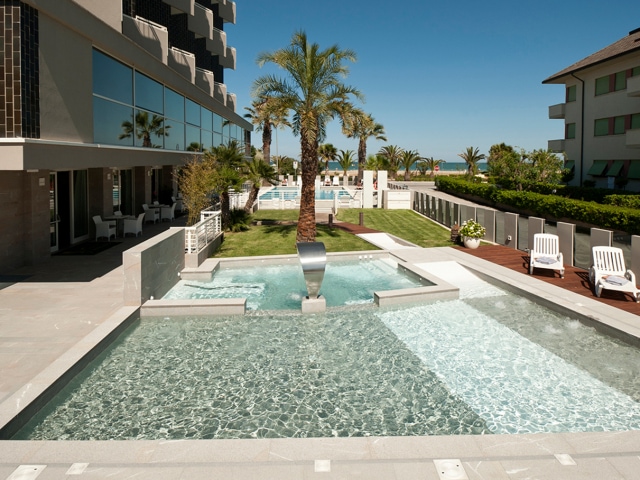 Alba Adriatica
Hotel Eden

****
Space fun for the children and a great position on the private beach!
Family services (Bino):
| | |
| --- | --- |
| Starting from 130,00 € per night, per adult, half board | |
Go back to all hotels