Hotel Sport & Residenza***s
Cesenatico
The Adriatic Coast
Family services (Bino):
Ciao, io sono Bino!
Garantisco io la qualità negli Italy Family Hotels.
Più Bino = Più servizi family disponibili!
Starting from 53,00 € per night, per adult, half board
Family services (Bino):
Starting from 53,00 € per night, per adult, half board
3 good reasons to come here
1

LocationJust a stone's throw from the beach and the town centre, with a swimming pool and hot tub

2

Aparthotel FormulaGuests can stay in our comfortable apartments, and take advantage of the hotel's amenities and services

3

PoolA large swimming pool area of 280 square metres, where it's always sunny, complete with aqua-wellness features and a hot tub
Our services
Baby pool
Swimming pool
Disabled access
Private parking
Garden
Pets welcome
Bike rentals
Servizio lavanderia a pagamento
Wi-Fi throughout the hotel
Air conditioning in public areas
Discover all the services
Languages spoken by staff: Italian, English, German, French
Close
Description
Situated in a quiet area just 100 metres from the sea and Cesenatico's golden beaches, and just a stone's throw from the town centre, the Hotel Sport & Residenza is a true oasis of serenity. Offer traditional Mediterranean architecture, bright and relaxing colours, and maximum comfort for the entire family, our guests can choose to stay in one of the splendid apartments or suites at our residence, or else one of our stylish and elegant hotel rooms. Our ample swimming pool area is ideal for both children and adults alike, and consists of 280 square metres of water features, complete with a hot tub, a water therapy fountain and Aquabike, and a shallow Children's Area, where children can play safely while their parents relax comfortably in their sun loungers by the pool.
Our beach area is reserved exclusively for our guests, and offers all the privacy needed to enjoy full days relaxing under the beach umbrella on one of our soft beach towels, as well as a fun children's play area with trampolines.
Every day, our qualified entertainment staff keep our guests' children entertained with lots of activities, both poolside and on the beach, all accompanied by our legendary Lifeguard Crab Mascot, who will entertain them and get their imaginations going with lots of unforgettable stories. We also offer laundry, babysitting, and paediatrician consultation services upon request.
We even devote special attention to our guests' children at the table, complete with dedicated Children's Menus, which include delicious healthy dishes made with fresh local products, even from our "La Fattoria" farm. Every day there's an ample selection of Mediterranean entrées, and a vegetable and appetiser buffet, all with a particular focus on traditional Emilia Romagna dishes.
And in order to give our guests and their families the thrill of an authentic Emilia Romagna experience, each week we organise an unforgettable trip to our late 19th century farmhouse, "La Fattoria", which is situated on a 120,000 m2 farm, complete with olive trees, sunflowers and vineyards.
Rooms
All rooms are equipped with:
Air conditioning
Free Wi-Fi
Soundproofed rooms
Courtesy set
Safe
Wake-up calls
Sanitising of rooms
Bed rails, cradels, bottle warmers, baby changing tables
Vela rooms

Vela rooms

These stylish, comfortable, and beautifully designed rooms are located in the central structure of the hotel's complex, and are ideal for two adults and a child
Junior Suite

Size:28 m2

People:

2 adults + 1 child

Facility:

small kitchen and living room area

Ideal for 2 parents and two children, the Junior Suite is a 28 m2 studio apartment with a loggia/balcony, a beautiful bathroom, a small kitchen, and living room area.

Junior Suite
Family Suites

Family Suites

Size:40 m2

Facility:

small kitchen and living room area

These large units are ideal for families of up to 5 people. They consist of 40 m2 two-room apartments, and come complete with a loggia/balcony, a beautiful bathroom, a small kitchen, and a living room area.
Onda

The tastefully-decorated and spacious Onda studio apartment features an external loggia furnished with a table and armchairs.

Onda
Marea

Marea

Size:40 m2 + 7 m2 loggia

Facility:

living room area

This 40 m2 apartment includes a living room with a sofa bed, and has an outdoor loggia with a view of the pool, furnished with a table and armchairs.
Entertainment
Indoor/outdoor playgrounds
Babysitting on demand
Kids cooking classes
Educational farm tour
| | |
| --- | --- |
| | We keep our guests' little ones entertained with daily activities for children of all ages in our outdoor play corner, and a legendary Lifeguard Crab Mascot who has lots of unforgettable stories to tell. At the Mini Club, our qualified entertainment staff organise fun games, both on the private beach and at the large heated swimming pool with a children's area, and there are even children's bicycles and a special cargo bike available for families. |
Mini Club
There's lots of fun to be had with our Lifeguard Crab Mascot, who has numerous unforgettable stories to tell, as well as our daily activities on the private beach and in the Children's Area of the Hotel's large swimming pool. Together with our entertainment staff, our mascot engages children of all ages in fun educational games, like the "Master Chef" special, where they'll learn how to make flatbread sandwiches, as well as the evening of caricatures, and the boat trip. Each week, we take everyone on a fun outing to our country farmhouse, "La Fattoria", for an unforgettable afternoon immersed in the beautiful natural surroundings of the farm, complete with its olive grove, animals, and lots of farmyard games.
Our mascot Marino
Hi everyone! Let me introduce myself… I'm Marino, the Lifeguard Crab, the fun-loving mascot at the Hotel Sport & Residenza.

I always wanted to be a lifeguard, and I finally got my chance one day in Cesenatico, when I saved a child who jumped off a rock into the water. I was so happy that I was able to help!

Ever since then, I've always been surrounded by affectionate children and parents, and I became the very first Lifeguard Crab on the Emilia Romagna coast! I'll be waiting for you so we can play together, and I can tell you all of my exciting stories!
Cuisine
Gluten-free food and products
High chairs and 'baby' cutlery
Baby menu and flexible hours
Certified organic food corner
Packed lunches available
Our cuisine always consists of daily specialties made with fresh local products from of the Emilia Romagna countryside. Our family farm, "La Fattoria", produces the honey, oil, and wine that we serve with lots of our traditional dishes, including our exceptional Emilia Romagna flatbread sandwiches. We strive to offer our guests an unforgettable holiday, even at the table, with Pascucci organic coffee, fresh fruit and vegetables juices, homemade bread, freshly caught Adriatic blue fish, homemade pastries, pastas made with local flour, cured meats and dairy products from the Cesena area, and artisanal gelato.

Not to mention our vast breakfast buffet, which guests can enjoy in the cool park area by the pool, on the veranda, or in the large restaurant, complete with lots of excellent options, including organic products. And there are even menus specifically designed for children, sports enthusiasts, and guests with Celiac disease.
Recommended nearby attractions

Italia in Miniatura
11.3km from the hotel

Casa delle Farfalle
14km from the hotel

Mirabilandia
22.8km from the hotel

Fiabilandia
21.1km from the hotel

Oltremare
26.8km from the hotel
Bring your family here!
Request a free quote
Best family rate
Quick quote by email
Direct reply from the hotel
Other Italy Family Hotels that might interest you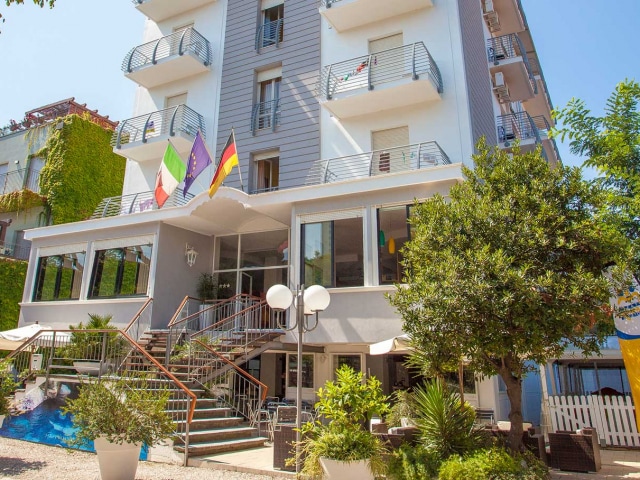 Cesenatico
Hotel New Castle

***
For All-Inclusive holidays near the beach
Family services (Bino):
| | |
| --- | --- |
| Starting from 61,00 € per night, per adult, all inclusive | |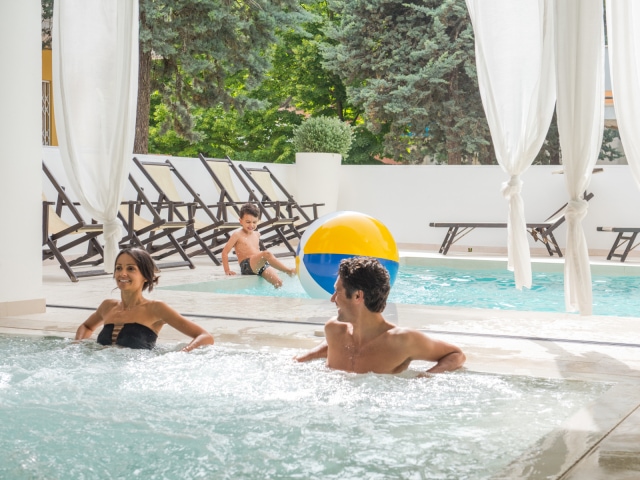 Cesenatico
Hotel Tiffany & Resort***s
Sea view, with swimming pool and wellness area
Family services (Bino):
| | |
| --- | --- |
| Starting from 60,00 € per night, per adult, half board | |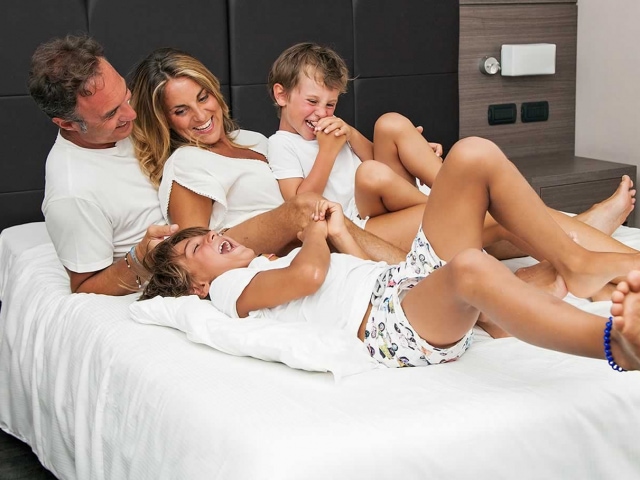 Cesenatico - Villamarina
Hotel Lungomare

****
A holiday dedicated to relaxation, where the rhythms are dictated by the guests' own needs!
Family services (Bino):
| | |
| --- | --- |
| Starting from 54,00 € per night, per adult, half board | |
Go back to all hotels