Family services (Bino):
Ciao, io sono Bino!
Garantisco io la qualità negli Italy Family Hotels.
Più Bino = Più servizi family disponibili!
Starting from 90,00 € per night, per adult, half board
Family services (Bino):
Starting from 90,00 € per night, per adult, half board
3 good reasons to come here
1

Baby Me KitFor children 1 month to 3 years of age, there are lots of services and amenities available, so guests don't have to bring everything they need from home

2

BeachEach family has an exclusive 6-metre spot at their disposal, complete with a reserved beach umbrella, 2 sun loungers, and a beach towel

3

Nature15 hectares of nature reserve, to be explored in complete safety, with a spectacular "World Heritage" pine forest just a few steps away.
Our services
Baby pool
Swimming pool
Private beach
Directly by the sea (without crossings)
Private parking
Garden
Small pets are accepted
MAXI inflatables
Bike rentals
Servizio lavanderia a pagamento
Discover all the services
Fitness Centre
Wi-Fi in public areas
Air conditioning throughout the hotel
Languages spoken by staff: Italian, English, German, French, Spagnolo
Close
Description
At our family hotel in Apulia, the crystal clear waters of the sea and the fine sandy beach meet the pristine natural surroundings of the Gargano National Park. The beautiful town of Vieste is just 5 km away. A great deal of attention is dedicated to our guests' little ones, with a specialised staff who supervise their activities at the mini club. Each family is also provided with a "Baby Me Kit", which consists of a series of in-room amenities to ensure a safe and carefree holiday experience.
There are two half-board options available: the Hotel Option, which includes an elegant guest room overlooking the sea; and the Residence Option, which includes a private apartment situated in the shade of the Aleppo pines. The entertainment is limitless, and includes an adventure park, and specialised entertainment staff, who keep the guests and their children engaged, even on the beach and after sunset. There are also lots of sports activities available, including tennis courts, wind surfing, and the skating rink and BMX-park.
Rooms
All rooms are equipped with:
Air conditioning
Wi-Fi
Room cleaning once a day
Room service
Courtesy set
Safe
Wake-up calls
Sanitising of rooms
Baby WC reducer
Bed rails, cradels, bottle warmers
Deluxe Sea View room with cot

Deluxe Sea View room with cot

This double room of about 30 m2 is decorated with a skilful combination of art and design. Ideal for couples with at most one child. Possibility of adding a cot.
Deluxe Superior Sea View room

This room of about 60 m2 consists of a double bedroom, a bedroom with two single beds, and a living area with a sofa bed, and is ideal for families of 3 to 5 people. Only on request.

Deluxe Superior Sea View room
Deluxe Sea View room with extra bed

Deluxe Sea View room with extra bed

This elegantly furnished room consists of a sleeping area with a double bed, and a living room area with a sofa bed. About 38 m2, ideal for 2 to 4 people.
Park Family room

This room consists of a double bedroom, a bedroom with two single beds, and a small sitting area with the possibility of adding a cot, and is ideal for families of 3 to 4 people + 1 infant. About 47 m2 in size.

Park Family room
Classic Sea View room

Classic Sea View room

This 34 m2 room consists of a sleeping area with a double bed, and is ideal for couples or groups of up to 3 people.
Residence

Our residence consists of 158 apartments dispersed among the plains and hills, all of which come with assigned parking, kitchens, LED TVs, digital safes, furnished verandas, air conditioning, and independent entrances.

The apartments are divided into the following categories: Parco and Pineta.

Residence
Executive Parco

Executive Parco

This recently renovated apartment is ideal for families who want to treat themselves to an exclusive stay with spacious and luxurious accommodations. This 120 m2 unit consists of 4 bedrooms, a living room with sofa beds, a great room with a fully-equipped kitchen, and two bathrooms with showers. There's even a private 70 m2 garden with 2 outdoor showers and a comfortable furnished veranda. Guests have 1 beach umbrella with 2 sun loungers reserved just for them in the front row on the private beach, just 100 metres away, can dine at any one of our restaurants, and can have the apartment tidied up in the evenings upon request.
Entertainment
Children's entertainment by age group
Indoor/outdoor playgrounds
Babysitting on demand
Sailing lessons
Canoeing lessons
Cinema / Media room
Kreative Workshops
Our resort is the ideal place for a family holiday with children of all ages. We offer a day-care centre furnished with Montessori materials for children 0-2 years of age, an entertainment team that offers activities divided by age groups, play areas and gathering spots on the beach and throughout the resort, and numerous recreational and sports activities (including tennis, archery, wind surfing and catamaran excursions).

We're also an ideal place for mum and dad to spend a relaxing holiday, thanks to our numerous children's amenities, such as the "Baby Me" kit, which includes a stroller, a high chair at the restaurant, a child's beach chair, a pack of nappies, a steriliser, and lots of other amenities to allow our guests to travel light.

Our entertainment staff is highly attentive to your little ones' needs. Safe, quiet activities, to be enjoyed in the wide open spaces, in close contact with nature! An excellent way to have some outdoor fun in complete safety.
Baby Gatta
A magical world where children can play, socialise, learn, and have fun in complete safety, in place that we call Gattaland, which is led by our Pirate Cat, Captain Gattarella.
At the Gattarella Resort, we even have specialised staff to look after newborns, who use the Montessori method for all their recreational activities, as well as a large day care complete with a sleeping area and activity area.
Mini Gatta
Children 3 to 6 years old begin to want to explore the world on their own. And it's important that they do so in complete safety, while being encouraged to discover new things. For these little ones, we have a specialised entertainment staff and equipment designed to allow them to have fun in complete safety, including a galleon, an inflatable playground, a games room, a covered playground, a children's pool, and various beach activities, dedicated to them.
Gatta Kids
For children of this age group, we have a skating rink and a BMX park, as well as a swimming pool and a games room. Our specialised entertainment staff also engage the children in tournaments, group games, and shows at the resort's amphitheatre.
Our mascot Captain Gattarella
Hi kids! Do you like hunting for pirates and listening to stories about fantastic legends?

Then let our mascot, Captain Gattarella, lead the way! Right in front of the hotel is a picturesque island and a Saracen tower, which served as a lookout post for Pirates. That's why Captain Gattarella likes to involve all our little guests in all sorts of fun pirate-style activities!

Come and meet him!
Cuisine
À la carte menu
Buffet restaurant
Gluten-free products
High chairs and 'baby' cutlery
Baby menu and flexible hours
Dining rooms with kids area
Packed lunches available
Here, guests can choose from among 3 different restaurants, where they can enjoy the very best Apulian specialties for lunch and dinner, all made with fresh genuine ingredients, like orecchiette with turnip greens, bruschetta, local vegetables, traditional cheeses, meat and fresh seafood, and, of course, pizza!

The "Belvedere Restaurant" is situated on a terrace overlooking the Vieste coast, and is open for breakfast (7:30 a.m. – 9:30 a.m.) and dinner (7:00 p.m. – 9:30 p.m.), for a splendid combination of breathtaking Apulian landscape and delicious Apulian cuisine. Meals are served buffet style, and there's even a dedicated island for the children's items.

At the "Trattoria Orcio", which is open for lunch (12:30 p.m. – 3:00 p.m.) and dinner (7:30 p.m. – 9:30 p.m.), guests can enjoy the culinary delights of the Gargano area, served à la carte. There's even a "Children's Island", where the children can eat all together from 11:30 a.m. to 12:30 p.m.

Die-hard pizza lovers can enjoy casual meals overlooking the sea at the "Pizzeria Gazebo", where we serve delicious Neapolitan style pizza every evening from 8:00 p.m. to 10:30 p.m.!
Recommended nearby attractions


The Vieste Sea Caves
6.9km from the hotel


Gargano National Park - Umbra Forest
29.3km from the hotel


The Swabian Castle of Vieste
6km from the hotel


The La Salata Necropolis
13.8km from the hotel
Bring your family here!
Request a free quote
Best family rate
Quick quote by email
Direct reply from the hotel
Other Italy Family Hotels that might interest you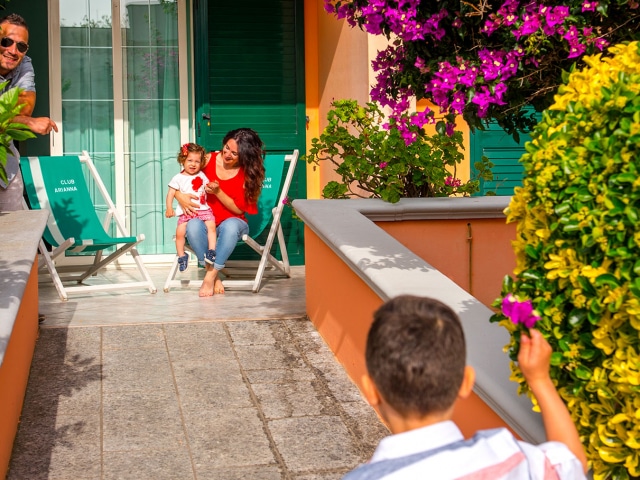 Rodi Garganico
Arianna Club Hotel

***
Directly on the beach with play areas and a swimming pool.
Family services (Bino):
| | |
| --- | --- |
| Starting from 70,00 € per night, per adult, full board | |
Go back to all hotels