Family services (Bino):
Ciao, io sono Bino!
Garantisco io la qualità negli Italy Family Hotels.
Più Bino = Più servizi family disponibili!
Starting from 62,00 € per night, per adult, half board
Family services (Bino):
Starting from 62,00 € per night, per adult, half board
3 good reasons to come here
1

The world of DeniaWorkshops, activities, and shows with our mascot, Denia, and the entertainment staff at our exclusive 100 m2 "Neverland" themed play area. Children's dishes and a nanny during meals at the restaurant

2

Private beachJust 40 metres away, offering fun and relaxation for people of all ages, with reserved beach umbrellas and sun loungers, a play area, and entertainment services

3

Breathtaking sea viewWith a gorgeous unencumbered view of the Adriatic Sea, which can also be enjoyed from various guest rooms
Our services
Private beach
Private parking
Small pets are accepted
Bike rentals
Wi-Fi throughout the hotel
Air conditioning throughout the hotel
Languages spoken by staff: Italian, English, German
Description
Want to spend a holiday in Jesolo with the whole family? Come to the Hotel Gardenia, where we offer our guests a fun and carefree holiday experience by the sea!
We're have an extremely convenient location for those travelling with children, because our private beach is just 40 metres away! Here, the soft sandy beach slopes gently towards the water, and the play area provides a safe place for little ones to play, while their parents relax on the sun loungers under their reserved beach umbrella.
Back at the hotel, there's a colourful 100 m2 "Neverland" themed play area for children, complete with interactive toys, slides, and inflatables, not to mention our mascot, Denia, who helps the entertainment staff organise fun shows, activities, and workshops.
And for those who want to do some exploring, there are bicycles at your disposal, including children's bikes and child seats, which are perfect for enjoying some of the most beautiful cycling paths that the Veneto region has to offer, or else for visiting the nearby Jesolo town centre.
Upon returning, guests can relax and enjoy the traditional local cuisine, which is freshly prepared with maximum attention to detail, and will be certain to win over the entire family. And while the children eat at the table with the nanny and their new friends, their parents can take the opportunity to enjoy a romantic lunch or dinner alone together. We even offer tasty children's menu items designed specifically for them.
After the evening shows, our warm and spacious guest rooms are the ideal place for your family to retire for a restful sleep. Our large and comfortable rooms, which are even available adjoining and with two bathrooms, are wonderful environments in which to relax after a day of playing on the beach, and come complete with all the children's amenities needed to travel light, with everything you need directly at your disposal. Just like at home.
Rooms
All rooms are equipped with:
Air conditioning
Free Wi-Fi
Soundproofed rooms
Courtesy set
Safe
Wake-up calls
Baby WC reducer and stools
Bed rails, cradels, bottle warmers, baby changing tables
Balcony and terrace
Ensuite bathroom with shower
Hairdryer
Telephone
The Enjoy Junior Suite

The Enjoy Junior Suite

The Enjoy Junior Suite offers mum and dad the opportunity to enjoy some privacy in their own room, while the children and teens have their own separate room, for maximum freedom. The elegantly furnished environment has two independent bathrooms, for complete privacy. The room is perfect for large families.
Nature Junior Suite

A family holiday requires space and freedom. And the Nature Junior Suite offers all the right amounts of relaxation, privacy, security and comfort. It's an open environment that can be quickly transformed into two separate rooms by simply closing the atrium doors. The result is two independent spaces complete with 2 private bathrooms, offering maximum intimacy for mum and dad, and freedom for the little ones, who can play undisturbed.

Nature Junior Suite
Superior Family Room

Superior Family Room

This spacious, elegant and super comfortable room is furnished with one double bed and two single beds, and comes complete with 2 balconies and 2 large terraces. For families who want to make the most of their holiday experience, in a warm and well-kept environment.
Superior Deluxe Room

Size:26 m2

People:

2 adults; 3 children

The most exclusive room in the entire hotel. With its elegant furnishings and soft and relaxing colours, this room is ideal for families with up to 3 children. In fact, the sofa can be transformed into an extremely comfortable children's bed. And the dreamy atmosphere is completed by the beautiful balcony and terrace.

Superior Deluxe Room
Entertainment
We want children to feel like they've entered a fairytale land, where their imaginations can run wild! That's why here at the Hotel Gardenia, we've created a real… Neverland! A fantastic 100 m2 space complete with lots of activities for all our youngest guests, from 2 to 14 years of age.

With slides, a ball pit, small inflatables, and building toys, the fun is guaranteed, and the kids are supervised by our well-trained staff, all of whom report directly to our mascot, Denia: a cute and friendly little flower.

Our Neverland area is open all throughout the day. Our entertainment staff have a lot of experience looking after children and young people, engaging them in group activities and games, board games, workshops, and evening shows. And the fun continues down on the beach in the afternoons.
Baby Club
Our friendly entertainment staff look after children over 2 years of age, engaging them in fun, age-appropriate play activities.
Mini Club
There's always lots of fun to be had Monday through Friday, with various activities and shows, all organised by our entertainment staff: at the hotel from 9:30 a.m. to 2:00 p.m., and from 8:00 p.m. to 10:00 p.m.; and on the beach in the afternoons starting at 4:00 p.m., where our staff will engage the children in fun group activities
With workshops, painting, crafts, baby dance parties, cinema, and theatre for kids 3 to 14 years of age… there's always something fun to do!
Our mascot Denia
| | |
| --- | --- |
| Hi kids! I'm Denia, a friendly and curious little flower! I made my way to Jesolo from the green prairies of the Veneto region's interior to catch a glimpse of the sea… and I fell in love with it here! So I became the mascot at the Hotel Gardenia, where I organise lots of games, workshops, and shows. I'll be waiting for you! | |
Cuisine
À la carte menu
Buffet restaurant
Gluten-free food and products
High chairs and 'baby' cutlery
Baby menu and flexible hours
Baby meals with entertainer
Packed lunches available
Every day gets off on the right foot, and we bring a smile to our guests' faces every morning with our abundant signature breakfast, complete with lots of delicious options prepared by our highly qualified kitchen staff. Freshly baked sweets, delicious, healthy, and savoury options, and naturally lots of children's favourites, because all that playtime takes a lot of energy!

We offer our guests the opportunity to discover lots of traditional Venetian dishes with a modern twist. We always offer multiple different menu choices, which vary based on the season, and are made using the very best local ingredients, with particular attention being paid to those who suffer from food allergies or intolerances.

We prepare a wide range of dishes that are specifically designed for children, including weaning infants, in order to meet all of their needs and tastes, with fresh, tasty and high-quality options. The children can even eat at the table with the entertainment staff.
Recommended nearby attractions


Gommapiuma playground
5.8km from the hotel


Caribe Bay waterpark
3.4km from the hotel


Jolly Roger
300m from the hotel


New Jesolandia
1.2km from the hotel
Bring your family here!
Request a free quote
Best family rate
Quick quote by email
Direct reply from the hotel
Other Italy Family Hotels that might interest you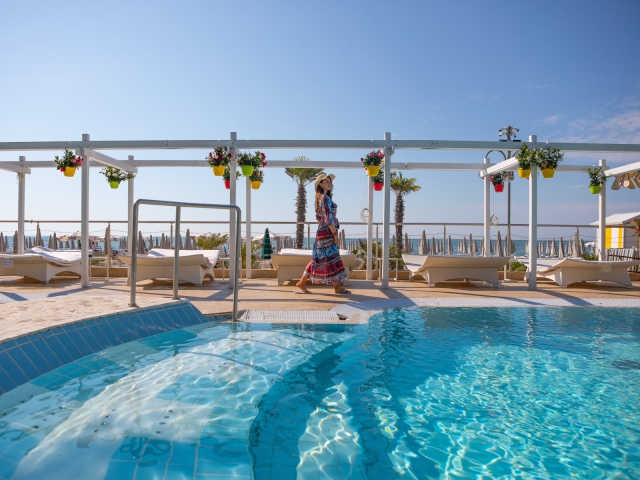 Lido di Jesolo
Hotel Nettuno

****
On the private beach, with 4 swimming pools and lots of fun entertainment activities!
Family services (Bino):
| | |
| --- | --- |
| Starting from 52,00 € per night, per adult, half board | |

Jesolo Lido
Hotel Germania

***
Located just a few metres from the beach, with the possibility of opting for the Aparthotel formula
Family services (Bino):
| | |
| --- | --- |
| Starting from 90,00 € per night, per adult, all inclusive | |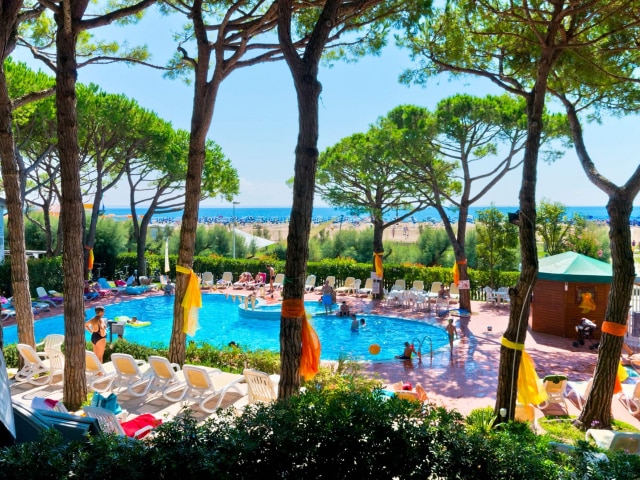 Eraclea Mare
Park Hotel Pineta***s
Set in an 8,000 m2 park and on the seafront
Family services (Bino):
| | |
| --- | --- |
| Starting from 80,00 € per night, per adult, half board | |
Go back to all hotels