Family services (Bino):
Ciao, io sono Bino!
Garantisco io la qualità negli Italy Family Hotels.
Più Bino = Più servizi family disponibili!
Starting from 70,00 € per night, per adult, full board
Family services (Bino):
Starting from 70,00 € per night, per adult, full board
3 good reasons to come here
1

PRIVATE BEACHOur spacious and well-equipped beach facility features relaxation areas, a fenced-in playground, a pool and hot tub area, and a children's pool.

2

ENTERTAINMENTActivities for the entire family, both on the beach and at the hotel, including fun and games in the garden and in the mini club room.

3

LOCATIONRight on the waterfront in Alba Adriatica, just 50 metres from our private beach facility, ideal for taking relaxing walks.
Our services
Baby pool
Pool with hydromassage
Swimming pool
Private beach
Disabled access
Secure car park
Garden
Pets welcome
Bike rentals
Laundry service for a fee
Discover all the services
Wi-Fi throughout the hotel
Languages spoken by staff: Italian, English, German, French
Close
Description
We're located in Alba Adriatica, right on the waterfront, in an ideal location for a fun and relaxing holiday experience, complete with a private beach where guests will find shade umbrellas, sun loungers, Wi-Fi, and a beach volleyball court, not to mention a park with fenced-in playgrounds for little ones and 2 swimming pools!
And since we care about the well-being of the entire family, the hotel even has its own swimming pool and hot tubs, in it the garden among the palm trees.
Our entertainment services aren't just for children, but for the entire family, all of whom can take part in lots of fun games, sports tournaments, water aerobics, stretching sessions, and group dances on the beach. The children's Mini Club offers little ones lots of opportunities to have some fun on the beach, with workshops, snacks, sand castles, as well as lots of playtime in the pool and at the hotel, where they have plenty of space in the garden, and even a dedicated play room, complete with games, illustrated books, a TV, and interactive digital games. After dinner, there are 6 themed evenings every week for the entire family to enjoy.
At the hotel, guests will even find children's bicycles, child seats and strollers, for afternoon bike rides along the cycling path or relaxing walks in the evenings. In their rooms, guests also have the possibility of requesting side rails for the beds, changing tables, baby bath tubs, washbasin stools, night lights, bottle warmers, and children's potties.
And your 4-legged friends are welcome here! Upon arriving in their rooms, guests will find a blanket for their pet's bed, several bags for emergencies, and food and water bowls, and, upon request, we can even provide their pet's preferred food brand for the duration of the stay.
Rooms
All rooms are equipped with:
Air conditioning
Free Wi-Fi
TV
Hairdryer
Safe
Wake-up calls
Mini-fridge
Baby WC reducer and stools
Bed rails, cradels, bottle warmers, baby changing tables
Ginestra room

Ginestra room

Approximately 29 m2 in size, this comfortable family room on the 5th floor consists of a double bedroom (with the possibility of adding an extra single bed), a smaller bedroom with two children's beds, and two balconies overlooking the sea. It can accommodate up to 5 people.
Girasole room

This 22 m2 Family room on the 6th floor features a balcony with a wonderful view of the sea! The unit consists of two separate rooms, divided by a sliding door: a double bedroom (with the possibility of adding an extra single bed), and a smaller bedroom for up to two children. Ideal for 3 to 5 people.

Girasole room
Entertainment
Indoor/outdoor playgrounds
Babysitting on demand
Cinema / Media room
Kreative Workshops
The children always have lots of fun together with our entertainment staff!

We organise various activities, tournaments, and workshops, both on the beach and at the hotel, either in the garden or the dedicated Mini Club room.

And the fun even continues after dinner, because we offer 6 themed evenings each week, including the beach party with watermelon, sangria and dancing, and special evenings dedicated to games, karaoke, cabaret, wine tastings, and local culinary delights.
Mini Club
Children over 3 years of age meet on the beach in the mornings for 2 hours of fun in the sand, with sand castle building and sports tournaments. Later, after lunch, they meet up again at the hotel for workshops and activities from 2:30 p.m. to 4:00 p.m., at which point they pause for a snack, and resume playing down on the beach. And in the evening? Everyone dances to the rhythms of the songs at the baby dance party!
Cuisine
Gluten-free food and products
High chairs and 'baby' cutlery
Baby menu and flexible hours
Packed lunches available
We like to make sure our guests start off their days on the right foot, with a served buffet breakfast made up of freshly baked pastries, croissants, and cereals, as well as lots of savoury options, including cured meats, cheeses, breads, fresh fruits, yoghurt, and cereals.

At lunch and dinner, our Chef brings the very best traditional Abruzzo and Italian cuisine right to the table, with entrées made from carefully selected local and Italian ingredients, all accompanied by an excellent selection of wines.

Continue reading!

We prepare simple dishes for children, with the possibility of ordering grilled or steamed meat or seafood dishes, even at flexible times. For weaning infants, we offer a hot buffet of purées, organic baby foods, broths, and soups, ready to serve starting at 12:25 for lunch, and at 19:10 for dinner.

For parents with newborns, the baby bottle bar is open 24 hours a day with fresh milk, and bottle warmers can be requested in the guest rooms.

Close
Recommended nearby attractions


Acquapark Ondablu in Tortoreto
4.3km from the hotel


Abruzzo National Park and Gran Sasso National Park
51.4km from the hotel
Bring your family here!
Request a free quote
Best family rate
Quick quote by email
Direct reply from the hotel
Other Italy Family Hotels that might interest you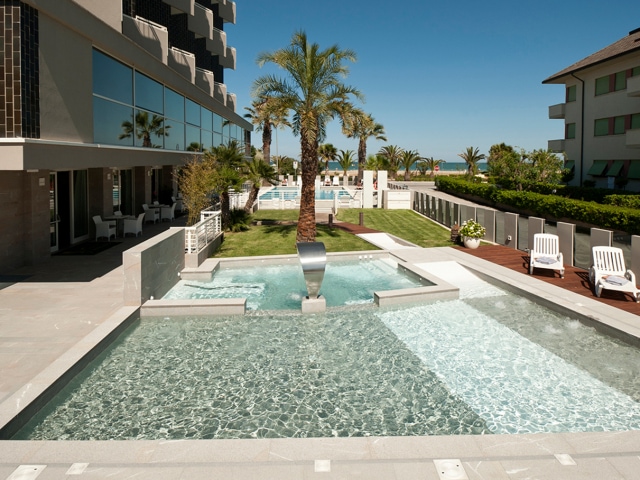 Alba Adriatica
Hotel Eden

****
Space fun for the children and a great position on the private beach!
Family services (Bino):
| | |
| --- | --- |
| Starting from 130,00 € per night, per adult, half board | |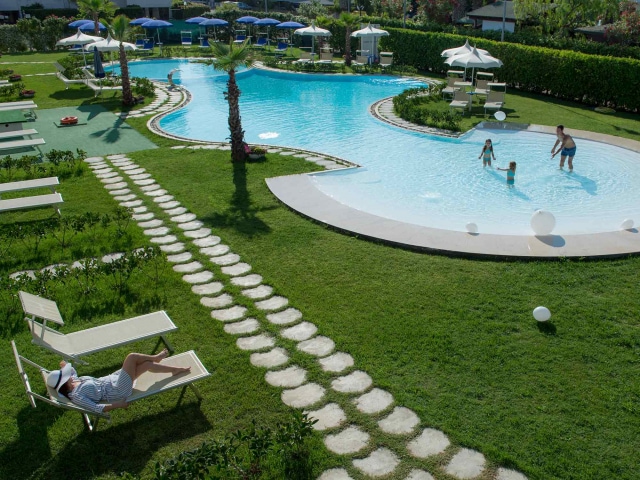 Giulianova
Seapark FAMILY RESORT & SPA

****
For our guests' children, a mega playground, Mini Club, 2 swimming pools and Baby Spa
Family services (Bino):
| | |
| --- | --- |
| Starting from 98,00 € per night, per adult, half board | |

Giulianova Lido
Hotel Promenade

***
A family atmosphere that welcomes guests and accompanies them from the moment they arrive!
Family services (Bino):
| | |
| --- | --- |
| Starting from 63,00 € per night, per adult, half board | |
Go back to all hotels