Family Hotel Biancaneve****s
Selva di Val Gardena
Trentino Alto Adige
Family services (Bino):
Ciao, io sono Bino!
Garantisco io la qualità negli Italy Family Hotels.
Più Bino = Più servizi family disponibili!
Starting from 150,00 € per night, per adult, all inclusive
Family services (Bino):
Starting from 150,00 € per night, per adult, all inclusive
3 good reasons to come here
1

EXPERIENCESThanks to our central location, guests can head out for fantastic summer and winter excursions in the company of the entertainment staff, enjoy adventurous bike rides, or spend their days on the slopes.

2

ATMOSPHEREThe hotel's environment is inspired by the unforgettable tale of Snow White and the Seven Dwarfs, a favourite among people of all ages.

3

CHILDRENBaby care program for children over 12 months of age, and 13 hours of daily entertainment services for those over 3 years of age.
Our services
Baby pool
Heated pool
Swimming pool
Spa
Children wellness
Directly on ski slopes
Disabled access
Secure car park
Garden
Pets welcome
Discover all the services
Ski/bike storage
Ski room
Bike rentals
Laundry service for a fee
Fitness Centre
Wi-Fi throughout the hotel
Languages spoken by staff: Italian, English, German, Russian, Spagnolo
Close
Description
Immerse your family in a fabulous holiday experience in the Dolomites, all the company of the characters from one of the most famous fairy tales of all time: "Snow White and the 7 Dwarfs." Each day we organise 13 hours of games and workshops for our guests' children, even in the heated "7 Dwarfs Pool", while little ones as young as 12 months are cared for by our friendly professional nannies.
Guests can enjoy exciting experiences in close contact with nature, thanks to the guided excursions led by Rudi and the entertainment staff. We also have bikes available for bicycle enthusiasts, which they can use to explore the numerous family-friendly cycling paths. And the exclusive "Family Nature Programme", developed by experts in natural pedagogy, is an absolute must, offering parents with children the unique opportunity to head out in search of magical stones, and to meet the incredible stone man, Rocky. Thanks to our location directly on the slopes, guests can enjoy Europe's largest ski area, which even includes a ski school for children over 3 years of age. For those who prefer, we organise winter snowshoeing excursions to experience the magical atmosphere of the snow-covered forest, even with their little ones.
Upon returning, guests can relax with their children at the Spa. There are even special spa treatments designed just for them, including mini manicures, gentle massages with chamomile oil and honey, and facial cleansing treatments with natural products for teens. And, while the little ones swim and play safely in the dedicated children's pool, their parents can take a dip in the panoramic and heated Infinity Pool, or indulge in spa treatments.
The fairy tale continues at the table too, with delicious menu items for younger guests designed by trusted nutritionists, while mum and dad can enjoy excellent traditional entrées. There are also baby foods, broths and fresh purées for weaning infants, as well as delicious afternoon snacks.
Rooms
All rooms are equipped with:
Free Wi-Fi
Pay TV
Room service
Soundproofed rooms
Courtesy set
Safe
Wake-up calls
Mini-bar
Baby WC reducer and stools
Bed rails, cradels, bottle warmers, baby changing tables
Gardena Classic rooms

Gardena Classic rooms

These bright and spacious 30 m2 double rooms come with balconies and mountain views, as well as disabled accessible bathrooms.
Selva Superior rooms

These 34 m2 triple rooms come with terraces or balconies, and have a minimalist and functional design.

Selva Superior rooms
Dolomiti Studio rooms

Dolomiti Studio rooms

These 40 m2 family rooms with panoramic views come complete with two bathrooms, with a bathtub and shower.
Dolomiti Deluxe rooms

These spacious 50 m2 rooms overlooking the Sassolungo peak are designed with meticulous attention to detail, and come with two bathrooms.

Dolomiti Deluxe rooms
Junior Suite

Junior Suite

This 41 m2 room with a balcony consists of a large double bedroom, a separate children's bedroom with a bunk bed, and a bathroom with a shower and bathtub
Dolomitolo Suite

This comfortable 50 m2 suite comes with a separate children's bedroom, a bathroom with two washbasins and a shower, and another bathroom with a bathtub and toilet.

Dolomitolo Suite
The Biancaneve Suite

The Biancaneve Suite

This luxurious 60 m2 suite comes with a separate children's bedroom, a balcony or terrace, and two bathrooms.
Entertainment
Children's entertainment by age group
Indoor/outdoor playgrounds
Babysitting on demand
Skiing lessons
Cinema / Media room
Stables / Riding school
Kreative Workshops
| | |
| --- | --- |
| | We organise numerous activities and excursions for children and teens of all ages, who also have a 450 m2 play area at their disposal, complete with a castle, a ball pit, a Lego area, a room with a climbing wall, a fully-equipped junior room, and a room for creative workshops. There are also plenty of colourful areas dedicated to smaller children, complete with educational games, and a large garden for playing outdoors, including a castle, a slide, swings, a trampoline, and a football pitch. |
Baby Club
We look after our guests' children over 12 months of age Monday through Saturday, from 9:00 a.m. to 8:30 p.m. We even have a dedicated room reserved exclusively for the littlest ones, complete with play equipment and qualified nannies. We also offer a private babysitting service upon request, for an additional fee.
Mini Club
Every day from 9:00 a.m. to 10:00 p.m., children over 3 years of age can take part in our fun-filled entertainment programme, which leaves absolutely zero room for boredom! Children can also participate in summer and winter nature excursions, ski school, and snowshoeing with their new friends, and even with mum and dad, as well as various other activities, workshops, and games at the "7 Dwarfs Pool". Children and teens can enjoy their meals with the entertainment staff and other young guests in the "7 Dwarfs" dining room.
Junior Club
Kids can enjoy exploring and engaging in fun activities with new friends of the same age. They even have access to an exclusive Junior Room, with table tennis, foosball, fun-for-fours, and darts, where they can enjoy themselves relaxing and organising fun competitions.
Our mascot Dolomitolo
Kids, meet Dolomitolo! The 8th Dwarf, and our hotel's mascot.

Didn't you know that there was an eighth dwarf? Of course there is! Many years ago he lived with the other 7 Dwarfs and Snow White, but when they took a trip to Val Gardena, Dolomitolo fell in love with the area and the magical mountains in the Dolomites, and decided to stay with us.

But don't worry! He still goes to visit Snow White and the Dwarves once a week, because he's still really attached to them!
Cuisine
À la carte menu
Buffet restaurant
Gluten-free food and products
High chairs and 'baby' cutlery
Baby menu and flexible hours
Certified organic food corner
Baby meal corner
Dining rooms with kids area
Packed lunches available
Chef Andrea Torri awaits you for a true journey into the flavours of the South Tyrol region, as well as international entrées. The cuisine here is made using exclusively high-quality ingredients, which are processed according to the ancient traditions, resulting in light, genuine, and flavourful dishes.

Guests will find lots of delicious options immediately at breakfast time, with freshly baked bread and pastries, seasonal fruit, muesli, yoghurt, and jams, as well as cured meats and cheeses for those who prefer savoury flavours. All accompanied by freshly squeezed juices, teas from the tea corner, and other hot beverages.

At lunchtime, guests can order from the à la carte menu made up of hot appetisers, salads, cured meats, seafood and meat entrées, and desserts, while at dinnertime there are lots of different entrées to choose from, in addition to the buffet of side dishes, cheeses, and pastries. Those who suffer from food intolerances or who follow special diets can simply let us know, and we'll prepare special alternatives for them.

For children, there are plenty of fantastic menu items and special mini buffets, to be enjoyed either at the table with mum and dad (placemats, children's cutlery and high chairs are available in the dining room), or else in the "7 Dwarfs" dining room with the entertainment staff. Parents with infants have a kitchen for baby food at their disposal, which is always open and is well-stocked with various types of milk, yoghurt, and Hipp baby products. In the afternoon there is a delicious snack with sweets, fresh seasonal fruit, cakes, and daily dishes.
Recommended nearby attractions


Walks
6.3km from the hotel


Skiing
28km from the hotel


Fun
200m from the hotel


Skating rink
200m from the hotel
Bring your family here!
Request a free quote
Best family rate
Quick quote by email
Direct reply from the hotel
Other Italy Family Hotels that might interest you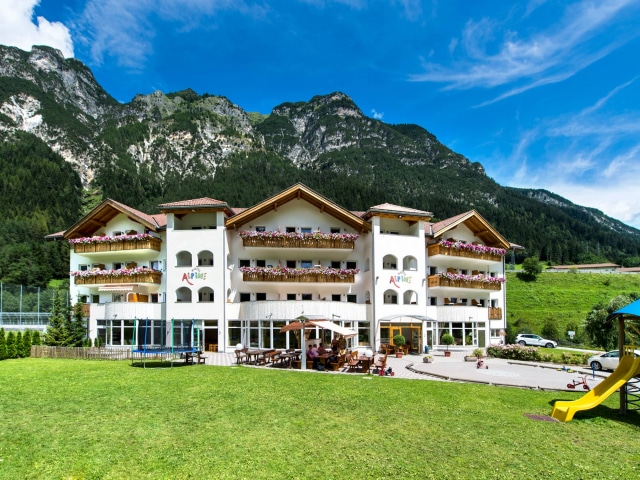 Colle Isarco
Hotel Alpin***s
Family hotel with Spa and heated swimming pool
Family services (Bino):
| | |
| --- | --- |
| Starting from 70,00 € per night, per adult, half board | |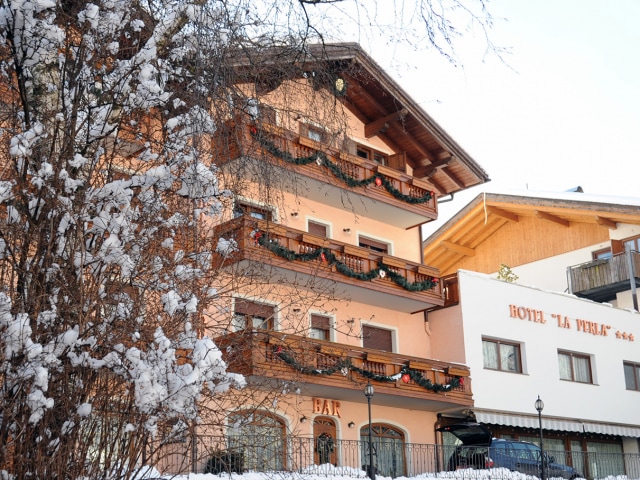 Valle di Primiero
Family Hotel La Perla

***
3 restaurants and a Mini Club with lots of fun activities
Family services (Bino):
| | |
| --- | --- |
| Starting from 74,00 € per night, per adult, half board | |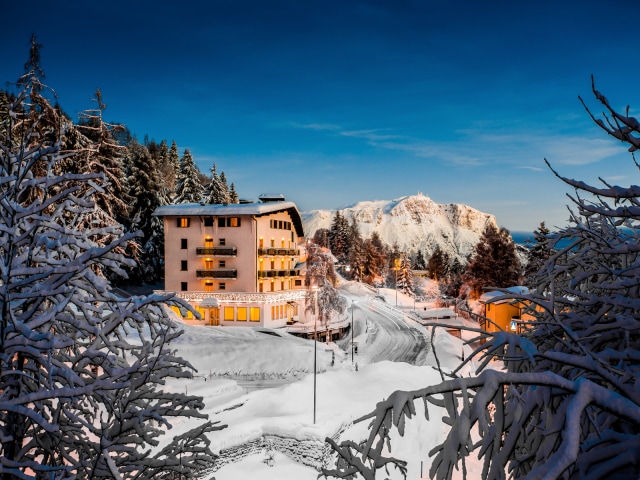 Monte Bondone
Hotel Zodiaco & SPA

***
Skiing holiday with the children, just 50 metres from the ski lifts!
Family services (Bino):
| | |
| --- | --- |
| Starting from 70,00 € per night, per adult, half board | |
Go back to all hotels