Active, Family & Wellness Hotel Shandranj
****
Tesero
Trentino Alto Adige
Family services (Bino):
Ciao, io sono Bino!
Garantisco io la qualità negli Italy Family Hotels.
Più Bino = Più servizi family disponibili!
Starting from 105,00 € per night, per adult, all inclusive
Family services (Bino):
Starting from 105,00 € per night, per adult, all inclusive
3 good reasons to come here
1

Family-friendlyHere, guests will find all the space, amenities, and entertainment and wellness services they need for a restful family holiday experience.

2

ActiveWonderful guided activities in close contact with nature await our guests every day. Walks, excursions, and bicycle outings, with e-bikes and mountain bikes for the whole family.

3

WellnessFun and relaxation for the whole family at the Family SPA, complete with a swimming pool, babypool, spraypark, and bio sauna open to children. Total serenity and relaxation at the Adult SPA, where mothers and fathers can enjoy a peaceful wellness experience.
Our services
Baby pool
Heated pool with hydromassage
Spa
Children wellness
Disabled access
Private parking
Garden
Pets welcome
Deposito sci / bike
Ski room
Discover all the services
Bike rentals
Servizio lavanderia a pagamento
Fitness Centre
Wi-Fi throughout the hotel
Air conditioning in public areas
Languages spoken by staff: Italian, English, German
Close
Description
Our hotel is situated in the Fiemme Valley, in the town of Tesero, right in the heart of the Dolomites… a UNESCO World Heritage Site. At the Active Family & Wellness Hotel Shandranj, guests will enjoy a harmonious family holiday experience. Here, guests will find themselves in continuous contact with nature, both in the warm indoor environments, which smell of wood, as well as outdoors, thanks to our extensive programme of summer and winter activities for people of all ages. Because holidays are the perfect time to spend some quality time together, indulging activities and experiences that are often only dreamt of in everyday life.
That's why we also offer our guests two Chandra&Surya Natural Wellness Spas. At the Chandra Family SPA, families can enjoy unforgettable moments of fun and relaxation at the swimming pool and Babypool, as well as the family sauna, which is even open to children as young as 6 years of age. The Surya Adult SPA, on the other hand, is a retreat for mothers and fathers who want to enjoy a little romantic time alone together, relaxing as a couple.
And that's not all… because at the Shandranj we offer entertainment for children as young as 6 months of age, with a Baby Club open 6 hours a day. Children over 3, on the other hand, can attend the Mini Club, where they'll be kept busy with fun workshops and excursions. Kids attending the Junior Club can choose between outdoor activities and interactive games.
Children are also pampered at the table, with healthy and delicious children's menu items made with local products from the mountains, while the adults can choose from a selection of more refined entrées. And the magic of the Shandranj holiday experience continues right through bedtime! In fact, all of our spacious rooms are furnished in wood, offering our guests the luxury of sleeping in the warm embrace of the forest environment, and come complete with a range of baby amenities!
Rooms
All rooms are equipped with:
Free Wi-Fi
Room service
Soundproofed rooms
Courtesy set
Safe
Wake-up calls
Mini-bar
Sanitising of rooms
Baby WC reducer and stools
Bed rails, cradels, bottle warmers, baby changing tables
Unique Guest Rooms

Unique Guest Rooms

These charming and hospitable rooms with parquet flooring are furnished in wood, and have balconies that offer splendid views of the surrounding woodlands. The warmth of the larch and fir wood guarantee a restful night's sleep. These splendid rooms feature bathrooms with showers or bathtubs, and are ideal for families of up to 4 people looking for unique accommodations.
Junior Suites

These spacious rooms furnished in mountain style come complete with warm parquet flooring and wooden furnishings, as well as balconies with breathtaking views of the Dolomites' natural surroundings, and are perfect for families of up to 5 people (some even up to 6 people). They have bathrooms with separate showers and toilets. Some have sliding doors to divide the room into two parts, for greater privacy.

Junior Suites
Suites

Suites

Those who want to give their families the gift of an exclusive holiday experience can choose one of our Suites. These warm and inviting units with separate rooms are elegantly furnished in minimalist style, and are ideal for up to 5 people. They all come with two bathrooms, and either have two bedrooms or a bedroom and a mezzanine, which children absolutely love!
Entertainment
Children's entertainment by age group
Indoor/outdoor playgrounds
Babysitting on demand
Skiing lessons
Baby swim lessons
Kids cooking classes
Cheesemaking classes
Educational farm tour
Cinema / Media room
Kreative Workshops
Here at the Active Family & Wellness Hotel Shandranj, guests can enjoy a truly active and regenerating holiday experience, where they'll never get bored! The "Bottega della Fantasia" isn't just about entertainment… it embodies our whole concept of the holiday experience in the mountains, in close contact with nature. It's a philosophy that we share with all the families who stay with us, offering an extensive programme of guided excursions and walks, in which children can also take part, together with their parents.

During the summertime, we offer trips to the mountain cottage, and camping trips with overnight stays in a lodge or tent. Guests can also take part in pony rides, and go for nature walks to spot deer and marmots. In the wintertime, children can have lots of fun at the Passo Lavazè Snow Park, with bobsleighs, sleighs, rubber inner tubes, and the ski school. Those who prefer can try their hand at ice skating or climbing.

We offer an engaging trekking programme, with various difficulty levels: basic (for families with children in strollers), intermediate, and advanced… with trails that might be difficult, but never impossible.
Baby Club
Our friendly professional nannies look after our guests' little ones 6 months to 3 years of age, pampering them and keeping them entertained for 6 hours a day. Parents can thus take the opportunity to relax at the SPA, or take part in one of our more challenging excursions, while entrusting their children to the expert staff at the "Lillino il Pulcino Baby Club".
Mini Club
Children over 3 years of age can have lots of fun with games and creative workshops every afternoon at the "Lillo il Gallo" Mini Club. They'll also have the opportunity to take part in outdoor mountain activities with the "Bottega della Fantasia", during both the summer and in winter, guided by our professional staff.
Junior Club
Here at the Shandranj Hotel, children over 11 years of age will also find a wide range of recreational activities at the "Junior Fun Club", which offers lots of opportunities for outdoor fun. These include the full-time ski course and nature excursions. Upon returning, they can have plenty more fun with the interactive games, or else can relax at the Family SPA, even with their whole family.
Our mascot Lillo il Gallo
Hi kids! I'm the Hotel Shandranj's mascot, Lillo il Gallo!

I organise lots of tournaments and activities at the Mini and Junior Clubs, as well as lots of fun summer and winter excursions, because I know these mountains really well.

This here is Lillino il Pulcino, who takes care of the little ones 6 months to 3 years of age for six hours every day, together with the nannies. We'll we expecting you, for an unforgettable holiday in the Dolomites!
Cuisine
À la carte menu
Buffet restaurant
Gluten-free food and products
High chairs and 'baby' cutlery
Baby menu and flexible hours
Certified organic food corner
Dining rooms with kids area
Baby meals with entertainer
Packed lunches available
Here, guests can enjoy the flavours of traditional Trentino cuisine, with genuine family-style entrées, all in a charming mountain atmosphere. Our dining room and panoramic stube are beautifully furnished, right down to the slightest details, and are ideal for enjoying meals in peace.

We're highly attentive to the needs of families and those who suffer from food intolerances and Celiac disease.

We love to tempt everyone with traditional cuisine designed to satisfy the tastes of people of all ages.

Every day, guests can book dinner at the Mini Club, so their children can enjoy their meals in the company of their holiday friends, all while being closely supervised by the nannies.

For families travelling with newborns or weaning infants, we provide high chairs, bottle warmers, and fresh baby foods and broths.
Recommended nearby attractions

Dolomites
38.5km from the hotel


Paneveggio Nature Park
26.3km from the hotel


Giro D'Ali Theme Park
22km from the hotel


The Kingdom of the Dragons
14.8km from the hotel


Latemar Ski Centre
14.8km from the hotel
Bring your family here!
Request a free quote
Best family rate
Quick quote by email
Direct reply from the hotel
Other Italy Family Hotels that might interest you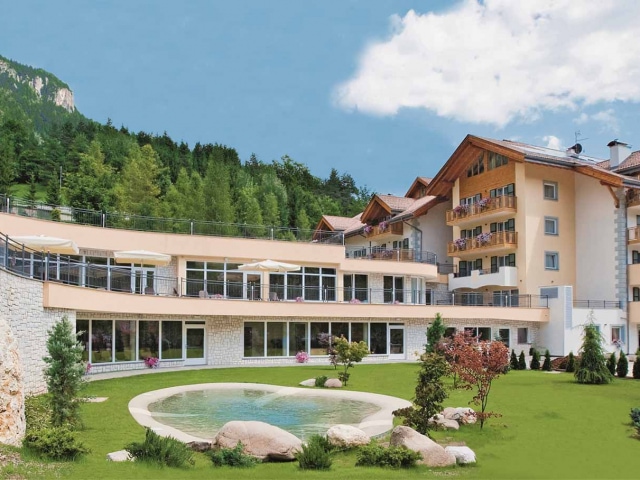 Tesero
Rio Stava Family Resort & SPA

****
A realm of peace, tranquillity and well-being, in the heart of the Val di Fiemme
Family services (Bino):
| | |
| --- | --- |
| Starting from 91,00 € per night, per adult, half board | |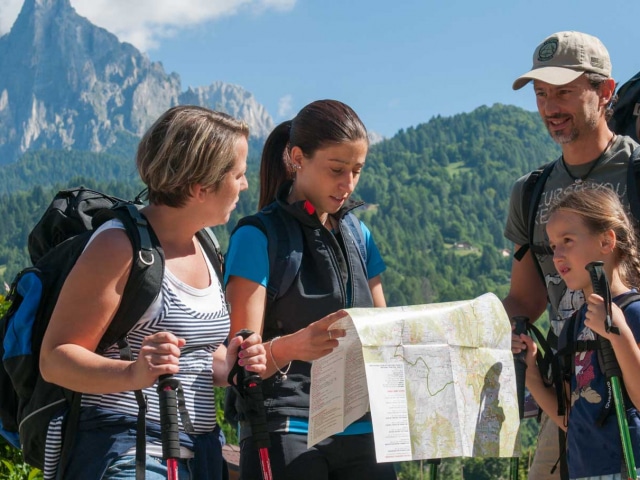 Valle di Primiero
Family Hotel La Perla

***
3 restaurants and a Mini Club with lots of fun activities
Family services (Bino):
| | |
| --- | --- |
| Starting from 74,00 € per night, per adult, half board | |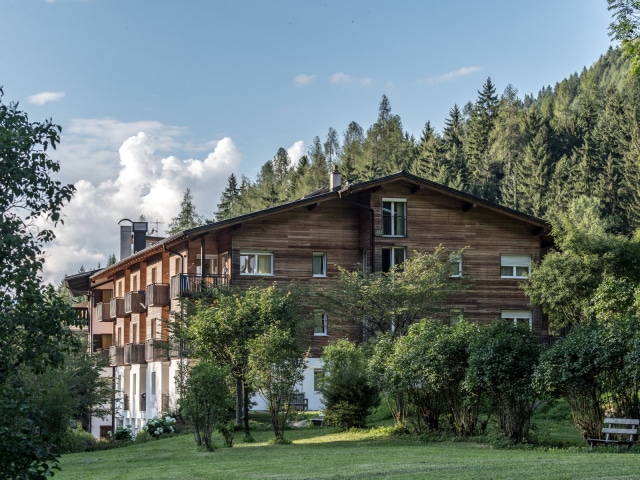 Siusi allo Sciliar
Bad Ratzes

****
Holiday atmosphere on the largest plateau in Europe!
Family services (Bino):
| | |
| --- | --- |
| Starting from 100,00 € per night, per adult, half board | |
Go back to all hotels