3 good reasons to come here
ALL INCLUSIVE: open bar at the hotel, on the beach and the Open Bar follows you with Drinky. 2 KIDS till 15 years FREE for the whole summer.
ANIMATION: 7 days out of 7 at the hotel and on the beach and FREE entry to the Atlantica water park.
HEATED POOL WITH WATER SLIDE: you can dive into the fun, even without leaving the hotel. A large, safe and protected area where children can play.
Description
For your kids there's the Club Family All Inclusive Open Bar formula, with snacks ready to take with you in the morning and enjoy in the comfort of your beach umbrella, the heated swimming pool with water slide, entertainment available 7 days a week and the mini club featuring our fun pirate galleon full of balls. Close to the sea, it offers spacious rooms designed for larger families. Discover the beauty of the Adriatic with the Family Boat and have fun with us at the Atlantica water park, located right on the beach in Cesenatico! Out and about exploring the Adriatic Coast? Stop to eat at one of the other Club Family members, taking advantage of our Dine Around offer!
Family facilities
Baby pool
Pool with waterslide
Private beach
Free pediatric consultation
MAXI inflatables
Hotel facilities
Wi-Fi throughout the hotel
Heated pool with hydromassage
Laundry services
Parking place subject to availability
Garden
Small pets welcome
Bike rentals
Air conditioning throughout the hotel
Languages spoken by staff: Italian, English, German, French
Rooms
All rooms are equipped with:
Air conditioning
Free Wi-Fi
Safe
Wake-up calls
Mini-bar
Baby WC reducer and stools
Bed rails, cradels, bottle warmers, baby changing tables
SMILE ROOM

Modern and spacious rooms, all provided with a balcony. For the little ones, on request, we can provide you with a crib, bed railings, a baby bath and a night-light. 1 beach umbrella and 2 beach beds included.
ECONOMY ROOM

With or without a balcony overlooking a courtyard, the economy rooms offer an umbrella and two chairs at the beach and represent the meeting point between comfort and savings. For the little ones, all services are on request.
CONNECTING ROOMS

For those who love space and comfort, two rooms with a single entrance and a shared bathroom, two balconies and a spacious kitchen, suitable for the needs of adults and children. Damage includes an umbrella and two beach beds. For the little ones, all services on request.
1 beach umbrella and 2 beach beds included.
SMILE FAMILY ROOM

Spacious rooms of 25 m² with modern furnishings, equipped with a small area with a kitchenette. They can accommodate families up to 5 people and include a beach umbrella and two beach loungers on the beach. For the little ones, all services are on request.
Some rooms are equipped with kitchenette. 1 beach umbrella and 2 beach beds included.
Children entertainment
For your holiday 2 minutes walk to the beach, CFH Serenissima will offer you the unique formule Club Family Hotel Open Bar and beach (soft drinks, cafeteria,tap beer , soft ice and juice included no limts at the hotel and pool all day long; soft drinks at the beach no limits all day long); 1 beach umbrella and 2 beach beds at the beach included; pool with waterslide at the hotel; 2 kids free till 15 years old for whole summer; entertainment 7 days , with activities for kids and young from 4 to 17 years old; Wifi connection free.
Baby Service
With a special attention to the littlest: every day, from monday to friday, your kids from 8 months to 3 years may play in a comfortable place with the loving nannies. The little kitchen open all day long, where you can find every day for lunch and dinner fresh vegetable and meat broths, little pasta and parmisan chees. Self service laundry with washing machine and dryer (with laundry detergent and softener). Free pediatric consultancy at the hotel on request (from monday to friday). Cortesy stroller. On request for the babies: Cradle, bed edge, wc reductor, bath bowl and night light.
Mini Club & Junior Club
Welcome to the kids kingdom: heated pool with waterslide, playground area with inflatable, a big galleon with a wonderful ballpit , little football table, kiki fun the interactive games, Play Sport Arena where the kids can play football and basket, every day mini club (4-8 years) junior club (8-12 years); from Sunday to Friday dinner for kids with our entertainers.
Teen Club
For young (13-17 years) new interactive games, tournaments at the beach and at the hotel, bycicles at the disposal free max 3 hours each time, big heated pool.
Entertainment service / Sport
Children's entertainment by age group
Indoor/outdoor playgrounds
Babysitting on demand
Creative labs
Our cuisine
We like to make sure our guests are very well taken care of, even at the table: from breakfast with crepes, waffles, eggs, bacon and many other goodies, to lunch and dinner featuring our Front Cooking buffet, to enjoy indoors or outdoors on the veranda, without forgetting a good afternoon snack and refreshing aperitifs, to then finish off with our good night buffet. And for the little ones? Mums have fresh soups and broths at their disposal for younger children, while older kids can enjoy our tasty buffet with a selection of croquettes, chips and many other favourites.
But that's not all! The typical Romagna evening with traditional dishes, our Doughnut Party and chocolate fountains are just some of the many surprises that await you!
Food service
Buffet restaurant
Gluten-free products
High chairs, children's tableware
Baby menus and flexible mealtimes
Baby meal corner
Dining rooms with kids area
Packed lunches available
Video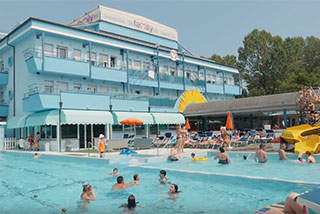 Recommended nearby attractions
MIRABILANDIA (amusement park)

More than just an amusement park, it is a mythical fantasy and a way to travel through space and in time, with themed attractions that go from the Maya civilization to the city lights of New York.
ITALY IN MINIATURE

A renowned attraction for holidays on the Riviera, which puts the peninsula under a magic ray that shrinks places to the point of being able to reach out and touch the top of the Duomo in Milan.
AQUAFAN (WATER PARK)

The legendary wave pool and the dizzying blue slides are just some of the attractions that have helped build the reputation as one of the more enjoyable landmarks for families on the Emilia Romagna Coast.
ATLANTICA (WATER PARK)

The largest water park around, a few steps from the hotel, with 1000 m² of heated pools, water slides, inflatables and an adventure into the mouth of the whale… Free entry for our guest.
Offers
Club Family Hotel Serenissima
Cesenatico
The Adriatic Coast