Club Family Hotel Cervia Village
****
Family services (Bino):
Ciao, io sono Bino!
Garantisco io la qualità negli Italy Family Hotels.
Più Bino = Più servizi family disponibili!
Starting from 77,00 € per night, per adult, all inclusive
Family services (Bino):
Starting from 77,00 € per night, per adult, all inclusive
3 good reasons to come here
1

Top Quality All InclusiveAll-inclusive services and amenities for your family, including the 24-hour Open Bar at the hotel and on the beach

2

Fantastic playground2 Enormous Inflatables, a Baby Splash Park, Pool with Giant Slide, Themed Playground, Laser Tag Arena, Play Sport Arena, and PlayStation 5

3

Family apartments and roomsAPARTMENTS, PENTHOUSES, AND FAMILY ROOMS We offer lots of comfortable solutions for our guests and their children, from the simplest, to the most modern and elegant. Guests can choose the option best suited to their preferred holiday experience.
Our services
Pool with waterslide
Baby pool
Heated pool with hydromassage
Private beach
Disabled access
Private parking
Garden
Small pets are accepted
Free pediatric consultation
MAXI inflatables
Discover all the services
Bike rentals
Laundry service for a fee
Wi-Fi throughout the hotel
Air conditioning throughout the hotel
Languages spoken by staff: Italian, English, German, French
Close
Description
Dreaming of a fun and relaxing beach holiday experience for you and your children? Come stay with us at the Club Family Hotel Cervia Village, located just a few steps from Cervia's picturesque Porto Canale district, and 100 metres from the beach. Right in the heart of the Cervia Village, children will find a full-fledged playground, complete with a heated swimming pool with a colourful 11m long slide, a Splash Park for our littlest guests, two giant inflatables and our Play Sport Arena.
If we haven't mentioned it yet, we love to spoil children and teens here! They're our guests of honour, and our entertainment staff organise 13 hours of fun recreational activities for them each day, both at the hotel and pool, and on the beach. Not to mention our wide range of evening events, including puppet shows, the funfair, cabaret, variety shows, giant bubble activities, and various other shows. And there's certainly plenty of space for kids to play, including a large area with inflatables in the garden, a themed Playground, the Laser Tag Arena, and the Play Sport Arena where guests can challenge their new holiday friends (and even their parents) to exciting competitions!
The nannies at our Nanny School also offer dedicated childcare services for little ones 8 months to 3 years of age every afternoon.
And while our entertainment staff look after the children during dinner, their parents can enjoy a pleasant aperitif and a romantic dinner for two. The front cooking buffets allow our guests to watch their food being prepared, choose their preferred entrées and sides, and dine wherever they please, thanks to the convenient Take Away service. Parents with infants will also find a baby food station, complete with everything they need to prepare meals for their little ones.
Want do indulge in a delicious snack outside of meal times? We offer hot dogs from 11:00 a.m. to midnight, not to mention soft ice cream and slushes, as well as the Ghiottone Corner, where guests can enjoy a super-sized snack 4:00 p.m. to 5:30 p.m., and the delicious bedtime buffet. When it's time to get some sleep, guests can retire to their spacious family rooms and apartments, all of which are furnished with care, and are ideal for those travelling with children. Upon request, we'll provide guests with a baby kit upon their arrival, complete with a changing table, night light, potty training seat, baby bathtub, cot, and bed rails.
Do you know what's new? For the whole summer, with a minimum stay of 6 nights we offer your whole family tickets to Mirabilandia, the most famous theme park in Romagna!
Rooms
All rooms are equipped with:
Air conditioning
Free Wi-Fi
Room cleaning twice a day
Room service
Soundproofed rooms
Safe
Mini-bar
Sanitising of rooms
Baby WC reducer and stools
Bed rails, cradels, bottle warmers, baby changing tables
Basic Family Rooms

Basic Family Rooms

Featuring simple and functional furnishings, these rooms guarantee excellent comfort at the best possible price.
Cervia Family Rooms

These rooms are all located within the facility's main building. They're very spacious and some are adjoining.

Cervia Family Rooms
Family Apartments

Family Apartments

These spacious apartments guarantee maximum privacy and independence, with all of the hotel's best 4-star services and amenities
Entertainment
Children's entertainment by age group
Indoor/outdoor playgrounds
Kreative Workshops
You can never offer children and teens too much fun and entertainment. That's why our professional entertainment staff organise 13 hours of daily activities and shows, both at the hotel and on the beach.

For our younger guests, there's even a large playground area, where they can have lots of fun in complete safety, which includes: 1 enormou inflatable, a pool with a giant slide, a Baby Splash Park, themed Playgrounds, a Laser Tag Arena, a tech corner with a Playstation 5 and multimedia viewers, and a Play Sport Arena for fun football matches.

The daily activities include Art Attack sessions, exciting games, mini tournaments, face painting, daytime and evening shows, and themed parties with lots of delicious sweets. In fact, kids will have plenty of chances to indulge in doughnuts, cotton candy, crepes, and a fantastic chocolate fountain!
Baby Club
The nannies at our Nanny School look after our guests' little ones 0 to 3 years of age Monday through Friday immediately after the afternoon nap (from 4:00 p.m. to 7:00 p.m.).
And there are even safe padded areas for our littlest guests to have lots of fun.
Mini Club
For children 4 to 11 years of age, lots of fun daily activities are organised, including workshops, tournaments, exciting games, and face painting. Other unforgettable activities include the baby dance party and the magical evening shows!
Junior Club
Think it's hard to keep kids 12 to 17 years old engaged and entertained? Not for our entertainment staff, who organise amateur Olympics competitions, sports tournaments, teen oriented group outings, and fantastic group excursions to Mirabilandia and Atlantica, with something new every day!
Cuisine
Buffet restaurant
High chairs and 'baby' cutlery
Baby menu and flexible hours
Baby meal corner
Baby meals with entertainer
Packed lunches available
Every day we pamper our guests with a fantastic Family Menu!

The day begins with the large breakfast buffet featuring lots of delicious options (and healthy ones too!), including mouthwatering sweets, waffles and crepes with lots of yummy toppings, pancakes, focaccia, cheeses, meats, eggs, bacon, cereals, yoghurt, jams and fruit.

At lunch and dinner, guests can indulge in an enormous mouthwatering buffet, with entrées and sides prepared front-cooking style, for a culinary show that's guaranteed to please both the eyes and the palate. The options are always changing, and include various appetizers, 3 first and 3 second courses, delicious pizza, and a spectacular dessert buffet! For our younger guests, we also prepare delicious children's menu items, and they can even eat with the entertainment staff at dinnertime.

At the baby food station, parents with infants will find everything they need to prepare meals for their little ones, including broths, purées, and children's pastas, all at flexible times, from 11:30 a.m. to 2:00 p.m., and from 6:30 p.m. to 9:00 p.m.

In the afternoons, we set up our Ghiottone Corner, where guests can enjoy a super-sized snack from 4:00 p.m. to 5:30 p.m. Hot dogs, ice cream, and slushes are also available throughout the day.

And in the evenings? Get ready for delicious themed evening events, complete with chocolate fountains, doughnuts, and cotton candy, all topped off with a bedtime buffet with biscuits and herbal teas.
Offers

Full board
Always valid: Summer
Cervia
2 Kids Always Free up to 18 years!
Valid from 25/05/2024 to 13/09/2024
What it includes: open bar H24All InclusiveBeach includedChildren free of charge
Recommended: Families with 2 children, Large families
| | |
| --- | --- |
| From 77,00 € night / adult | |

Cervia
A "Sea" of Solutions 🏖️ start summer 2024…
Valid from 25/05/2024 to 01/06/2024
What it includes: All InclusiveBeach includedChildren free of chargeDrinks and meals
Recommended: Families with 1 child, Families with 2 children
| | |
| --- | --- |
| From 77,00 € night / adult | |
Bring your family here!
Request a free quote
Best family rate
Quick quote by email
Direct reply from the hotel
You are browsing...
Club Family Hotel Cervia Village

****
CerviaThe Adriatic Coast
CIR code: 039007-AL-00426 - 039007-AL-00431
Go to the hotel website
Other Italy Family Hotels that might interest you

Bellaria Igea Marina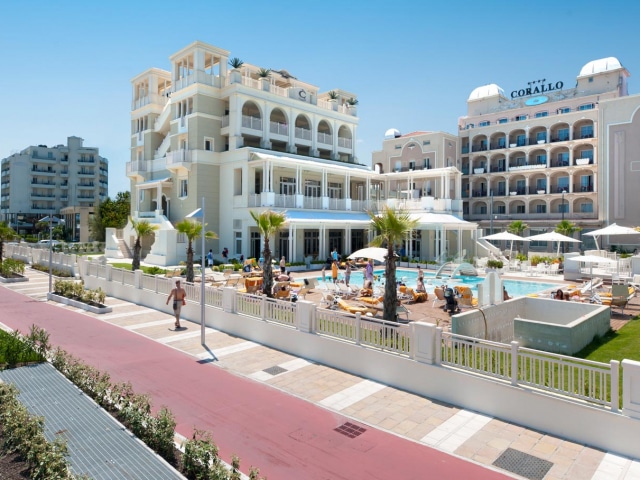 Riccione
Hotel Corallo

****
On the Riccione waterfront, with 3 swimming pools and entertainment 7 days a week
Family services (Bino):
| | |
| --- | --- |
| Starting from 95,00 € per night, per adult, half board | |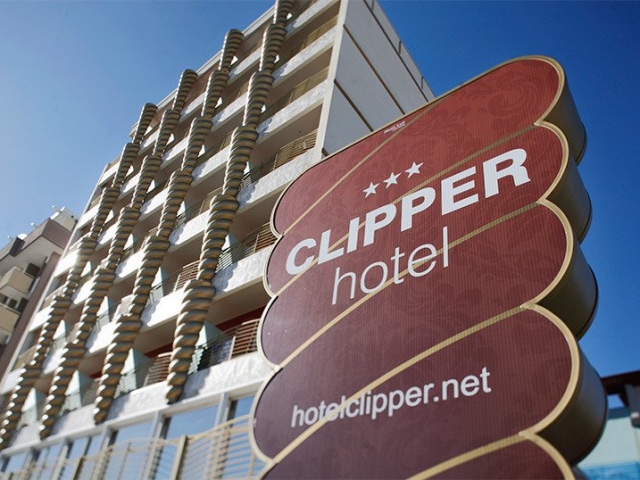 Riccione
Go back to all hotels