Brunet The Dolomites Resort
****
Primiero - San Martino di Castrozza
Trentino Alto Adige
Family services (Bino):
Ciao, io sono Bino!
Garantisco io la qualità negli Italy Family Hotels.
Più Bino = Più servizi family disponibili!
Starting from 105,00 € per night, per adult, full board
Family services (Bino):
Starting from 105,00 € per night, per adult, full board
3 good reasons to come here
1

Culinary experienceLocal gourmet cuisine with dedicated vegetarians, vegans and gluten-free menus. The Hotel is A.I.C. certified

2

Activities for the whole family12 hours of entertainment services for children and activities for adults, with guided hikes, play areas, and indoor and outdoor relaxation areas.

3

Pool time for people of all agesWellness centre and new 1,500 m2 Sky Spa for total relaxation, with a heated indoor pool for adults, and a dedicated children's pool.
Our services
Baby pool
Heated pool with hydromassage
Spa
Children wellness
Disabled access
Secure car park
Garden
Small pets are accepted
Deposito sci / bike
Bike rentals
Discover all the services
Servizio lavanderia a pagamento
Fitness Centre
Wi-Fi throughout the hotel
Air conditioning in public areas
Languages spoken by staff: Italian, English, German
Close
Description
Brunet – The Dolomites Resort is situated amid the magnificent scenery of the Trentino Dolomites, in the picturesque Primiero Valley, surrounded by charming mountain villages, which almost seem to huddle together to preserve the traditions and folklore of their ancient past. Our resort is best known for our family-style hospitality, our love for the local traditions, and the quaint atmosphere that our guests enjoy in our warm and inviting rooms, also thanks to our refined and well-kept Tyrolean style furnishings.
The Dolomites are beautiful to visit no matter what the season: even during the cold months, guests can warm up in our Gocce di Rugiada wellness area, which features a 1,500 m2 SPA, a heated indoor pool, and a hot tub for children, who are granted admission to our wellness area one morning a week. This way they can enjoy the SPA experience, just like mum and dad! And guests can even give their children the gift of relaxing wellness treatments upon request.
Our resort is family-friendly in terms of both the services we offer and the numerous entertainment activities that we organise at the Giocovacanza Club for guests of all ages, even in the company of our friendly mascot, Piffo. We offer our guests' children various exciting experiences aimed at instilling a respect and love for the mountains within them, including fun trips to the lodge, visits to educational farms and nature parks, and orienteering in the woods.
We're a proud member of "Green Way Primiero": an environmental sustainability project shared among the entire surrounding community. For this reason, we even have a charging station for Tesla electric vehicles.
Rooms
All rooms are equipped with:
Free Wi-Fi
Room cleaning twice a day
Room service
Courtesy set
Safe
Wake-up calls
Mini-bar
Sanitising of rooms
Baby WC reducer and stools
Bed rails, cradels, bottle warmers, baby changing tables
The Sissi suite

The Sissi suite

Featuring a balcony with a panoramic view of the Pale di San Martino and the Vette Feltrine mountains, our 40 – 45 m2 royal Junior Suite is furnished with a four-poster bed in natural wood, and comes complete with a hot tub and a wellness centre admission package. Ideal for a romantic getaway.
Vienna Suite

Featuring a balcony with a view of the Vette Feltrine mountains, our 40 – 45 m2 Junior Suite is furnished with a bed and furniture in natural wood, and comes complete with a hot tub and a wellness centre admission package. For couples looking for a romantic mountain holiday.

Vienna Suite
Alpensuite

Alpensuite

Featuring a living room and sleeping area, wooden flooring, and a balcony with a view of the Pale di San Martino mountains, this 40-45 m2 Suite is particularly suitable for families. The wellness centre admission package is included.
Madreperla Suite

Consisting of a separate living room and bedroom areas, this large 50 m2 Suite is also an ideal solution for larger families. It's furnished in charming natural wood, and includes wooden flooring, a balcony with a view of the "Vette Feltrine" mountains, and a traditional olle stove.

Madreperla Suite
Prestige room

Prestige room

Consisting of a living room and bedroom, a bathroom with a shower, and a balcony overlooking the Pale di San Martino mountains, these 30-35 m2 Suites are furnished in traditional Tyrolean style, and come complete with a wellness centre admission package. For families in search of simple and comfortable accommodations.
Elegance rooms

These spacious and beautifully furnished rooms come with balconies and bathrooms with either a bathtub or shower, and come complete with a wellness centre admission package, and some even have views of the garden. For families and couples in search of practical and comfortable accommodations at an affordable price.

Elegance rooms
Classic rooms

Classic rooms

These double rooms come with balconies and bathrooms with either a bathtub or shower, and come complete with a wellness centre admission package. Ideal for couples looking for simpler and cosier accommodations, but without compromising on comfort.
Single room

These are our smallest guest rooms, which come complete with balconies, bathrooms with either a tub or shower, and a wellness centre admission package.

Single room
Alpen Suite

Alpen Suite

The wood, precious finishes, soft nuances and splendid views of the Vette Feltrine characterize this suite divided into two rooms and located on the first floor. Every little detail enhances the experience of your stay.
Private Spa Suite Smeraldo

The attention to detail and the style of the furnishings are the main features of this suite consisting of three rooms (two bedrooms and living room). The essence of the mountain is clearly perceived in the nuances as well as in the warm "embrace" of the wood.

Private Spa Suite Smeraldo
Entertainment
Indoor/outdoor playgrounds
Babysitting on demand
Skiing lessons
Educational farm tour
Kreative Workshops
Here, our younger guests will find a full range of engaging activities designed for leisure, fun and pedagogical development. We offer dedicated services, like the Giocovacanza Mini Club, the children's pool, and a fully-equipped park, where children can play in complete safety. All this under the constant supervision of our entertainment staff. These attentive and qualified staff members organise various fun activities, 6 days a week, all throughout the year. There are lots of opportunities for children to enjoy an active holiday experience with friends and family, including educational tours, themed exploration outings, interactive workshops, team games, ski courses, and sledging in the snow.

And then there's our mascot, Piffo, who keeps our little guests company during their playtime and activities!

The service is active Monday through Saturday, from 2 p.m. to 10 p.m. During long weekends and holidays, and from mid-June to mid-September, the activity times are extended from 10 a.m. to 10 p.m.
Mini Club
Spending a holiday at our Resort is the perfect opportunity for children to learn more about the surrounding area, with our programme dedicated exclusively to them! The Trentino region is a fairytale world where ancient stories, mysterious legends, traditional flavours, and daily outdoor adventures come together in a storybook, in which our guests are the main characters.
Thanks to our entertainment staff, every child 3 to 12 years of age can take part in tournaments with prizes, baby dance parties, and bingo events. But what sets us apart are our educational workshops, which serve as an excellent opportunity to take part in fun hands-on experiences, like baking biscuits and making small crafts, like little birdhouses. We also offer fun children's gala dinners and children's personal wellness treatments, designed specifically for them.
For younger children, we provide a babysitting service upon request, for a fee.
Our mascot Piffo
Hi friends! I'm the mascot here at the Hotel Brunet, Piffo!

I love playing the magical flute my grandfather Paffo gave me when I was little! I can use it to talk to the animals in the forest, who are always ready to tell me all the mountains' secrets! I'll be waiting for you here at the Hotel Brunet to tell you all about them, and to play together to the rhythm of my fantastic music…
Cuisine
À la carte menu
Gluten-free food and products
High chairs and 'baby' cutlery
Baby menu and flexible hours
Certified organic food corner
Dining rooms with kids area
Baby meals with entertainer
Packed lunches available
Here at Brunet – The Dolomites Resort, we offer a culinary experience inspired by traditional Trentino cuisine, complete with delicious vegetarian, vegan and gluten-free menu options. In fact, our restaurant has been certified for the preparation of specific menu items for those with food intolerances.

Every day, guests can enjoy traditional entrées in our charming Stube or our spacious and elegant dining hall.

Our excellent entertainment staff attend to our guests' children during both lunch and dinner. Our chefs always offer mouthwatering children's menu items for our younger guests, complete with personalised placemats and cutlery!

Our chefs are also available to prepare baby foods, broths, purées and fresh fruit juices for guests with weaning infants.
Recommended nearby attractions


Vallombrosa Playground
450m from the hotel


Alpe di Tognola - Pale di San Martino Downhill
11.7km from the hotel


Agility Forest Adventure Park
13.5km from the hotel


Paneveggio Nature Park
15.6km from the hotel


Canyoning and climbing gym
6.9km from the hotel
Bring your family here!
Request a free quote
Best family rate
Quick quote by email
Direct reply from the hotel
You are browsing...
Brunet The Dolomites Resort

****
Primiero - San Martino di CastrozzaTrentino Alto Adige
Go to the hotel website
Other Italy Family Hotels that might interest you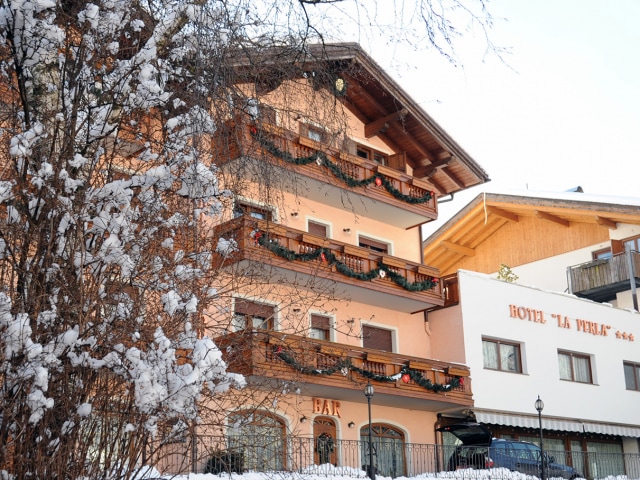 Valle di Primiero
Family Hotel La Perla

***
3 restaurants and a Mini Club with lots of fun activities
Family services (Bino):
| | |
| --- | --- |
| Starting from 74,00 € per night, per adult, half board | |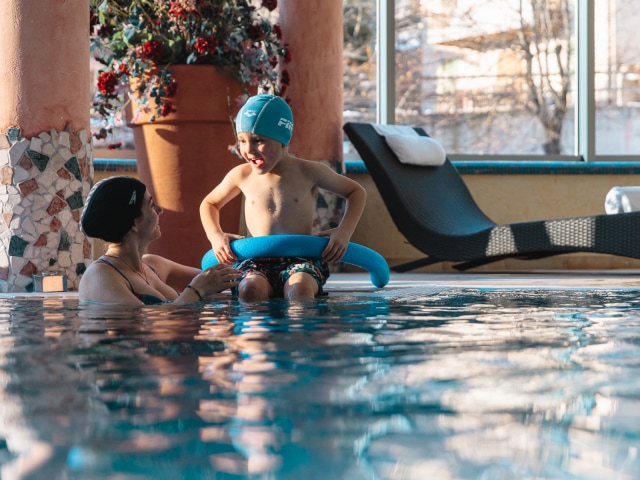 San Martino di Castrozza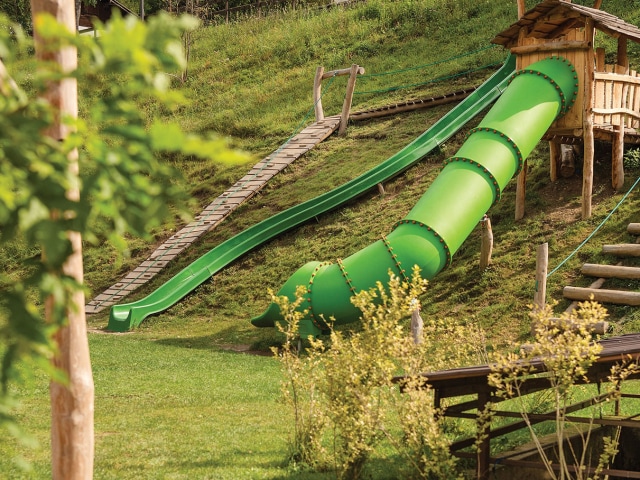 Ledro
Adriana Family Hotel

****
With the green of the woods and the rushing sound of the waterfalls
Family services (Bino):
| | |
| --- | --- |
| Starting from 68,00 € per night, per adult, half board | |
Go back to all hotels