Friuli Venezia Giulia
Family-friendly holidays by the sea!
3 good reasons to choose Friuli Venezia Giulia
1

Fantastic beachesFrom Lignano Sabbiadoro to Trieste, passing through Grado, 130 km of coastline, with well-equipped beaches, pristine waters and water parks right by the sea

2

ExperiencesBoat trips; strolling through the fishing villages of Marano Lagunare, Grado, Duino, Muggia; exciting visits to unique villages like Aquileia and Palmanova

3

Regional nature reservesExplore the Nature Reserves on foot or by bike, or choose horseback riding and pony games for the children!
Città Italy Family in Friuli Venezia Giulia
Our 1 Family Hotels in Friuli Venezia Giulia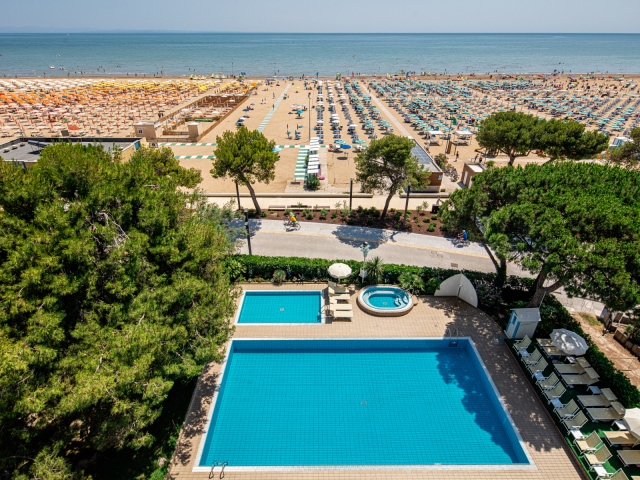 Lignano Sabbiadoro
Hotel Atlantic

****
Your seafront family holiday in Lignano Sabbiadoro!
Family services:
10 photo
From 11/05/23 to 24/09/23
A taste of Friuli Venezia Giulia
Friuli Venezia Giulia has 130 km of coastline all waiting to be enjoyed! Sandy beaches with shallow waters and well-equipped, safe play areas, as well as plenty of sports activities to choose from, like diving, sailing, canoeing, surfing and snorkelling. If you want to spend a fun-filled day with the children, choose the seaside water parks of Lignano Sabbiadoro and Grado. If, on the other hand, you prefer pebbly beaches or if you want to feel the emotion of relaxing in a historical bathhouse, you can go to Grado and Trieste respectively.
Among the activities not to be missed when in Friuli Venezia Giulia with the children, there are boat trips, also on the typical boats or on fishing boats, or walks through the colourful, cheery atmospheres of the fishing villages of Marano Lagunare, Grado, Duino and Muggia. And what about experiencing nature? Explore the Valle Canal Novo Nature Reserve with the children, where they can enjoy Pony Games on the Isola di Cona, ride along the Valli da Pesca on horseback, cycle through the Valle Cavanata Nature Reserve and visit the Duino Cliffs Nature Reserve and the Val Rosandra Nature Reserve.
Incidentally, if you like sharing unique cultural visits with your children while on holiday, the whole family will be amazed by the incredible villages of Aquileia and Palmanova, and the Central European Trieste!