Hotel Tiffany & Resort***s
Cesenatico
The Adriatic Coast
Family services (Bino):
Ciao, io sono Bino!
Garantisco io la qualità negli Italy Family Hotels.
Più Bino = Più servizi family disponibili!
Starting from 60,00 € per night, per adult, half board
Family services (Bino):
Starting from 60,00 € per night, per adult, half board
3 good reasons to come here
1

CuisineFrom the homemade pasta, to the appetisers and the fresh meat and seafood, guests will find the freshest ingredients in every dish

2

Swimming pool and hot tubOur outdoor swimming pool located on the terrace is heated to 28°, and is connected to the hot tub in the wellness area during the summertime

3

Wellness areaExclusive wellness experiences for mum and dad, including a sauna, Turkish bath, experience shower, ice waterfall, and hot tub
Our services
Heated pool with hydromassage
Spa
Private parking
Garden
Pets welcome
Bike rentals
Servizio lavanderia a pagamento
Wi-Fi throughout the hotel
Air conditioning throughout the hotel
Languages spoken by staff: Italian, English
Description
At the Hotel Tiffany & Resort, we love hosting families with children. Boasting a comfortable environment furnished in modern style, our structure is situated in the quiet Valverde di Cesenatico area along the Riviera Romagnola, where guests can rediscover the pleasure of a fun and relaxing family holiday experience.
It's an ideal place for guests to enjoy some time playing and laughing together with their children, including a dip in the swimming pool on the terrace, which is heated to 28°, or perhaps spending some time relaxing under a beach umbrella at our partner beach facility, just 100 metres away.
At the Tiffany Kids club, our friendly entertainment staff organise lots of engaging activities and experiences every day, for all children over 3 years of age, giving them the opportunity to make new friends and have lots of fun, and even to have lunch and a snack together.
A holiday at the Hotel Tiffany & Resort includes lots of personal wellness experiences for parents! In fact, our wellness area is a quiet oasis, where guests can relax and regenerate, taking advantage of the Finnish sauna, the ice waterfall, the Turkish bath, the maracuja experience shower, and the hot tub, which is even connected to the outdoor pool in the summertime. Guests can even opt for spa treatments and massages.
At the table, we offer families delicious entrées prepared with love using only the very best, meticulously-selected local ingredients, while the children can have lunch with the entertainment staff, choosing from among dedicated menu options prepared especially for them. Parents with infants will find products prepared by our Chef in the Baby Room's kitchen.
Those who choose to spend a holiday at our little resort can rest assured that they will find everything they need for their children directly upon arrival, including high chairs, children's cutlery, children's beds, bed rails, changing tables, cots, baby bath tubs, potties, baby monitors, bottle warmers, and potty training seats. There are even paediatric services available upon request, for an additional fee.
Rooms
All rooms are equipped with:
Air conditioning
Free Wi-Fi
Courtesy set
Safe
Wake-up calls
Sanitising of rooms
Baby WC reducer and stools
Bed rails, cradels, bottle warmers, baby changing tables
Gold Rooms

Gold Rooms

Furnished in classic style with one double bed and one single bed, these extremely comfortable rooms boast a pleasant and relaxing atmosphere, and even include a beautiful balcony (some with sea views).
Gold Family Rooms

The perfect solution for families who like to have lots of room and privacy when on holiday. In fact, our Gold Family Rooms consist of one double bedroom, one children's bedroom with a comfortable bunk sofa bed, and a convenient balcony.

Gold Family Rooms
Platinum Rooms

Platinum Rooms

These rooms boast a modern and glamorous style, and have relaxed and elegant atmospheres. The Platinum rooms include super comfortable King Size beds, spacious balconies (some with sea views), and a large set of complimentary toiletries, complete with a bathrobe, beach towel, and slippers. Spa admission is also included for guests who stay at least 3 nights.
Diamond Junior Suites

With their linear, minimalist style, these Junior Suites encapsulate a new hospitality concept. They consist of a double bedroom with a King Size bed, and a living room area, and come complete with refined furnishings and fine linens. They all have balconies, and include a welcome gift, free admission to the wellness centre, and a large set of complimentary toiletries, complete with a bathrobe, a beach towel, and slippers. Some units have separate rooms

Diamond Junior Suites
Diamond Suites

Diamond Suites

Size:35 m2

Facility:

2 bedrooms and 2 bathrooms

Divided into two separate areas, this beautifully designed suite includes a Spa Set (bathrobe and slippers), admission to the wellness area, and a welcome drink, and is ideal for those looking for maximum comfort and exclusive amenities.
Entertainment
Here at the Hotel Tiffany & Resort, we have a penchant for making the simple things lots of fun. The sweet simplicity of making new friends, engaging in creative activities, playing games, joking around, sharing dreams… and lots of playtime at the pool!

The Tiffany Kids clubs is the hotel's fantastic Mini Club, where our qualified entertainment staff organise lots of fun activities for all of our young guests over 3 years of age. And what about the children's play areas? We've got a colourful 24-hour indoor Baby Room, and a shady play corner on the outdoor patio. This way parents also have a chance to relax while their children play safely in the areas designed specifically for them!
Baby Club
Our indoor Baby Room play area is even open to our littlest guests. This colourful room is open 24 hours, and includes a baby food corner.
Mini Club
Our qualified nannies organise fun recreational experiences and activities for all our little guests over 3 years of age. They entertain the children every day from 9:00 a.m. to 10:00 a.m. while their parents enjoy a quiet breakfast. Later, the children can enjoy lunch together with the entertainment staff and their new holiday friends, followed by the baby dance party and workshops in the Baby Room. In the afternoon, everyone takes a break to enjoy a healthy and tasty snack, before heading off to play at the pool. In the evening, the garden becomes a fantastic stage, with shows involving guests of all ages!
Cuisine
À la carte menu
Gluten-free products
High chairs and 'baby' cutlery
Baby menu and flexible hours
Baby meal corner
Packed lunches available
Our guests' days begin with a delicious breakfast… at Tiffany's! Which is available until the late morning. It's served outdoors, and features lots of enticing options, including homemade doughnuts, cakes, pies, and biscuits, croissants, cereals, eggs, cheeses, and cured meats, fresh and canned fruit, yoghurt, jams, honey, bread, and freshly squeezed juices.

The delicious culinary experience continues with a journey through the local ingredients used by our chefs in their skilful interpretations of traditional Romagna cuisine, including fresh handmade pasta, Adriatic seafood, local meats, and tasty vegetable-based side dishes.

Children can choose from among our tasty children's menu items, and have the option of having lunch at the table with the entertainment staff. And there's even a delicious afternoon snack. The kitchen in the 24-hour Baby Room is always available to allow parents to prepare baby food whenever they prefer, using the fresh products prepared by our Chef.
Recommended nearby attractions

Porto Canale District - Cesenatico
4.1km from the hotel

Atlantica Water Park
4.8km from the hotel

Italia in Miniatura
12km from the hotel

Mirabilandia
22.1km from the hotel
Bring your family here!
Request a free quote
Best family rate
Quick quote by email
Direct reply from the hotel
Other Italy Family Hotels that might interest you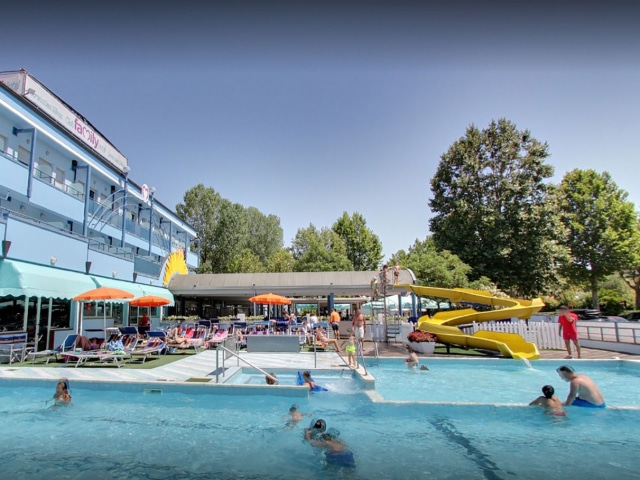 Cesenatico
Club Family Hotel Serenissima

****
Very close to the sea with a heated swimming pool and a water slide
Family services (Bino):
| | |
| --- | --- |
| Starting from 72,00 € per night, per adult, all inclusive | |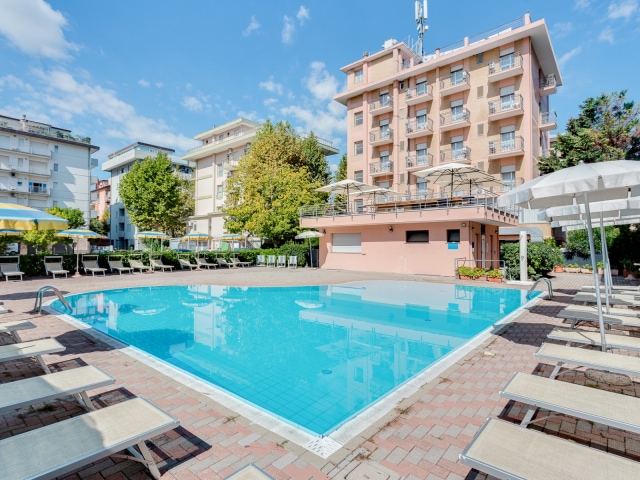 Valverde di Cesenatico
Hotel Abarth

***
Family services (Bino):
| | |
| --- | --- |
| Starting from 61,00 € per night, per adult, all inclusive | |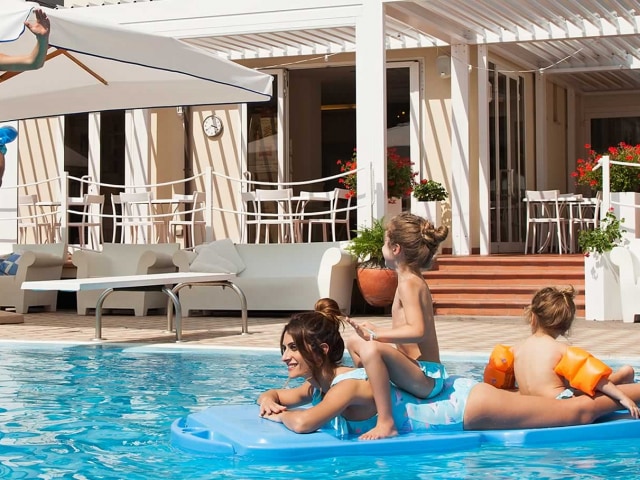 Cesenatico
Hotel Sport & Residenza***s
A stone's throw from the sea and from the town centre, with swimming pool and whirlpool
Family services (Bino):
| | |
| --- | --- |
| Starting from 53,00 € per night, per adult, half board | |
Go back to all hotels