Hotel Acapulco***s
Cattolica
The Adriatic Coast
Family services (Bino):
Ciao, io sono Bino!
Garantisco io la qualità negli Italy Family Hotels.
Più Bino = Più servizi family disponibili!
Starting from 55,00 € per night, per adult, full board
Family services (Bino):
Starting from 55,00 € per night, per adult, full board
3 good reasons to come here
1

CUISINETraditional entrées, show-cooking, and local ingredients. Delicious children's menus for our younger guests.

2

MINI CLUBCreative workshops and activities together with the entertainment staff, both at the hotel and on the beach.

3

POOLOur outdoor pool area gets sun all day long, and features a waterfall, a hot tub, and lots of comfortable sun loungers.
Our services
Swimming pool
Private parking
Small pets are accepted
Bike rentals
Wi-Fi throughout the hotel
Air conditioning throughout the hotel
Languages spoken by staff: Italian, English, German, French
Description
The Hotel Acapulco is located just a stone's throw from the beach and the magnificent Cattolica Aquarium, and is an ideal place for guests to enjoy a fantastic holiday experience with their children. The entire family can relax and have lots of fun in our swimming pool, which is kept warm by the sun's rays, and even includes a sheet waterfall, and a hot tub.
The hotel's shark mascot, Squalotto, and the entertainment staff love to look after our guests' little ones, and keep them entertained with creative workshops, fun games, and baby dance parties… and the fun even continues at lunch and dinner, because everybody eats together!
Our cuisine is one of our greatest strengths… in fact, we like to pamper our guests and their families every day at the table with traditional Romagna entrées, which are prepared right before their eyes thanks to our show-cooking style service, and are always made with top quality ingredients from local producers.
Guests will find everything they need to travel light with their children directly in their rooms, including cots, children's beds with side rails, changing tables, baby bath tubs, potty training seats, bottle warmers, drying racks, and laundry service.
Rooms
All rooms are equipped with:
Air conditioning
Free Wi-Fi
Soundproofed rooms
Courtesy set
Safe
Wake-up calls
Mini-bar
Sanitising of rooms
Baby WC reducer and stools
Bed rails, cradels, bottle warmers, baby changing tables
Standard rooms

Standard rooms

Our spacious Standard rooms are ideal for guests who are looking for an elegant and comfortable holiday experience. They come furnished with sommier beds to ensure a restful night's sleep.
Luxury Suites

Size:35 m2

Facility:

2 separate rooms

Our Luxury Suites are ideal for families who don't want to compromise on privacy. They consist of 2 separate bedrooms, a large bathroom with a double waterfall shower, and two balconies with panoramic views.

Luxury Suites
Junior Suites

Junior Suites

Size:31 m2

Facility:

2 separate rooms

Twice the space for twice the comfort! Our Junior Suites consist of two distinct areas: a double bedroom with a sommier bed, and a living room area that can be transformed into a bedroom with two single beds, and a small terrace with view a of the sea.
Entertainment
Indoor/outdoor playgrounds
Babysitting on demand
Kreative Workshops
Here at the Hotel Acapulco, children have access to a large indoor play area, where they can have lots of fun in complete safety together with their friends and our entertainment staff.

Every day, we offer an extensive programme of games and workshops in a dedicated outdoor area in order to keep our guests' little ones busy, and mum and dad are even invited to participate if they want.
Mini Club
The Mini Club is open to all children 3 to 12 years of age, offering lots of fun activities, including fashion shows, treasure hunts, sand castle competitions, creative workshops, exciting games, tournaments, and even baby dance parties.
Our mascot Squalotto
Hi kids, I'm Squalotto.

I'm really strong, I can swim super fast, and I have nice sharp teeth! But I don't like being in the ocean… it's just too big. I like it here, on the mainland, where I can play with kids like you, taking part in creative workshops and the fantastic treasure hunts…

If you've always wanted a shark as a friend, I'm right here! Ready to have lots of fun and adventures together!
Cuisine
Buffet restaurant
Gluten-free food and products
High chairs and 'baby' cutlery
Baby menu and flexible hours
Baby meal corner
Dining rooms with kids area
Baby meals with entertainer
Packed lunches available
They say that the best way to learn about Romagna is at the table. Here at the Hotel Acapulco, we use traditional recipes and genuine local products to create modern interpretations of traditional entrées, with entirely new flavours. We love offering our guests authentic dishes made with fresh ingredients from local farms.

Every day we prepare a delicious buffet breakfast, which is followed up at lunch and dinner with a choice of meat and seafood options, all accompanied by delicious appetisers, vegetables, seasonal fruits, and homemade desserts.

Continue reading!

Our younger guests can choose from our fantastic children's menu, and can dine together with the entertainment staff at both lunch and dinner.

Particular attention is paid to guests with food intolerances.

And for those who don't want to miss out on a single ray of sunshine, the hotel offers a convenient take-away service, so they can enjoy their meals directly under the umbrella on the beach.

Close
Recommended nearby attractions


Acquario di Cattolica
400m from the hotel


Aquafan and Oltremare
6.6km from the hotel


Gradara Castle
4.9km from the hotel
Bring your family here!
Request a free quote
Best family rate
Quick quote by email
Direct reply from the hotel
Other Italy Family Hotels that might interest you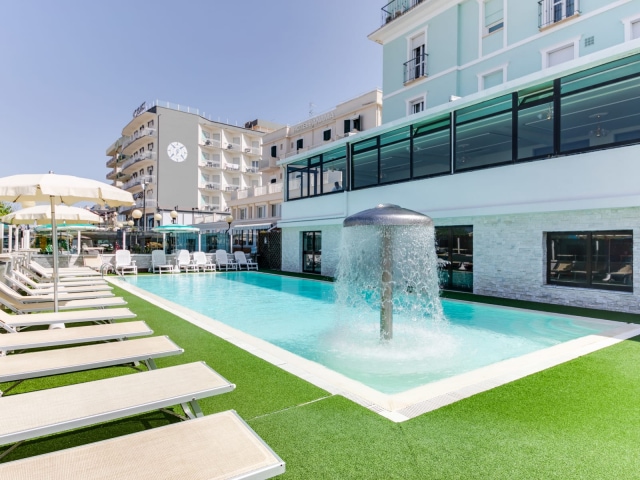 Cattolica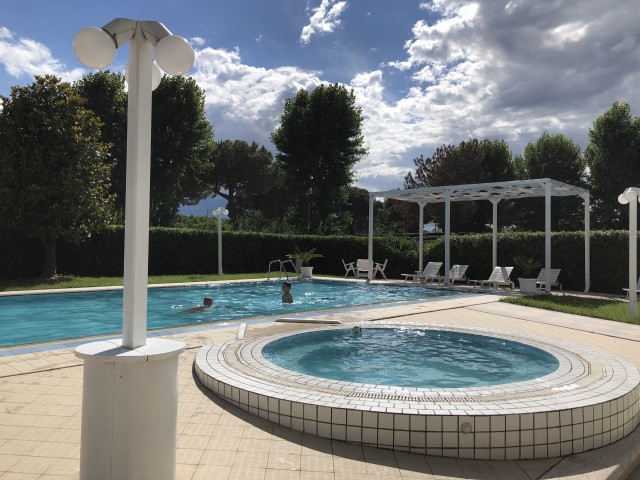 Cattolica
Hotel Tiffany's

***
Large swimming pool, private beach and discounts for the amusement parks
Family services (Bino):
| | |
| --- | --- |
| Starting from 49,00 € per night, per adult, all inclusive | |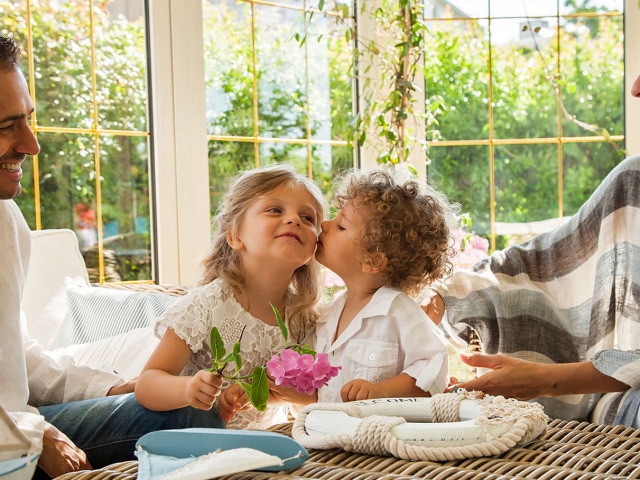 Cattolica
Family Hotel President***s
Located in a quiet part of Cattolica, surrounded by greenery, but just a stone's throw from the beach and the town centre.
Family services (Bino):
| | |
| --- | --- |
| Starting from 50,00 € per night, per adult, half board | |
Go back to all hotels